Inside the David Livingstone Birthplace Museum
Think you know all there is to know about the 19th-century adventurer Dr David Livingstone? The David Livingstone Birthplace Museum hopes to paint a truer picture of the explorer that's much more nuanced than the prevailing Victorian-era myths
Start compiling a list of the greatest Scots in history and David Livingstone is likely to be near the top. But is the prevailing image of the good doctor – that of a daring Victorian-era explorer – an accurate one? If you're slightly fuzzy on Livingstone's achievements during his epic journeys across Sub-Saharan Africa in the mid-19th century you're not alone. Since his death in 1873, many of the exuberant biographies written about Livingstone have focused on the romantic image of him as a lone pioneer, but have failed to put his life and work in a broader context, particularly as an abolitionist.
The ambition of the David Livingstone Birthplace Museum is to paint a fuller, more nuanced picture. "Visitors will come away with a new understanding of Livingstone's achievements, his failures, and the opportunity that his story holds to encourage a deeper understanding of marginalised histories and Scotland's role in slavery and colonisation," promises Natalie Milor, the museum's curator.
Situated in Livingstone's childhood home in Blantyre, the David Livingstone Birthplace Museum takes visitors on an interactive tour of Livingstone's life, from his humble beginnings in this former mill town to the three decades he spent travelling central and southern Africa. Recontextualised for a 21st-century audience, the museum aims to humanise Livingstone. And crucially, the exhibition pays tribute to many of Livingstone's collaborators, like Abdullah Susi, who was from today's Mozambique, and James Chuma, from today's Malawi – both vital crew members on Livingstone's second Zambezi expedition (1858-1864) and his later travels.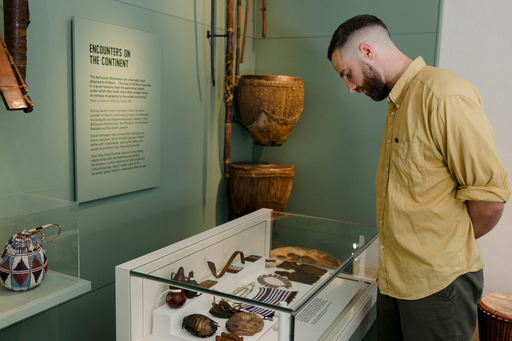 The tension between the myths of Livingstone as a lone explorer and the reality of him as a humanist who collaborated with local people during his journeys is deeply evoked in the museum. The newly restored Pilkington Jackson Tableaux, eight sculptures created by Charles d'Orville Pilkington Jackson in the 1920s, depict heroic scenes of Livingstone in Africa. However, these are now juxtaposed against the Tales from the Tableaux, an animation based on a screen play by author and lawyer Petina Gappah, during which the tableaux comes to life and expands on Livingstone's story to include the men and women who helped make his expeditions possible.
As well as looking at Livingstone's life, the museum is also concerned with how his work in Africa is still felt today. This impact is on display in the museum's Legacy Room. Here, a series of talking-head interviews, filmed in collaboration with the Scotland Malawi Partnership and featuring individuals from many of the countries that Livingstone visited, including Zambia, Zimbabwe and Malawi, discuss the impact the Scot continues to have in the Sub-Sahara.
Even if you think you learned all about Livingstone at school, the David Livingstone Birthplace Museum offers a rich – and crucially honest – look at the life and legacy of one of Scotland's most well-known sons.
---
For more information, head to david-livingstone-birthplace.org