32º East: Art of Africa
We talk to Rocca Gutteridge about grassroots arts trust 32º East and the changes taking place in the art scene in Uganda
The spotlight has turned on African art in recent months. In June, the Gold Lion for Best National Participation at the Venice Biennale was awarded to Angola, only the second African nation to receive that accolade. Over the summer, 'Father of African modernism' Ibrahim El-Salahi and Benin artist Meschac Gaba both had major shows in Tate Modern, Gaba presenting his Museum of Contemporary African Art, a fiction created, ironically, to combat the lack of opportunities for African artists in the European art world, now purchased by the British institution.
In October the 1:54 Art Fair pitched up in London, presenting a Frieze-style exhibit aiming to commercialise the continent's product while introducing a British audience to the breadth of practice emerging from 54 different African nations. In November, an art auction in Nairobi presented the work of artists from Kenya, Ethiopia, Tanzania, Sudan and Uganda to predominantly local buyers, also tempting a raft of major players from institutions including the Tate and Bonhams to fly in and buy up works for public and private collections in the West for record prices.
"I think the art scene is shifting – it's not just about Europe anymore, and I think people will look to Africa and they'll re-look at how they used to see African art. I think that's already happening. I think people will be embarrassed at how they used to look at it, or forget that they ever saw it as exotic or Picasso-esque."
Rocca Gutteridge is in a fair position to comment on this cultural explosion. In 2011 she and colleague Nicola Elphinstone co-founded 32º East | Ugandan Arts Trust, an ambitious project in the capital Kampala which aims to incubate the formation of a contemporary art scene in an environment not previously used to the conventions of the international art world. It's an incredibly contentious notion, one that meets near constant challenges and criticism – on the one hand there is the legacy of the colonial past, and the risk of the imposition of a western perception of what constitutes Art. On the other, a world where Africa equates to aid, and art equates to first world frippery with no place in an environment where survival is presumably the only right allowed to the grateful populace.
---
"I think the art scene is shifting – it's not just about Europe anymore" – Rocca Gutteridge
---
32º East has a different aim. A complex including studios, project spaces and a resource centre, it offers an environment to create, with an emphasis on art-making as a conversation, a process of experimentation and a means of expression, rather than a finished product to be appraised, bought and sold. Rocca explains, "I feel the world needs less art but more artists. It's about being part of a community of thinkers and people who want to speak their minds. I love chatting to people here and watching people walking into our centre and sit around talking, or just going for a beer. It is really important because, on one level, it wasn't long ago that people were targeted for being artists. And yet people here still need to make art, they still want to make art; even if they don't know why."
The spectre of government repression is a sensitive one in this Sub-Saharan nation. The lack of government support for the arts in Uganda makes it difficult for artists to feel supported and respected locally – many have started to voice their opinions through their work. "That's when it becomes really exciting, when artists suddenly have this voice. But we have to negotiate these spaces really carefully. We have to watch how we work because there has to be a level of respect within the context in which we are working."
Previous projects include the inaugural Kampala Contemporary Art Festival in 2012 (KLA ART 012) which saw 12 shipping containers installed in locations throughout the city as flexible project and exhibition spaces. "The idea was that the artists would somehow respond to the idea of the shipping container looking at travel or consumerism or movement, or just the object itself."
The choice of shipping containers is key, as they form a familiar fixture in the Kampala environment, often housing shops. One, by the artist Ronex Ahimbisibwe, placed by a railway line near the entrance to a ghetto community proved a particular draw. "I think because it was a shipping container people were like 'Oh, it's a shop, what's going on?' So they engaged with it, with that initial attraction. But then when they stepped in and realised what was happening in that shipping container, it was this crazy art installation, there was this kind of double layer of confusion, you know, why are you using shipping containers not to sell in but to show art?"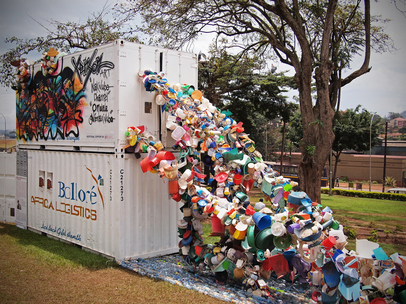 Xenson,  Nakivubo Channel, mixed media,  2012
Another installation by multimedia artist Xenson garnered much praise and ultimately the KLA ART audience award – he's now installed in 32º East on a three month residency, creating a new body of work to be displayed at their end of year show in December. "His piece was really radical; it's been written about by people like Sidney Kasfir [a scholar of African art]. He used jerry cans, set up to look like they were exploding out of this container; it was about the horrific pollution that's happening in this channel in Kampala due to mass import of plastic products. What he did was so public in addressing a real concern of his so close to the parliament, the local council buildings, and that doesn't happen here. So his was quite a revolutionary piece of work. It made people excited."
An offsite performance project from the festival involving doling out coffee beans – a local gesture of brotherhood – which coincided with the 50th anniversary of independence almost ended badly. "In two and a half minutes there were riot police, trucks, tear gas. Luckily it didn't kick off but it definitely made me think this isn't all happy happy fun; it just flipped in an instant.
"Contemporary art isn't mainstream and accepted here, so trying to explain what the performance was about caused confusion – the police were concerned that it was the start of a public gathering. There can be a lot of negative feeling towards crowds as they sometimes lead to riots and uncontrollable situations. It's disappointing for the artists because they just want their work to be seen, but I believe this will come with time."
Next year will see the second staging of KLA ART, details still in the planning stages. Another imminent project involves artwork being displayed on the back of boda-bodas, the local motorbike taxis. "We're always looking at new ways to not just produce art in our art centre, but how to expose it, how to get it out onto the street or absorbed into people's consciousness in fun, engaging ways.
"It's all about growing this scene as a network. It's really important we don't just expose the odd sort of superstar artist, that we really build an art scene because that's where it becomes exciting. We're in the middle of huge planning meetings because what we do at the moment is really production, but in the next two years the organisation is driving plans to build an exhibition and project space which will allow artists to show and sell work. It'll be not for profit; any commission will go back into the organisation, the artists feeding the art centre."
32º East has aims that are simultaneously very grand and very humble. On one level, to create the foundations for a grassroots arts scene is a huge undertaking. On the other, they just want to make a space for people to talk about their ideas and experiment. Ultimately, it is far removed from the fêting of African art going on back in London.
Rocca ponders the situation, gazing back at the British art world from the distant remove of Uganda. "When the British art scene's focus shifts it always seems to be done first of all in a commercial way. In one way it's really exciting, becuase of the opportunities that creates, but in others you're seeing sort of watered down versions of what's happening here on the ground being exported to London and then accepted. And actually what's happening here is so much more exciting."
---
More from The Skinny:
The Skinny On Tour: Click the map icons to read more from each location
---