Grand Tours of Scotland
What happens if you start your adventure and don't come home? With a bit of prep, a nice sleeping bag and some good cake stops, there's really no need to
Finish your dinner, clear away the empty plates and spread a map out on the dinner table. Run your finger over the dotted lines that mark the vast network of off-road paths that contour across Scotland's hills and glens – a single line for footpaths, double for surfaced tracks. Already you're at an advantage compared to the cattle drovers and coffin carriers (not kidding) in centuries past who stomped out and slept out on many of these routes. For starters, you've had your tea. Secondly, you have a map. Thirdly, you've got a choice – spend the weekend with home comforts, or head out of the door, follow the paths and stop where you need to sleep. 
In the north of the British Isles, there's form here. Compasses have, for a long time, pointed towards Scotland for people wanting to go on big adventures, to walk, canoe or cycle day after day, to sleep under the stars – or, at least, under the cloud. The modern history of Scotland's importance for outdoors adventurers really begins after the Second World War, when army surplus equipment was, well, in surplus and thousands of men had good reason to escape into the wilderness with their own thoughts. Post-war austerity meant busses to the Highlands were much more within reach than planes to the continent, and so leisure-seekers voted with their feet and their tents.
In 1948, Scotland's National Outdoor Training Centre at Glenmore Lodge, Aviemore, opened its doors to provide instruction in safe outdoors adventuring. Moving about and sleeping in Scotland's hills is no less part of Scotland's modernist artistic tradition: though not published until '77, Nan Shepherd wrote her famous paean to the Cairngorms, The Living Mountain, in the 40s, recalling falling asleep on Braeriach (the third highest mountain in the British Isles) with her head dangling over the void.
Big Days Out: Scotland's Great Ways
So when thinking of heading out, there's no shortage of footsteps to tread in. There are, though, some classics. Scotland doesn't have 'national trails' as England and Wales do. Instead, it has what are now branded as 'Scotland's Great Trails', the first being the famous West Highland Way, inaugarated in 1980. At 96 miles long, this trail starts in Milngavie and heads North, taking the low road along Loch Lomond, threading its way through the vast bog of Rannoch Moor, reaching its high point at the top of the Devil's Staircase before finishing in Fort William. Walkers tend to take between five and seven days to do the whole shebang, stopping and setting up tents wherever they start to flag. Remember, Scotland's countryside access code means you can usually camp where you like – gardens and, strangely, golf courses excluded.
Fort William also marks the start of another of the classic trails, the Great Glen Way which for 79 miles follows the enormous geological fault line that strikes diagonally across Scotland ending in Inverness. Further south, the Southern Upland Way runs coast to coast, also forming part of the E2 European Long Distance Path from Galway to Nice (a massive 3010 miles). The Speyside Way completes the 'big four' of Scotland's Great Trails, though there are now 29 in total. These are marked on the Ordnance Survey maps with coloured diamonds, and mapping company Harvey have specific maps for many of these routes. What's great about the Great Trails is that, generally, you can get transport to and from the start and end points, making a through-route possible without the need to call in a lift. More unorthodox options are available: a favourite memory is of finishing a section of the West Highland Way at 5am on a Sunday, and cadging a lift with a recovery truck back to the bus station in Fort William.
The Cape Wrath Trail
Not all big routes get the badge, though – and are less well-trodden as a result. Take the Cape Wrath Trail for instance, thrusting north from Fort William, up into the wilds of Sutherland and the rarely-visited northwest tip of Scotland. A sense of adventure, a bit of ring-leading and a bit of drink all lead to a poorly fleshed-out Easter plan to load up mountain bikes and follow the route, more or less, from Inverlael near Ullapool up to the Cape. To be clear, this is not a cycling route. In places, it's barely a path through bog. It's very unclear whether bikes will be ridden or carried.
Work commitments mean I join an already well-travelled, and apparently well-breakfasted group at Oykel bridge. Purists may well point out that I've skipped out half the trail (wait until they find out that I've no intention of going all the way to the top). But purists miss the point, and the Cape Wrath trail, in many ways, emphasises what is lost by sticking too closely to someone else's plan. Barely waymarked, indistinct in places and replete with variations, this is less a set of instructions to follow than the bare-bones of a choose-your-own-adventure. Walking the full trail might take two to three weeks, but spending two days and a night lugging a bike round it is no less rewarding. Stepping into the great outdoors is, after all, so much more about seeking freedom than it is about receiving rules.

View west from the Bone Caves, Inchnadamph. Photo: Jim Barton
Finding Freedom
That's a sentiment felt keenly by one of my companions on the trip. Attendees to the 2014 Commonwealth Games in Glasgow may well have seen mountain biker Lee Craigie belting it round Cathkin Braes in national colours, every bit the lean, focussed epitome of an elite athlete. Now Active Nation Commissioner for Scotland, she tells me this apparent discipline wasn't entirely in kilter with what she felt she needed from life. Having always lived a life outdoors, post retirement from racing, she took her bicycle and her sleeping bag on longer and longer trips, riding and racing through Europe, America and Asia.
"What's so interesting is that the physiology element of being a racer allowed me to do this, but the two worlds are absolutely poles apart. In some ways it was a reaction against that life as an elite athlete. I could stop looking down at a heart rate monitor, and be free of all that, and return the joy to the sport I love."
For Craigie, heading out on multi-day trips, travelling from point to point under your own steam has meaning of its own beyond the sheer mechanics: "It's about the problem solving (working out where to get food and how to keep the bike functioning) but it's also about being part of something bigger, moving through grand natural landscapes. That sort of experience gives you a reason for being on the planet, whereas racing around a circuit for an hour and a half teaches you how to get faster racing round in circles.
"It's much more holistic. Being in touch with the natural environment, being in touch with your body, and being sociable."
She recalls that life as an elite athlete, as compared to her life as an adventure cyclist: "Oh, they are such different worlds! One day you're weighing your pasta, the next you are scrabbling about for crumbs in the bottom of your bag. 
What's the point?
Back in the vast county of Sutherland, we zip along on good tracks through the forests of Glen Oykel, alongside pebble-bottomed rivers. We haul our bikes up the boggy sides of Ben More Assynt. The path goes into hiding for a while at the shores of a beautiful circular loch, invisible to all but those who ascend right to its edge. We rattle down a fast descent into Inchnadamph, bypassing Eas a' Chual Aluinn, Britain's highest waterfall. Why? Well, actually because big adventures needn't be about hardship, and we have a dinner reservation.
The Easter weather deals us the full house. Sunglasses give way to waterproofs. We wake from a very soggy night in bivvy bags under the Kylesku Bridge, its elegant, 78-foot-high box section offering little shelter from the rain (lesson: learned). Overnight I am woken both by the sound of rain, and the noisy appearance of a large and inquisitive seal. We are dried by warm light after waiting the rain out with elongated breakfast in the wonderful Kylesku hotel. I leave some of the group wearing sleeping bags like scarves drying them off on the move.
Returning home Sunday evening, after a full day's riding, I'm tired and ecstatic. I've sat in a bog and eaten tinned sardines looking out at the grand hills of Assynt and it felt as significant as dining at Belshazzar's feast. I've travelled barely a quarter of the distance of this beautiful route, and yet I feel like I've conquered the world.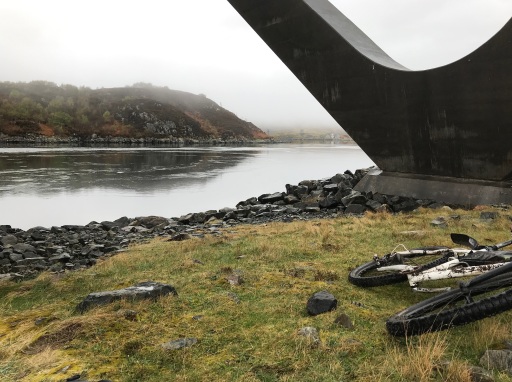 Photo: Evan Beswick
How things can escalate
To find out why, I speak to someone who has actually conquered the world. In October 2018, 37-year-old Jenny Graham became the fastest woman to cycle round the world, covering 18,000 miles in 124 days. For good measure she did it self-supported, packing a sleeping bag and bivvy, laying it out everywhere from the grand expanses of Australia, to the back of a bus shelter in Russia.
A late-starter to big adventures, I ask Jenny how she got into it, and how it escalated quite so spectacularly. "I started hill walking when I was 24 after being on an introduction to outdoor pursuits at college. I was working for the Highland Council, in a department for young people, and through that I was able to access coaching courses in the outdoors. I went on to do my Mountain Leader course – it was there I met one of my best adventure buddies and it took off from there."
She remembers her first big one fondly: "The first time on my own was the most significant one. I'd just gone through a major break-up and the same week my camper van broke down. Like, proper broken. The camper was more than just a van at the time, it was my safety blanket during those tough times, and now it was GONE! So I planned this trip to make everything OK. I was going to do this three day walking trip across the north of Scotland. I got the train to Lairg and the post bus to Tongue.
"I was so so scared getting off that post bus. I thought 'what am I doing'? as I walked off into the wilderness. It was freezing. It was so cold that I spent the night round the back of Ben Hope wrapped up like a roast chicken in my foil blanket. I was pretty scared, too. I lay hugging my ice axe, just in case.
"By day two I was getting into it. I camped along Glen Golly. I set up my tent so it got the most sun. As the days went on I just felt stronger and more capable and at peace being out there. It was like a journey within a journey.
"That last night, on the shoulder of Arkle, I set up my tent at 600m and started melting snow to cook with. I was overwhelmed with a sense of contentment. I was a proper adventurer woman. It was incredible."
She talks about how she was rewarded by her adventures: "I didn't go to uni and I wasn't very academic at school. I rarely studied hard for exams so never felt that sense of achievement when passing them. But people get that in different ways and I found it in the outdoors. It was there I found a passion for learning.
"People tell me all the time about how brave I was but I'm actually not. I was hugging my ice axe on the first night. But you build it up. No one goes into this full of confidence and skills and abilities. Everyone is pushing themselves out of their comfort zone. But it's baby steps. If you can do it out the back of your house then you're building up skills and next thing you know it could be out on big hills or head off abroad. Or round the world!"
Your Essential Kit List
Pack light, but smart. We live in a golden age for well-designed equipment. Here's a sample kit list for a few days out on a bike. Let's assume a bike and the clothes you're wearing as a given...
Sleeping bag
Sleeping mat (the new generation of inflatable ones are light and warm – not like those flock-backed horrors at your granny's)
Bivvy bag (essentially a big plastic bag, just big enough for your mat, bag and you.
Lightweight cook set (you can fit a mini stove and gas canister in a big metal mug). Don't forget cutlery
Down jacket for warmth
Warm midlayer (e.g. a fleece)
Waterproofs (obviously)
Gloves and hat
Dry top, trousers (merino long johns are amazing) and socks for sleeping in
Change of clothes (depending on how dirty you're OK with being)
Toothbrush, toothpaste, tissues, washcloth 
Travel towel
Suncream (for optimism)
Head torch
First aid kit (plasters, triangular bandage, tape, paracetamol, at least)
Tools, repair kit, pump (remember spare chain links)
Food and snacks (I take a few electrolyte tablets in case it all gets a bit much)
Battery pack and charging cable