What's On Scotland 28 Apr-5 May: Purple Rain
Gentle reminder that we're approaching a bank holiday weekend and you haven't made any plans yet. Don't worry, between Beltane, Filmhouse's Purple Rain screening, Stag & Dagger and Nightvision, you're laughing all the way to the bank (holiday).
Each week The Skinny team hand pick a selection of events from the Scottish cultural calendar to provide you with this guide to the most exciting goings on in the week ahead. From gigs, plays and exhibitions to spoken word and pop up cake shops, we give you the insider's guide to things to do in Glasgow, Edinburgh and Dundee every Thursday morning.

1. Purple Rain
Filmhouse, Edinburgh. 30 Apr, 8.45pm
Sob purple tears for the lovely late Prince at a screening of 1984 classic Purple Rain, in which the man himself stars as a loosely biographical character called The Kid. Whether you're a long term fan in the midst of mourning or just intrigued about a star whose passing has broken millions of hearts, give this cult classic your eyeballs for the evening.
HEY, ZINESTERS! Glasgow Zine Fest returns this bank holiday weekend with a ticker-tape explosion of events in tow. Catch a Riot Grrrl film at CCA, get some real talk from TYCI at Project Cafe, and make sure to attend the Zine Fair on 1 May at the Old Hairdresser's. Perfect chance to have a chat with members of the wonderful Scottish self-publishing and crafting communities and pick up some badges emblazoned with the word 'TWAT' while you're at it.
Nightvision waves farewell to a corker of a series this weekend with a night so enormous you'll be thankful for the bank holiday weekend ahead to recover. Taking place right through 'til the tender hour of 5am, you'll get the chance to see sets from Swedish act Adam Beyer and groove-pounder Jamie Jones, plus Russ Yallop and Theo Kottis. Not bad, Nightvision. We've got a pair of tickets to give away – click here to win 'em (entry closes midnight, Thu 28 Apr).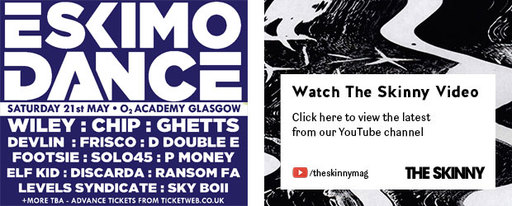 Tireless racket-makers that they are, Neu! Reekie! get set to launch their sophomore poetry anthology and compilation album UntitledTwo this Friday at Leith St Andrew's Church. For a mere fiver you'll get a glimpse into the gloriously gilded new project with an evening of live tunes, readings and treats. And, of course, there'll be the inevitable booze-deluge to keep a nice wee flush on your face throughout. For your chance to win a hamper including a signed and hand-numbered book, album and a sweet little N!R! pin-badge, send an email to Zap@theskinny.co.uk with the subject title 'ME PLEASE'. Closes 6 May. Image: Kat Gollock
May day has come to mean one thing round here, and it's not the international radio distress signal. May day means bank holidays, hangovers and divine overindulgence. And where better to do that than at a food festival? Luckily, the Edinburgh foodie scene is jumping this week, with the Old Town Street Food Festival taking over the Old Town, and The Pitt looking after peckish Leith-dwellers on the 30 Apr. Bottoms up, heads down– it's food-baby time. Image: Beth Crowley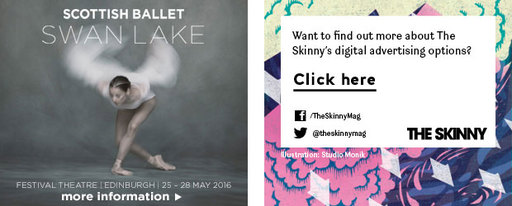 ---
Sign up to our Zap! newsletter to get our top ten events guide in your inbox every week
---

6. Beltane
Calton Hill, Edinburgh. 30 Apr, 8pm
Even if the weather's still gross, don't let that stop you marking the official start of taps aff season with the best of 'em. And by the best of 'em, we mean Beltane Fire Society, who annually celebrate the inception of summer with fire juggling, body paint, drums and beautifully batshit behaviour. Wrap up warm though, it's on Calton Hill and you'll probably freeze. Image: Ove Hansen

ADVERTISEMENT | Beer Tasting Ticket Giveaway
Caledonian Brewery, Edinburgh. 17 May, 7pm
Beer; it's delicious, varied, interesting, and did we mention that it's delicious? If you don't believe us, Edinburgh's Caledonian Brewery are here to help persuade you. We have 50 tickets to give away to a free beer and food tasting at the Caledonian Brewery on 17 May at 7pm. You'll try the latest in their range of craft brews, as well as getting a first taste of some yet-to-be released beers being developed in Caledonian's test brewery. Click here to enter the competition.

7. 5 Soldiers
Tramway, Glasgow. 29 & 30 Apr, 7.30pm
Succinctly put by a reviewer, Rosie Kay's production 5 Soldiers is, quite simply, 'war from a female perspective'. Drawing from military fieldwork, the Sunshine On Leith choreographer has created a moving and critically acclaimed exploration of reliance of modern war on the human body. It'll be dynamic, athletic and will disrupt your perception of 21st century conflict. Photo: Tim Cross

8. Pissed Modernism
The Number Shop, Edinburgh. 29 Apr, 7pm
Following their Whitespace exhibition in October 2015, Pissed Modernism returns to Edinburgh for a second year this week. Inspired by the a currently pincer-sharp political awareness among Scottish citizens, the exhibition will showcase art offering comment and critique in the run up to the Scottish Elections. The exhibition week kicks off with a launch party ft. bevvies from Edinbrew and tunes by Astuto Baffuto. Get more info over at Art News.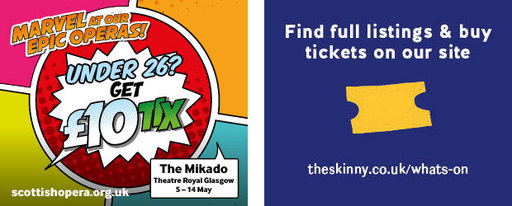 Sauchiehall's very own music festival Stag and Dagger fizzes into action this weekend, packing Glasgow to rafters high and low with stacks and stacks of artists. One wristband admits you to every single gig taking place, from Emma Pollock to Francis Lung (pictured), Slow Club to Band of Skulls. Get all the chat on festivals like Stag and Dagger and beyond over in our guide to the best music festivals of 2016.
Even though the excuse for buying a new summer wardrobe has been ripped from our fingers by actual hail and baltic winds this week, don't be dissuaded from grabbing yourself some new garms. Y'know the deal, £15 in return for a tasty kilo of clothing. Edinburgians can get in on the pre-loved action at an east coast fleamarket at Out Of The Blue Drillhall, too. Sorted.
---
Read more news from across the Northwest cultural scene at theskinny.co.uk/news
Find out how you could win some lovely prizes at theskinny.co.uk/competitions
---