What's On Scotland 21-28 Jan: Daughter
We're oh so nearly over the hump-month that is January, so hold tight and look forward to the likes of Independent Venue Week, Drag Poetry at the Scottish Poetry Library and Daughter live at The Queen's Hall. Oh, and birthday parties aplenty, too...
Each week The Skinny team hand pick a selection of the best events from the Scottish cultural calendar to provide you with this here top ten guide to the most exciting goings on for the week ahead. From gigs, plays, and exhibitions, to spoken word, pop-up foodie events, and one-off film screenings, we give you the insider's guide to things to do in Edinburgh, Glasgow, and Dundee every Thursday morning.

Independent Venue Week
Various venues, Edinburgh, Glasgow, Dundee & Aberdeen. 25-31 Jan
As Independent Venue Week rolls back round for another year, UK gig-goers can benefit from the wisdom of curator Huw Stephens in seeking out the best events in local, small music venues. Swing by Sneaky Pete's for a dose of glitter pop kids TeenCanteen (pictured), or catch Matthew E. White at live music mainstay Electric Circus. Head over to the Independent Venue Week site for more info. Photo: Kat Gollock.

Vinyl store Underground Solu'shn is two decades old! There's joy to be had throughout the day in their Cockburn Street store with comedy, tunes and refreshments – but as evening sets in, you should head to La Belle Angèle for the main event. Jubilate with the best of 'em, including hosts Fudge Fingas, Eh! Wun, G-MAC and DJ Beefy, plus special guests George. T. and Linkwood.

Edinburgh comedy club Monkey Barrel celebrates five years of laughs in the intimate 50-seater surrounds of the Beehive Inn's second floor, marking the occasion with a birthday weekend of showcase nights – for which they'll be welcoming guests Jay Lafferty, Gareth Waugh (pictured), and Katherine Ferns, plus founders Ben Verth and John Millar. And p'haps proffering some cake.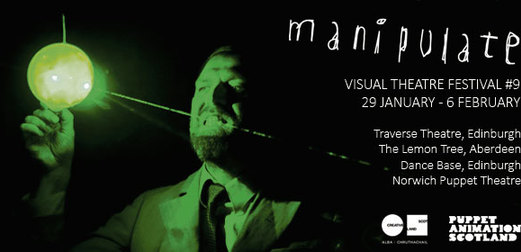 ---
Sign up to our Zap! newsletter to get our top ten events guide in your inbox every week
---

Glasgow Sculpture Studios hosts The Transparent Tortoiseshell and the Un-ripe Umbrella – a group exhibition exploring artists who use everyday objects to create abstract pictorial assemblages, including work by Eva Berendes, Stephanie Mann (pictured artwork), Rallou Panagiotou, Vanessa Safavi, and Samara Scott. Also a contender for best exhibition title, like, ever.

Meet the Artists
Royal Lyceum Theatre, Edinburgh. 24 Jan, 4pm
The National Theatre of Scotland celebrates the kick-off of its 10th birthday programme with a one-off 'Meet the Artists' event at Edinburgh's Lyceum, offering punters a sneak peek at its 2016 season with exclusive excerpts from forthcoming performances, plus inside chat from the writers, directors, designers, and actors involved. And what's more – it's all for gratis!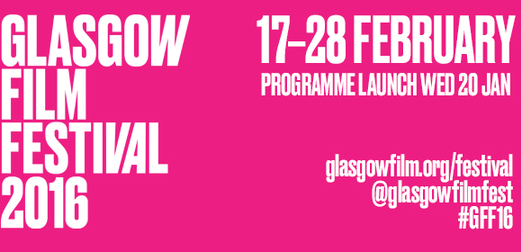 Daughter
The Queen's Hall, Edinburgh. 23 Jan, 7pm
Following the release of their latest album Not to Disappear (which bagged five stars and a spot in our Top Five albums this month), Daughter will be gracing Edinburgh's Queen's Hall this January. They're sure to treat you to some twinklers from their newly expanded arsenal, along with your favourite broody tunes from days of Daughter yore. Photo: FJ Allen.

Popular touring exhibition Hello My Name is Paul Smith makes its way to Glasgow's Lighthouse for a three-month stay – offering an insight into designer Paul Smith's creative process past and present, via a replica of his office, a recreation of his design studio, myriad archive garments from past runway shows, and his unique shop designs from around the world.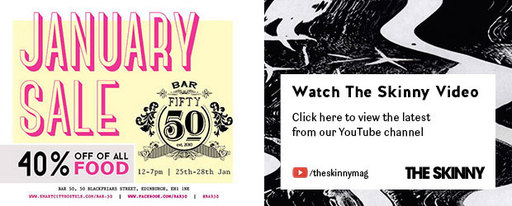 Soothe your bleary-eyed soul and spend a evening with poet-performer duo Jenny Lindsay and Rachel McCrum, who've reprised their Hangover Specials just in time to rescue you from the January Blues. Spread over two floors in Bongo, you can look forward to the likes of Colin McGuire, Roseanne Reid, Ruth Mills and Be Charlotte. A happy hangover indeed... Photo: Chris Scott.

The Scottish Poetry Library (pictured) flings open its doors on 28 Jan for an evening of poetry and cross-dressing; a showcase of poet Iain Morrison and artist Jean-François Krebs' works which examine the highs and lows of life in drag. Promising 'lipstick words and shimmering silks', this one's not to be missed if you know what's good for you.

Combining musical forces for thrice the wonderment, Scottish singer/songwriters James Yorkston, The Pictish Trail (aka Johnny Lynch, pictured), and Withered Hand take to Celtic Connections for a stage-sharer of a gig, playing solo tracks, collaborating, and indulging y'all with a bit of chit-chat. Also playing Edinburgh's Summerhall a few nights earlier on 23 Jan. Photo: Jassy Earl.
---
Read more news from across the Northwest cultural scene at theskinny.co.uk/news
Find out how you could win some lovely prizes at theskinny.co.uk/competitions
---