What's On Scotland 14-21 Dec: Christmas Parties
Christmas comes early this weekend, with more Christmas parties happening across Edinburgh and Glasgow than you can stuff your turkey with. Plus, The Skinny x Fireside, Neu! Reekie!'s Xmas Snowblinder, Christmas Queens, Winter Weirderland and more...
Christmas may as well change day this year because it's all going down on Saturday night, with a whole host of Christmas parties to tickle your tinsel.
Make it an all-day sesh in the Capital, beginning proceedings at Summerhall for Kid Canaveral's Christmas Baubles VIII, where there will be live music and DJs from 2pm across multiple rooms from the likes of Girl Ray, Pictish Trail and Carla Easton. If you've still got the energy once that's over, head to The Mash House for Lezure Xmas Disco, where Al Kent will be taking over the main room all night long for a special disco showdown to keep you dancing for the rest of the night, while local lovelies DJ Lucky Brand, Shapework and Overground will hold things down in the bar.
Or for a more alternative take on Christmas, Glasgow's got you covered. Garage/psych/pop taste makers Freakender take over two stages at the Flying Duck for their Freakender Mega Xmas Party, with all proceeds going to Glasgow City Centre Food Bank. If you've got time before that, pop in to Broadcast for A Very Special Christmas with Natalie Pryce, who will be celebrating the release of their new Christmas EP, which they describe as a "Kafkaesque Christmas horror." The band kindly provided us with a track-by-track guide to the EP, as well as sharing some of their favourite anti-Christmas tracks.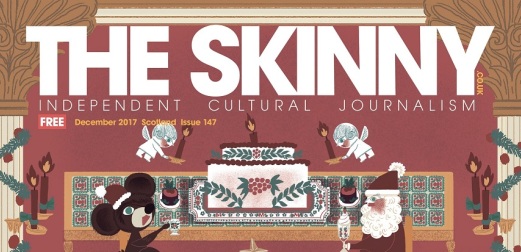 The Skinny x Fireside
Fireside, Edinburgh. 14 Dec, 9pm
Come and party with us – your favourite cultural connoisseurs – at Edinburgh's hottest new eating, drinking and dancing destination in The Waverley Arches for our end of term bash at Fireside. The Skinny DJs will be on hand to play out some of our favourite tunes from the past year as well as some party #bangers.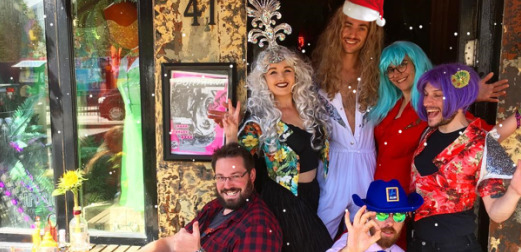 Fungasm Christmas Special
Fireside, Edinburgh. 20 Dec, 9pm
Cultivated in Scottish music festivals, the 2017 Fringe and Paradise Palms, the Fungasm Gameshow is Edinburgh's only home-grown gameshow. The whimsical comeday gameshow inspired by 90s TV offers up a wacky hullabaloo of games, a nonsensical scoring system and random prizes. Image: Robert Pallot
Neu! Reekie!'s Xmas Snowblinder
Central Hall, Edinburgh. 15 Dec, 6pm
Celebrating their 7th birthday, Neu! Reekie!'s third Christmas shindig once again returns to Edinburgh's Central Hall, and they've wrangled a typically eclectic night of spoken word and music performances. Irvine Welsh will be returning to Neu! Reekie!'s Snowblinder stage and he'll be joined by a festive gaggle of poets including William Letford, Iona Lee and Skinny fave Hollie McNish.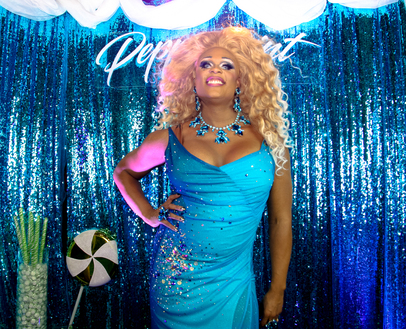 Christmas Queens
O2 Academy, Glasgow. 16 Dec, 7.30pm
Yas, Queen! Dig out your wigs and practise your best tuck because the Christmas Queens are coming to town. Join Michelle Visage and a line-up of some of our favourite Queens from past series of Ru Paul's Drag Race, including Peppermint and Sharon Needles, for a festive extravaganza, as they perform tracks from their new album Christmas Queens #3. Image: Creative Commons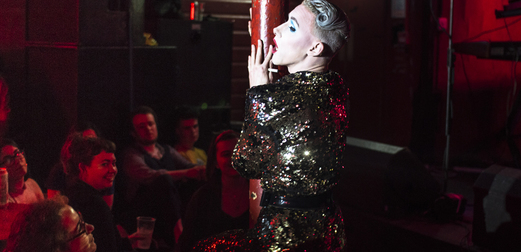 Queer Theory: Gender Trouble
Nice 'n' Sleazy, Glasgow. 20 Dec, 7.30pm
Cabaret pop band Black Doves bring us another night of Queer Theory at Sleazy's, with music from themselves, Acolyte and Alternative Cracks, drag by Tom Harlow (pictured), performance art by Cal Harper, poetry by Katherine McMahon and comedy by Pauline Goldsmith. Hosted by the ineffable drag king Boris Gay, expect an evening of singing, dancing and glitter – lots of glitter. Image: Martin Windebank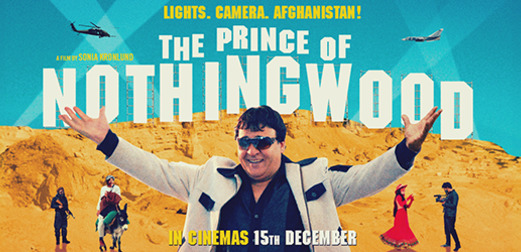 ADVERTISEMENT | The Prince Of Nothingwood
Glasgow Film Theater / Dundee Contemporary Arts, from 15 Dec
Meet Salim Shaheen, the greatest movie director of all time in Afghanistan. Over the past thirty years, Shaheen has been tirelessly making movies despite the country's ongoing war. About to embark on his 111th no-budget feature, journalist Sonia Kronlund joins him on a filmmaking adventure to the heartland of Afghanistan. A fascinating behind-the-scenes account of Shaheen's life and work, the art of filmmaking in a war zone and this larger-than-life character, the film celebrates creativity against all odds.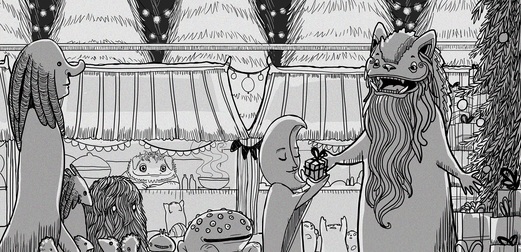 Winter Weirderland Market
The Old Hairdressers, Glasgow. 16 & 17 Dec, 12pm
For a different take on a Christmas market, head to The Old Hairdressers this weekend for a scout around Roky Records' Winter Weirderland Market. Held on both Saturday and Sunday, the left-field market will support local artists and independent traders with a cult or DIY slant. Peruse a selection of records, zines, comics, prints and crafts or just enjoy a festive drink and snack. Image: Claire Maclean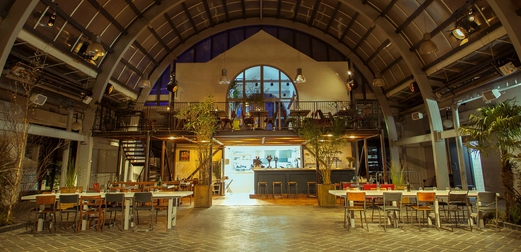 BAaD Christmas Market
BAaD, Glasgow. 17 Dec, 11am
It's another mash-up from Glasgow Vintage Market and Glasgow Independent Market, this time featuring guest vocals from Winter Feast End Food. Go to panic buy an Art Deco teapot for your close friend or relative, stay for the festive treats from an array of the city's finest street food vendors. What's more, it's free entry and family and dog friendly i.e. a fun day out for all.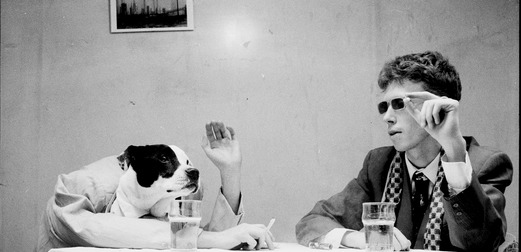 King Krule
SWG3, Glasgow. 15 Dec, 7pm
Single-handedly bringing slouchy grunge-rock back into fashion, Archy Marshall returned with a new album, The OOZ, under his King Krule moniker in October. The album is Marshall's most immersive yet, switching up from trip-hop to jazz to punk seamlessly. He's known to put on quite the show, so make sure you get down to hear his gritty vocals and see his luscious red-haired locks in all their glory.