What's On Scotland 10-17 Jul: Dive In Fest & more
As we wait for cinemas to reopen, test the waters with Glasgow Short Film Festival's collaborative online film series Dive In. Elsewhere, the ECA have gone digital for their annual degree show, and Jupiter Artland is re-open for business
The further we get into summer, the greater the absence of everything that has been cancelled becomes (can't think about it too long otherwise I will cry). Such a relief, then, that so many of our favourite festivals and arts organisations are keeping the magic going online.
One such organisation is Glasgow Short Film Festival who, in addition to their main programme which will be running online 17-23 August, have put together Dive In, a two-week online screening series programmed by some of the biggest names in Scottish Arts and Culture, running 11-24 July. Co-curated by Africa in Motion, Dardishi, Take One Action and Scottish Queer International Film Festival to name but a few, the programme offers a mixture of features and short films, both fiction and documentary. Read our round up here - the series is absolutely free of charge to watch, but GSFF are encouraging donations to The Unity Centre and Ubuntu Women Shelter.
Elsewhere, both Edinburgh and Glasgow art schools have moved their annual degree shows online, Dundee Theatre is being wrapped, and Jupiter Artland are open for in-person visits (can you believe). Read on for more!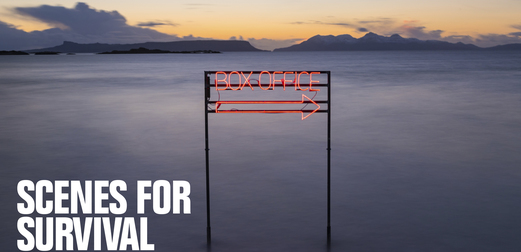 Scenes for Survival
National Theatre Scotland have unveiled another batch of their Scenes for Survival, short digital artworks released both on their website and through the BBC on Monday, Wednesday and Friday each week. This week features Hannah Lavery's Disco with Mum, Kevin P. Gilday's Courier Culture and Meghan Tyler's The One with the Lockdown.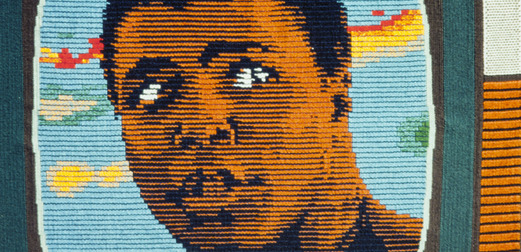 Archie Brennan Exhibition
Edinburgh gallery Dovecot Studios are fundraising for their exhibition on Scottish pop artist and weaver Archie Brennan, one of Edinburgh's most seminal yet overlooked artists, set to open 26 March-26 June 2021. Their crowdfunder offers several tiers of rewards, including limited edition tote bags and postcards, prints, and weaving kits. Image: Dovecot Studios.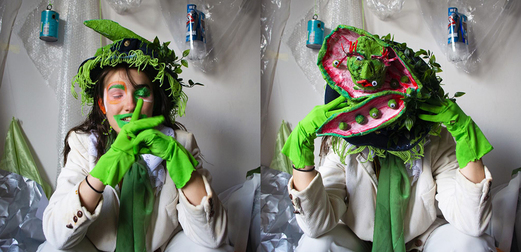 Edinburgh College of Art Degree Show
Launched last Friday and lasting several weeks, the ECA have moved their annual degree show online. The show exhibits a range of works by their graduating students, including fine art, printmaking, illustration, sculpture and more. They follow in the steps of Glasgow School of Art, who have similarly turned to digital formats to showcase their students' incredible work. Image: Kiera Saunders.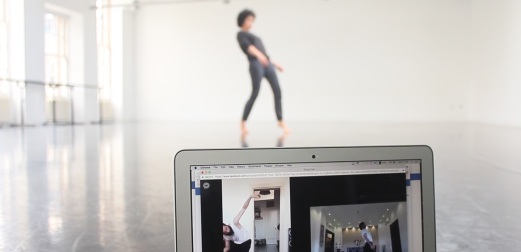 Tramway TV: Farah Saleh
Glasgow arts space Tramway has introduced a new online platform Tramway TV, which showcases films, artists, and digital performances on its Instagram TV page. This week features a webinar by dance artist Farah Saleh, which will be available on their Instagram for two weeks from 10 July. Image: Maciej Czajka
Want a guide to the best of the Scottish cultural scene in your inbox every week? Sign up to our mailing list!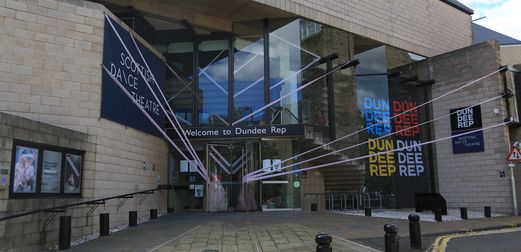 Dundee Rep Theatre Wrapped
Live performance venues are among the worst affected in the arts industry from the recent pandemic. #scenechange, a community of over 1000 designers dedicated to spotlighting the key role theatres play, have been wrapping empty theatres across the UK. This week it's the turn of Dundee Rep Theatre, which was wrapped this Tuesday, with its decorations staying up for a week. Image: Viktoria Begg.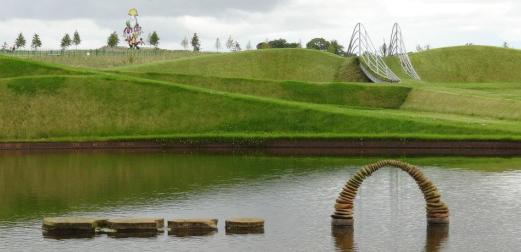 Jupiter Artland
Outdoor sculpture park Jupiter Artland, located just outside of Edinburgh, is reopening for all your socially distanced art needs. The open air art gallery has put in place a number of Covid19 measures, including visiting time slots that must be booked in advance, to ensure a safe trip. Image: Anna Docherty.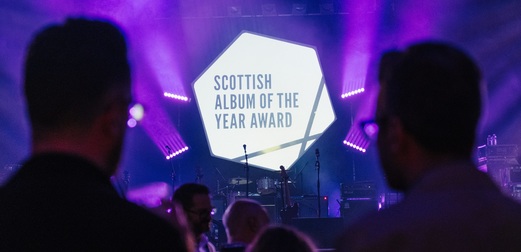 Scottish Album of the Year Awards
The SAY Awards nominations are open! It's been a particularly hard year for the music industry, and particularly for local, smaller bands, so now is the time to celebrate your favourites. Head to the SAY Awards website to nominate the Scottish music you've most loved this year. Image: Euan Robertson.
• Read more news from across the Scottish cultural scene at theskinny.co.uk/news