Thirteen Records: Continuing Dundee's music legacy
New Dundee record shop Thirteen Records on life after the iconic Groucho's Records, opening a cultural venue in a pandemic, and the future direction of music and culture in their hometown
When Groucho's Records closed its doors for good last year, many music lovers mourned the loss of the Dundee cultural institution. The memories of generations of Dundonians (including myself) were fostered there over the years and the store was even a firm favourite of The Smiths' guitarist Johnny Marr.
The late owner of Groucho's, Alastair 'Breeks' Brodie, fully embodied the ethos of the store, his passion for music and the local community shining brighter than most. With his passing, the inevitability of closure loomed ever closer. But his loyal staff did much more than just accept this fate.
Instead, they opened Thirteen Records. And with a renewed cultural focus on Dundee and vast record store experience on their side, Thirteen Records may just become a new musical mecca in the City of Discovery.
What's the ethos behind Thirteen Records?
All we want to do is provide people with the absolute best record store experience we possibly can – that's what we have always done and what we will always strive for. We do our best to be fair when it comes to buying and selling, and just want to see our customers happy. We want people to feel comfortable and unintimidated here.
What were the emotions like on opening day last year? It must have been a strange feeling having worked at Groucho's for so many years.
When we first opened there was an overwhelming sense of excitement, a real feeling of the community coming together and getting behind us to support the opening of the shop. We really couldn't have asked for more. After working in Groucho's for so long (between us we were in there for over 70 years combined!), it was really strange being somewhere else, but we settled in quickly.
Groucho's former owner Alastair 'Breeks' Brodie sadly left us back in 2019. Can you put into words the impact that he has made on Dundee's culture over the years?
I don't think anybody could put into words the impact Breeks has had on the music scene in Dundee – you can say with absolute certainty that the local music scene would look entirely different today if Breeks had never moved to Dundee. He served the community loyally since 1976 and we like to think he would be proud to see his staff carry on that legacy, albeit under a different name.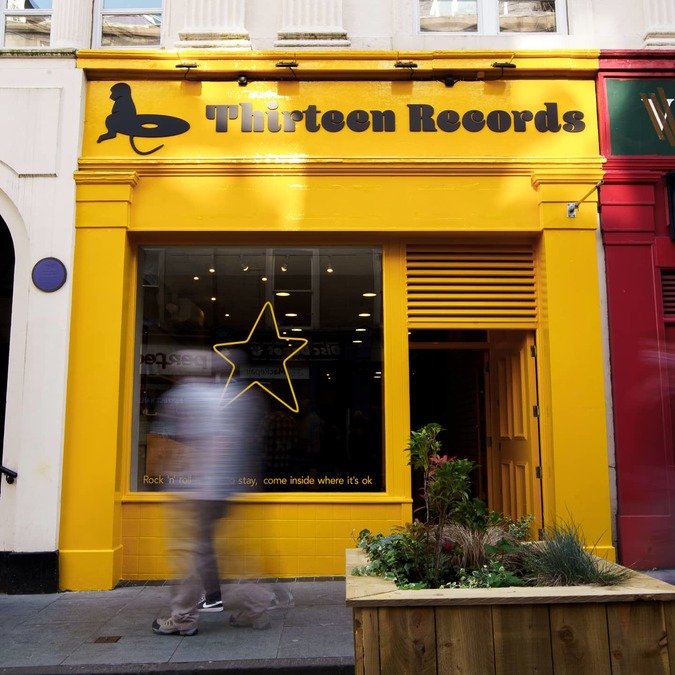 Image: Thirteen Records
Did you all feel that it was important to continue Breeks' legacy by opening Thirteen Records?
Upon reflection I suppose it is important. But as far as we were concerned, we never gave it a second thought. All we want to do is work in a record shop and sell people records, that's what we love. Moving on to something else was never an option.
There has been a renewed cultural focus on Dundee over recent years spearheaded by the V&A and the Waterfront Project. Are you optimistic about the future direction Dundee could continue to head in over the next few years?
We're optimistic that once things open up properly the city will flourish. Being on the newly pedestrianised Union Street in the city centre has been a massive blessing, as even within the street itself there's a sense of community. Going back to when we were in Groucho's, the 'V&A effect' was apparent almost immediately, with tourists from all over the world popping into the shop. Once people start to feel comfortable with travelling again, I think the V&A will have a hugely positive effect for the city.
Can you see the relationship between Dundee's record stores and live music scene evolving with this regeneration?
The live music and nightclub scene in Dundee is just as essential to the developing community as anything else. Good record shops should always support local talent and try to give them a platform, as often no one else will. We hope that as things start to ease back to normality, we can see the return of live gigs and clubs, and maybe get some people to play in store.
Are you looking forward to welcoming back customers again soon?
We can't wait! We've really missed the day-to-day interactions with our regulars: there are so many people who we're used to seeing three or four times a week – if not more – and it's felt like a ghost town since Christmas. There really are few things that compare to the atmosphere in a record shop when good music is playing and people are talking about what they love.
Will Thirteen Records become an integral part of the city's musical culture – like Groucho's?
That remains to be seen! We certainly hope so.
---
13 Union St, Dundee DD1 4BN
facebook.com/thirteenrecordsdundee