Get your copy of The Skinny's September Issue
We're back – here's where you can pick up your free copy of our September issue
It's been a while, but we're back. After a period of lockdown-enforced hiatus, the wonderful glow of our successful crowdfunding campaign, and a few false starts as we tried to remember where we'd saved all the files we need to put the thing together, The Skinny's September 2020 issue is here.
It's very much a child of lockdown, looking back on the change we've all been through, and forward to the changes we want to see in the future. Among a whole lot else, we looking at two groups trying to change Scotland's music scene for the better, the comedians tackling sexual harrassment in their industry, and the film festivals adapting to a new online-first format.
This issue celebrates the great joy that can come from culture and the arts, but acknowledges that things can always be improved and that change doesn't happen by accident. It's been inspiring to produce, and hopefully you all get something out of it when you pick up your copy. Thanks so much to everyone who supported us to get back on our feet, and to everyone with lovely words to say about the magazine in the past few months. 
As for where you can pick one up, we'll be updating our list of stockists on this page and on social media throughout the month. We're expecting things to be a bit more ad-hoc than usual given the whole lockdown business, but we will be available in supermarkets and shops across Edinburgh, Glasgow and Dundee from this week. The full list is below, and there's an interactive map below that should help you work out which drop is nearest to you. 
Get your copy in Edinburgh
Sainsburys Murrayfield
39 Westfield Road, EH11 2QW
Tesco Extra Corstorphine
Meadow Place Road, EH12 7UQ
Sainsburys Longstone
Inglis Green Road, EH14 2ER
Sainsburys Cameron Toll
Cameron Toll Shopping Centre, EH16 5PB
Sainsburys St. Andrew Square
9-10 St Andrew Square, EH2 2AF
Morrisons Ferry Road
104 Pilton Drive, EH5 2XS
Asda Newhaven
2 Sandpiper Drive, EH6 6NX
Sainsburys Meadowbank
9-10 Moray Park, EH7 5TS
Tesco Metro Nicolson Street
94 Nicholson Street, EH8 9EW
The Blackbird, Leven St
Oddbins, Bruntsfield Pl
Seeds for the Soul, Bruntsfield Pl
Project Coffee, Bruntsfield Pl
FOPP, Rose St
Dr. Martens, Princes St
Snax, West Register St
Holyfood, Holyrood Rd
The Black Bull, Grassmarket
Budget Backpackers, Cowgate
Brewdog, Cowgate
Rudi's, Forrest Rd
Let Me Eat Too, Cowgatehead
The Chanter, Bread St
Filmhouse, Lothian Rd
Assai Records, Grindlay St
Black Medicine Coffee Co, Nicholson St
Coffee Angel, Nicholson St
Blackwell's, South Bridge
Summerhall, Summerhall Pl
Cult Espresso, Buccleuch St
The High Dive, St Leonard's St
High Street Hostel, Blackfriars St
Scottish Storytelling Centre, High St
Indigo Yard, Charlotte Ln
Bross Bagels, Queensferry St
Edinburgh Art Shop, Lauriston Pl
Get your copy in Glasgow
Sainsburys Buchanan Galleries
236-240 Buchanan Street, G1 2GF
Asda Maryhill
20 Rothes Drive, G23 5EZ
Tesco Extra Maryhill
Maryhill Rd, G20 9SH
Asda Toryglen
555 Prospect Hill Rd, G42 0AE
Asda Govan
500 Helen Street, G51 3HR 
Sainsburys Partick
80 Crow Road, G11 7RY
Tesco Extra Springburn
Cobden Rd, G21 1YL
Tesco Extra Rutherglen
Dalmarnoch Road, G73 1NY 
Morrisons Crossmyloof
Titwood Rd, G41 4DA
Asda Parkhead
The Forge, G31 4EB
Oran Mor, Byres Rd
Embargo, Byres Rd
Artisan Roast, Gibson St
Smug, Great George St
Curlers Rest, Byres Rd
The Left Bank, Gibson St
Hillhead Bookclub, Vinicombe St
Tennents Bar, Byres Rd
Bar Soba, Byres Rd
John Smith & Sons, Hillhead St
Hanoi Bike Shop, Ruthven Ln
State Bar, Holland St
CCA, Sauchiehall St
Nicos, Sauchiehall St
Gesso, Charing Cross Mansions
Primal Roast, St Vincent St
Ben Nevis, Argyle St
The Big Slope, Kelvingrove St
Brewdog, Argyle St
Strip Joint, Argyle St
Get your copy in Dundee
Asda, Milton of Craigie Road, DD4 7RX
Tesco Extra South Road, DD2 4SR
Asda, Kingsway West, DD2 4WB
Tesco Extra Riverside Drive, DD2 1UG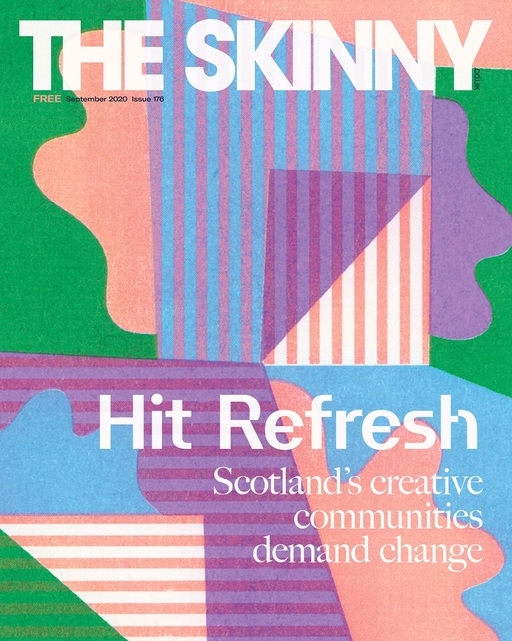 If you're struggling to find a copy, or if you run a venue and want to stock the new issue, drop us a DM on Twitter or Instagram @theskinnymag