Get The Skinny's October 2020 issue
Our October issue is out now – here's where you can pick up your copy in Edinburgh, Glasgow and Dundee
We're back! Again! Our second issue after our pandemic-enforced break is out now, and as usual it's packed with tales from across Scotland's cultural landscape. Art galleries exploring digital spaces in exciting new ways; cross-border musical projects pressing on in tricky circumstances; new things happening; fun stuff on the horizon. It's a good issue, it's free, go and get one.
And speaking of getting things – we have some merch to sell you! We've teamed up with 1 of 100 on a limited edition T-shirt featuring this month's cover slogan as illustrated by Jacky Sheridan. The tees are ethically sourced, they look great, and a portion of the proceeds goes towards helping keep this show on the road. Head over to 1 of 100's website to check 'em out and put in your order. They are limited, as the name suggests, to one hundred (100).
You can grab your copy of the October issue from the supermarkets and venues listed below – we'll be updating this list with more drops as and when they're confirmed (Leith people, we hear you and have added the Tesco at the Foot of the Walk to the list!). If you can't track down a copy, get at us on Instagram or Twitter @theskinnymag and we'll see what we can do. 
Get The Skinny in Glasgow
Oran Mor, 731 Byres Rd
Hillhead Bookclub, 17 Vinicombe St
Oxfam Books, 330 Byres Rd
Smug, 167 Great George St
Curlers Rest, 256-260 Byres Rd
Hanoi Bike Shop, Ruthven Lane
Tennents Bar, 191 Byres Rd
Queen Margarets Union, 22 University Gardens
John Smith & Sons, 65 Hillhead St, Fraser Building
Glasgow University Union, 32 University Avenue, John Mcintyre Building
Mixed Up Records, 16-18 Otago Lane
Artisan Roast, 15-17 Gibson St
Oxfam Music, 171 Byres Rd
Bar Soba, 116 Byres Rd
Big Mouth Coffee Co, 167 Dumbarton Rd
Colab Store, 11 Dowanhill St
Footasylum Glasgow, 116 Argyle St
Delmonicas, 68 Virginia St
Doghouse (brewdog), 99 Hutcheson St
Tinderbox, 24 Charing Cross Mansions
Nicos, 379 Sauchiehall St
CCA, 350 Sauchiehall St
Route One, 254 Sauchiehall St
Dr Martens Store, 50 Sauchiehall St
Vans Store, 185 Buchanan St
Stereo, 20-28 Renfield Lane
Rufus T Firefly, 207 Hope St
Bar Bloc, 117 Bath St
Slouch, 203-205 Bath St
Primal Roast, 278 St Vincent St
Spitfire Espresso, 127 Candleriggs
Record Fayre, 13 Chisholm St
Mono, 12 Kings Court, 103 King St
13th Note, 50 King St
103 Trongate, 103 Trongate
Brewdog, 1397 Argyle St
Ben Nevis, 1147 Argyle St
Strip Joint, 956 Argyle St
The Big Slope, 36a Kelvingrove St
Soul Food Kitchen, 973 Sauchiehall St
Tesco Rutherglen, Dalmarnoch Rd
Asda Govan, Helen St
Asda Toryglen, Prospect Hill Rd
Morrisons Crossmyloof,Titwood Rd
Asda The Forge, Duke St
Tesco Springburn, Cobden Rd
Tesco Maryhill, Maryhill Centre
Sainsbury's Partick, Crow Rd
Sainsbury's Buchanan Galleries, Buchanan St
Get The Skinny in Edinburgh
The Basement Bar, 10 Broughton St
Real Foods, 37 Broughton St
Artisan Roast, 57 Broughton St
The Blackbird, 37-39 Leven St
Oddbins, 176 Bruntsfield Pl
Bross Bagels, 165a Bruntsfield Pl
Seeds For The Soul, 167 Bruntsfield Pl
Project Coffee, 196 Bruntsfield Pl
Fopp Records, 7-15 Rose St
Black Rose Tavern, 49 Rose St
Snax, 15 West Register St
St Christophers Inn And Belushis, 9-13 Market St / Cockburn St
Brewdog, 143 Cowgate
Budget Backpackers, 37-39 Cowgate / George IV Bridge
Black Bull, 12 Grassmarket
French Institute, West Parliament Square
Rudi's Sandwich Shop, 30 Forrest Rd
Let Me Eat Too, 7 Cowgatehead
Royal Infirmary Of Edinburgh
The Hideout Cafe, 40-42 Queen Charlotte St
The Leith Arches, 6 Manderston St
Out of the Blue Drill Hall, 36 Dalmeny St
Edinburgh Palette, St Margarets House, 151 London Rd
The Chanter, 30-32 Bread St
Assai Records, 1 Grindlay St
Oxfam Music, 64 Raeburn Pl
Blackwells, 53-63 South Br
Brew Lab, 6-8 South College St
Black Medicine, 2 Nicholson St
Coffee Angel, 95-97 Nicholson St
Arts & Craft Collective, 83 Causewayside
Summerhall, 1 Summerhall
Cult Espresso, 104 Buccleuch St
Edinburgh Uni Students Union, Teviot Row House
Potterow, Bristo Square
Scottish Storytelling Centre, 43-45 High St
Edinburgh Art Shop, 129 Lauriston Pl
Loudons Coffee House, 94b Fountainbridge
Cairngorm Coffee, 1 Melville St
Tesco Newington, Nicholson St
Sainsbury's Meadowbank, Moray Park
Tesco Leith Walk, Duke St/ Foot of the Walk
Morrisons Ferry Rd, Pilton Dr
Asda Newhaven, Sandpiper Dr
Sainsbury's Cameron Toll, Lady Rd
Sainsbury's St Andrew Square, Corner of St Andrew Sq and Rose St
Sainsbury's Murrayfield, Westfield Rd/ Gorgie Rd
Get The Skinny in Dundee
Asda, Milton of Craigie Rd, DD4 7RX
Tesco, South Rd, DD2 4SR
Asda, Kingsway West, DD2 3XX 
Tesco, Riverside Dr, DD2 1UG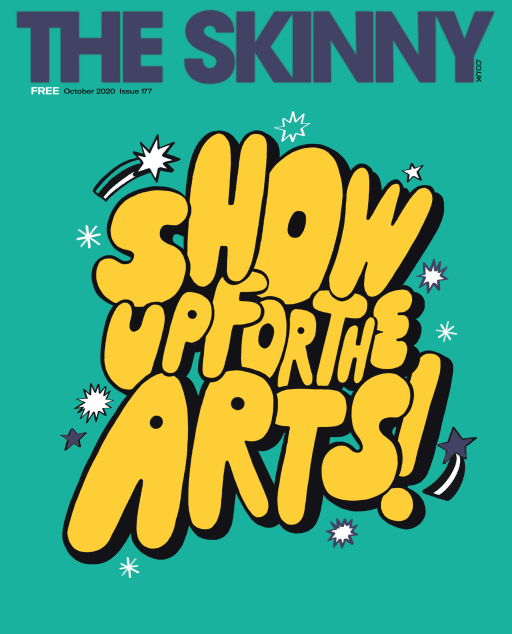 If you're struggling to find a copy, or if you run a venue and want to stock the new issue, drop us a DM on Twitter or Instagram @theskinnymag; you can also read the full magazine online via Issuu