Get The Skinny Guide to Glasgow!
We've put together an in-depth guide to Glasgow – here's a look at what's inside, and where to find your copy
Trying to sum up Glasgow in one small guide is perhaps an impossible feat. It's a place with many faces – Scotland's most diverse city, world renowned for music and art, and also for shipbuilding, engineering, architecture, with a history of community activism, protest, home of the Rent Strikes and Red Clydeside. And also Rab C. Nesbitt? Football. 
It's been rich – the 'second city of the Empire' – and it's been poor – struggling through deindustrialisation and Westminster-imposed 'managed decline' to be reborn as the 1990 European City of Culture, a world-renowned centre for the arts, home to innumerable Turner nominees and probably your favourite band. 
In this guide, we hope to celebrate the city, its people, a little of its past and present while also telling you the best places to get a pint, a coffee, a pizza, a vegan meal.  We have, perhaps controversially, split the city into eight areas, to offer a taste of the different characters of Glasgow as you move through it, as well as detailed recommendations on where to go.
We've spoken to some notable local residents to find out why they love living here; our guides to Glasgow music, clubs and art spaces explore the venues and the histories of these overlapping communities. Reflecting on the city's history of grassroots activism, we talk to Glasgow Women's Library. Oh, and we catch up with Kingsley, the sun god-like mascot of Partick Thistle FC – come for the lore around his Californian upbringing, stay for his attempts to chat up Amy McDonald. Welcome to Glasgow.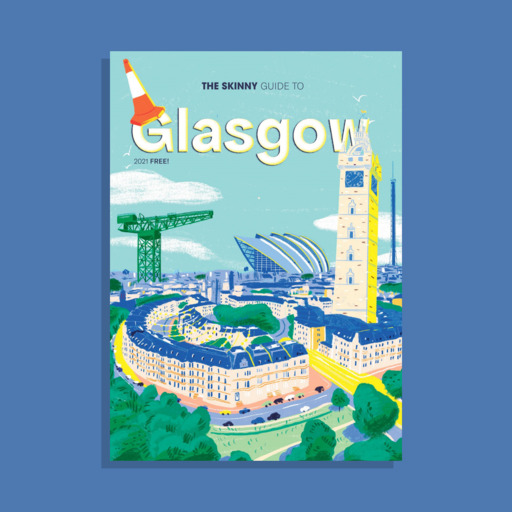 Pick up your copy of The Skinny Guide to Glasgow
Below is a list of confirmed drops for our Glasgow Guide; we'll be updating this page once we have more locations locked-in, but be on the lookout in the usual places you might find The Skinny in Glasgow, as you should be able to find them out and about...
Sainsburys Buchanan Galleries, Buchanan St, G1 2GF
Sainsburys Partick, Crow Rd, G11 7RY
Morrisons Crossmyloof, Titwood Rd, G41 4DA
Morrisons Crow Road, 900 Crow Rd, Anniesland, Glasgow G13 1HY
Morrisons Paisley Road West, 1760 Paisley Rd W, Cardonald, Glasgow G52 2BW
Tesco Rutherglen, Dalmarnock Rd, G73 1NY
Tesco Maryhill, Maryhill Rd, G20 9SH
Asda Govan, Helen St, G51 3HR
Asda Forge, 1300 Duke St, Parkhead, Glasgow G31 4EB
Asda Clydebank, 31 Britannia Way, Clydebank G81 2RZ
Sainsburys Drumchapel, Allerdyce Rd, G15 6RX
Sainsburys Braehead, Kings Inch Dr, G51 4BT
Tesco Burnside, Stonelaw Rd, G73 3RJ
Morrisons Newlands, Riverford Rd, G43 1PU
Tesco Silverburn, Barrhead Rd, G53 6AG
Tesco Barrhead, Kelburn St, Barrhead, Glasgow G78 1LS
Tesco St Enoch, 205 St Enoch Square, Glasgow G1 4BW
Tesco Byres Road, 300-304 Byres Rd, Glasgow G12 9BG
Co-op, 123 Sauchiehall St, Glasgow G2 3DD
Co-op, 132 Union St, Glasgow G1 3QQ