The Skinny Christmas Gift Guide 2021
We asked the team for recommendations including one thing, one experience and one place to support local, sustainable purchase during this year's mass consumer event
Subscribe to The Skinny!
The perfect Christmas gift for you and literally everyone you know. We offer subscriptions on a three monthly or annual basis. Sign up for a year (for just £55) and you will receive 12 copies of The Skinny direct to your door, PLUS two risograph prints by exciting local illustrators Atika Bennamane and Inès Gradot, AND a download code for our Pyramid album compilation AS WELL AS any additional publications we produce over the course of the year. theskinny.co.uk/subscribe
We trust that resolves all of your Christmas shopping dilemmas. If you're looking to buy someone a second gift, we have a few suggestions of things, places and experiences with the usual focus on local, sustainable, small business support. 
PlantMama
PlantMama is like a botanical garden in a shop front in Glasgow. If – like me – you want every view of your flat to look like it belongs to one of the portrait painter Alice Neel's sitters/neighbours in 1950s Harlem, a dramatic plant is a necessity. See, for example, the fishbone cactus, whose long wavy leaves look lifted straight from a Matisse cutout and only need minimal watering. Win win! [Adam Benmakhlouf, Art editor]
Sally Good Hair
Sally Good is making Glaswegians gorgeous one-by-one. She's a magical hair witch and the person to call if you would like to give the gift of looking four years younger and minimum two points cuter. Sally is based in Curlach in Glasgow whose tagline is "low maintenance, high impact hair", and they just won Creative Head Magazine's Best Local Salon of the year. [Adam]

te Seba
Family-run, homemade pasta. Imagine being so good that you can just have one dish be fresh made pasta with butter and sage, and it's a showstopper. [Adam]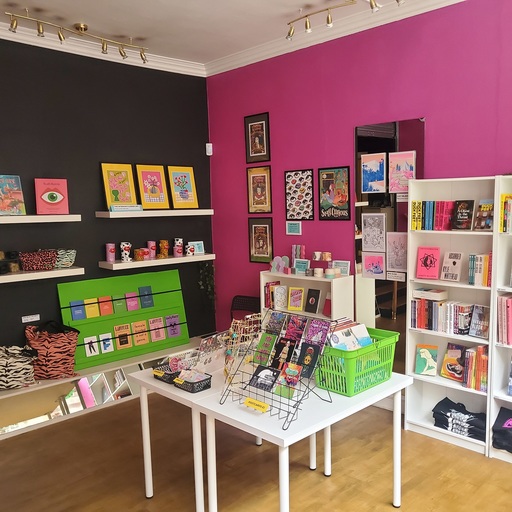 Blunt Knife Co.
Carefully curated books, art, and zines? Exclusively by the girls and the theys?? Sign me up now. But maybe get me a gift card because I want to wander in this cute little Edinburgh shop (pictured above) myself. [Anahit Behrooz, Events editor]
Rare Bird Books
New kids on the Stockbridge block Rare Bird Books do an utterly charming book club subscription where they send you a surprise book every month. Do I already own a sickening number of books? Yeah! Is this hubrism at its most dangerous? Probably! But here we are. [Anahit]
Filmhouse
Filmhouse in Edinburgh do lovely annual memberships which offer discounts on tickets, or for those of us already with a membership card (ahem, me) they also do gift cards for buying a ticket (or ten). [Anahit]
Sunboy Toys
Set up in 2017 by Katie Lundie and Isobel Neviazsky, Sunboy Toys is a Glasgow-based maker of friendly and colourful toys from almost entirely recycled and repurposed materials. [Dalila D'Amico, Production manager]
Stack Magazine Subscription
Subscriptions cost £7 a month, you get a different magazine delivered every month. Magazines from all over the globe and you never know what you'll get next, the topics covered are usually Art & Design, Culture, Fashion, Music, Food & Drinks etc. [DD]
Inver Restaurant & Rooms
If you're feeling very generous. Awarded the New Michelin Guide Green Star for Sustainability, they offer simply prepared fresh seafood and native meat and game in season, natural wine and fancy drinks. In the evening they also serve a four course tasting menu. Using current cooking techniques and the very best local wild and farmed ingredients, they offer a contemporary take on traditional and forgotten Scottish dishes. [DD] 
Category Is Books
This fiercely independent bookshop is one of the gems of Glasgow's Southside. It's a lovely, cosy space, and has a fantastic selection of books, zines, comics and graphic novels created by or with the LGBTQIA+ community. [Eliza Gearty, Theatre editor] 
BEND.R
Described as 'a physical vending machine turned queer creativity capsule', this is a truly brilliant project spearheaded by artist Leo Valenti. You pay on a sliding scale – from £4 to £30 – and receive a mystery bag of goodies from a queer artist in the post. Each ticket corresponds to a product's price. Valenti actually originally bought a real-life vending machine for this project and filled it with artwork, inspired by Japanese gashapon machines. [EG]
Paesano Pizza
I love this place – it does the best pizza in the world. They make traditional Napoletana pizza in big, wood fired ovens. They cook them really quickly on a really high heat. The restaurant is always packed and they offer gift cards. [EG]
Meadowlark yoga
Chances are that one or more of your loved ones got right into virtual yoga over lockdown but haven't quite been brave enough to take their downward facing dog into a real life studio yet. Not-for-profit yoga studio Meadowlark, just off the Meadows in Edinburgh, is as fine a place as any to take the plunge. They offer a great range of gift cards, starting from just £9, which can be purchased at the studio or online. [Jamie Dunn, Film editor, Online journalist]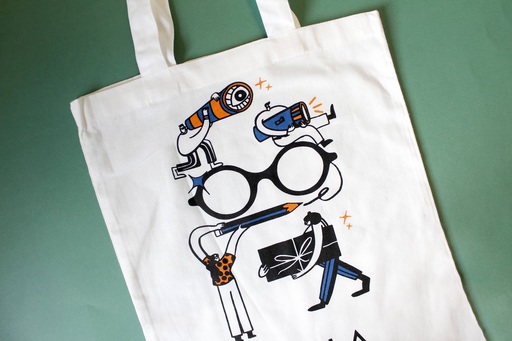 IOLLA glasses
Have I developed cataracts? No, I just need new glasses. I tend to shop at everyone's favourite budget specs chain (you know the one) but am in the market for something a bit more chic this year. Us four-eyes wear our glasses more than any other item of apparel, so they should really be stylish as hell. Scottish brand IOLLA have a beautiful range of frames, and are surprisingly affordable. Festive gift cards start at £20 and come with a free tote (pictured). [JD]
Leith's Pay What You Want Bookshop
Second-hand books make for lovely stocking fillers that don't break the bank. Edinburgh has an enviable collection of second-hand book shops scattered across the city, but one of the newest and most forward-thinking is Leith's Pay What You Want Bookshop, which offers a high-quality selection of nearly new books for whatever you're able to pay. The kids' selection is particularly winning. 120 Ferry Road, Edinburgh [JD]
Wild Shore Dundee
They're closed for the winter now, but this is basically a massive Total Wipeout-style adventure course floating in Dundee's City Quay. It looks fun and stupid and I've been wanting to go for a very long time. [Laurie Presswood, General manager] 
Lupe Pintos Famous Chilli Con Carne Pack
To be clear, this is not a real product, but you can collect all the constituent parts from Lupe Pintos and bundle them up in a wholesome little hamper. Their chilli recipe is a special treat for those who don't normally like the dish on account of all those pesky kidney beans – and veggie alternatives to the meaty elements can easily be found at your local supermarket. [LP]
Heron
If you're looking to push the boat out this Christmas, might I suggest you push it right along the Water of Leith to the lovely Heron. This restaurant is not cheap, so a voucher is the perfect way to get your loved ones to treat themselves to a meal somewhere they might not go otherwise. [LP]
Vault City Brewing
There are a few ways to give the all-sour Edinburgh brewery as a gift. Grab a bottle or two from your local indie off-license, gift a snazzy glass or surprisingly tasteful T-shirt, or take your giftee to Vault City's new bar in Haymarket and do some heavily fruited, pleasingly potent tasting. [Peter Simpson, Digital editor, Food & Drink editor]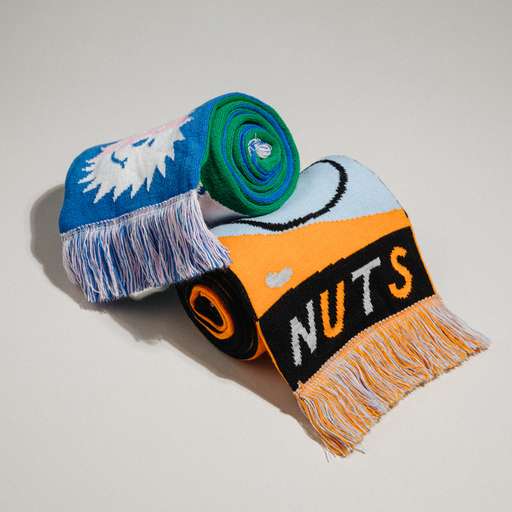 Max Machen
OK, we recommended Max last year, but his work's just so much fun. If you only get one orange and blue scarf featuring a peanut-eating elephant in sunglasses and the slogan 'Go Nuts!' this festive season, make it this one. [PS]
Perfume Making Workshop at A Library of Olfactive Material
This beautiful space in Trongate, Glasgow, offers a three hour session teaching you the basics of scent making, and you get to take home your own 30ml bottle of fragrance. And as the name library suggests, they have a collection of sample scents to browse, and a growing collection of publications on all things scent. [Phoebe Willison, Designer]
Lunch Concept Store
Championing independent designers, with a focus on slow fashion, Lunch has to be one of the most exciting online destinations to come out of Scotland. It's easy to dream away an hour going through their journal, discovering the stories behind the pieces and designers – and their gift card makes an easy present for your fashion-forward family member.
Borja Moronta Ceramics
I want literally everything from this Edinburgh-based ceramicist, but it's all so popular that you have to sign up to a mailing list and wait for a secret email link. It's worth the wait though, as the pieces are beautiful and make you feel like a chic minimalist villain when you're sipping your morning coffee. Webshop reopening 2 Dec, 7pm. [PW]
Scottish Soap Witch
Handcrafted, vegan, cold-pressed soaps which all look and smell magical across a range of Scottish and folklore themes. If you don't want to just smell of gravy and selection boxes this festive season, these are 100% for you! [Polly Glynn, Comedy editor]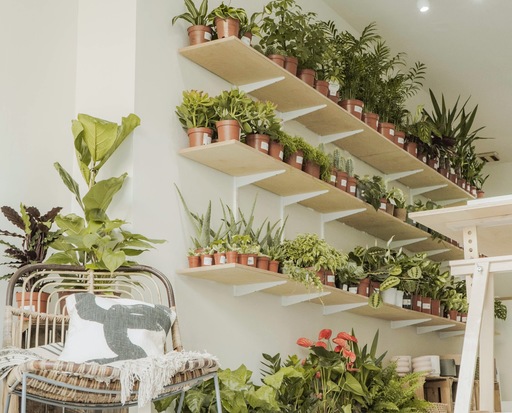 Holly Grows
Freshen up your home jungle with a gift card from Holly Grows. Now settled in a place of its own after pop-ups across Edinburgh and the Scottish Borders, Holly Grows (pictured) is an excellent indie plant and interiors shop in the heart of Portobello. HG even offers a plant repotting service, which we know your limp-looking Monstera is desperate for! [PG]
Inklings
404 Ink's non-fiction series is a breath of fresh air – big ideas explored by passionate writers found through an open call commissioning process. You can buy their whole 2021 set of eight – covering topics from the queer revolution of Schitt's Creek to living between two cultures via an exploration of disaster fiction in apocalyptic times – for £60, or buy them individually for £7.50. The 2022 roster is also available for preorder. [Rosamund West, Editor-in-chief]
Roslyn Leitch Jewellery
Specifically, her Impossible Loopy Earrings in Lilac. Made from Leitch's Fife studio using locally-produced linoleum, her work has a maximalist aesthetic with a sustainably-focused production process. [RW]
Edinburgh Ceramics Workshop
Learning ceramic techniques of an evening sounds like a really great way to distract the mind from a) Scottish winter and b) global pandemic. Courses and workshops are offered in partnership with Edinburgh Design School, providing beginner and intermediate level pottery training. [RW]
Birch & Rockpool Loch Sunset Earrings
I am in love with these hand-painted clay earrings from Aberdeen jeweller Birch & Rockpool. They're so bright and colourful I think my ears would be happier with them in their life. [Tallah Brash, Music editor]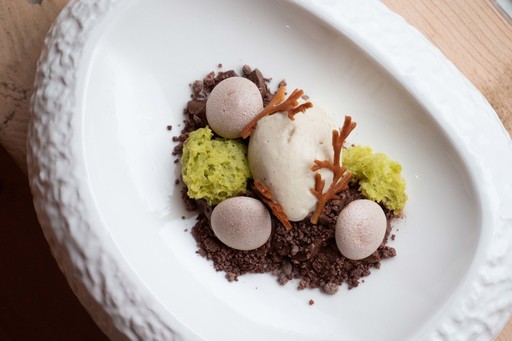 Aurora
Based in Leith, Aurora (pictured) describe themselves as a 'Modern Eatery' and offer tasting menus from £30, making it affordable for this kind of dining. I am desperate to try the gorgonzola and white chocolate lollipop so a voucher would help fulfil my dream. [TB]
Still Life
Glasgow-based Still Life were behind the beautiful SAY Award prizes this year and I would love something of theirs to call my own. Made from recycled plastics, they make everything from coasters to stools, each piece gloriously colourful and unique. [TB]
Odd Company Jewellery
Call it nepotism if you want, but Skinny alumna Rachael Hood's earrings deserve all the praise because they are beautiful! [Nadia Younes, Clubs editor]
Support community radio!
A lot of people got back into radio over lockdown and, for some of us, it was one of the few things keeping us sane. There are loads of really great community radio stations in Scotland – like EHFM, Clyde Built Radio, and Radio Buena Vida – that you can support by becoming a subscriber, buying merch, or simply making a donation. [NY]
Taza In Town
One of the things I miss the most about living in Edinburgh is living dangerously close to Taza In Town. It serves some of the best Lebanese food I've eaten outside of Lebanon, and the staff are an absolute delight. [NY] 
Local Heroes Design picks
All items available from V&A Dundee shop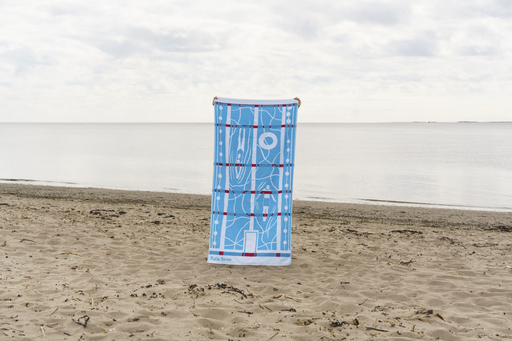 Selkie the Seal by Donna Wilson
DIY Candle Kit by Our Lovely Goods
Daytripper Beach Towel, designs by Laura Morsley, Katie Smith and Kate Scarlet Harvey (pictured)
Bella Beanie by Jo-AMI
Jumper by Jennifer Kent