Where to pick up The Skinny's April 2020 issue
A complete list of the supermarkets in Edinburgh, Glasgow and Dundee stocking the April 2020 issue of The Skinny magazine
In the midst of this pandemic hoo-ha, we've somehow published the April issue of The Skinny. It's filled with stuff to do while you're on lockdown, and packed with the usual mix of interview, review and fun chat.
Sadly, almost all of our usual partner venues are closed as a result of the coronavirus outbreak and lockdown, so we've had to take a new approach to get this one out to you. You'll be able to pick up The Skinny in a selection of supermarkets across Edinburgh, Glasgow and Dundee – there's a full list below, and a map of the distribution points at the bottom of this page. We've tried our best to make the list as wide-ranging as possible, so hopefully there's one near you.
So if you are out to do your food shop or picking up some essentials for the house, grab a copy from one of the following stores. Stay safe, and wash your hands.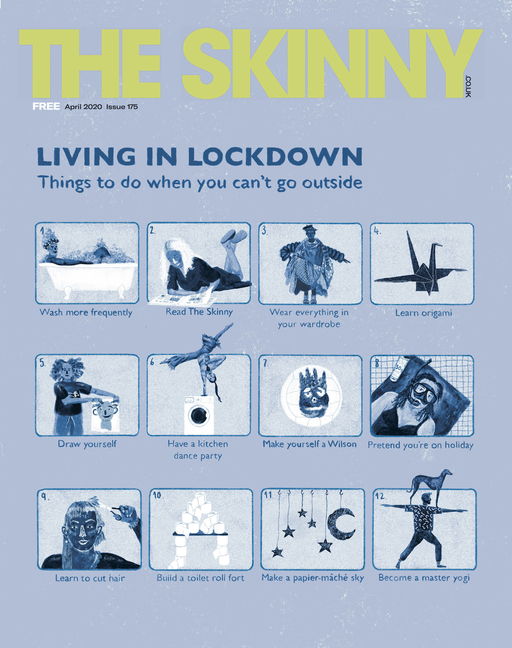 Get The Skinny in Glasgow
Sainsbury's, Buchanan Street
236-240 Buchanan Street, G1 2GF
Morrisons, Partick
Merkland Court (by Partick rail station), G11 6BZ
Co-operative Food, Broomhill
14 Norby Road, G11 7BN
Sainsbury's, Partick
80 Crow Road, G11 7RY
Morrisons, Anniesland
900 Crow Road, G13 1JD
Asda, Maryhill
20 Rothes Drive, G23 5EZ
Asda, Parkhead
The Forge Centre, G31 4EB
Morrisons, Shawlands
Titwood Road, G41 4DA
Asda, Toryglen
555 Prospect Hill Road, G42 0AE
Get The Skinny in Edinburgh
Sainsbury's, St Andrew Square
9-10 St Andrew Square, EH2 2AF
Co-operative Food, Stockbridge
56/60 Hamilton Place, EH3 5AZ
Scotmid, Tollcross
5-19 Leven St, EH3 9LH
Asda, Newhaven
2 Sandpiper Drive, Western Harbour, Leith EH6 6NX
Sainsbury's, Meadowbank
Meadowbank Retail Park, EH7 5TS
Co-operative Food, Dalry
114 Dalry Road, EH11 2EZ
Scotmid, Gorgie
236 Gorgie Road, EH11 2PL
Sainsbury's, Chesser
Inglis Green Road, EH14 2ER
Sainsbury's, Cameron Toll
Cameron Toll Shopping Centre, EH16 5PB
Get The Skinny in Dundee
Asda, Kingsway West
Myrekirk Rd, DD2 4WB
Asda, Kingsway East
Milton of Craigie Road, DD4 7RX 
Morrisons
1 Afton Way, DD4 8BR
Sainsbury's
1 Tom Johnston Road, DD4 8XD