Subscribe to The Skinny
Subscribe to The Skinny! It will save you a trip to the shops each month, helps support the magazine, and we'll throw in two exclusive riso prints as well
There are many reasons to pick up a copy of The Skinny each month. Its incisive criticism; its wide-ranging features; its interviews with the great and the good of Scottish culture; its indispensable Heads Up pages; its jaw-droppingly gorgeous illustrations; its surprisingly tricky crossword; the bants.
There's also the beautifully designed object itself and the increasingly novel prospect of reading on newsprint, which is of course wonderfully tactile and much kinder on the ol' peepers than reading on your phone or laptop.
But there are also many reasons why you might not get the chance to pick it up. Maybe you don't live in town? Maybe you're super busy and don't get the chance each month? Whatever your reasons, we have the solution...  
The Skinny – direct to your door
There's no reason to miss another issue when you can have The Skinny sent straight to your door. As well as saving yourself a trip to the shops and guaranteeing you'll be among the first to get a copy each month, becoming a regular subscriber to The Skinny is the best way to support what we do. But if you're needing even more reason to sign up, we've some extra goodies to give away with each annual subscription.    
Riso prints and Bandcamp compilations
The Skinny itself is a handsome object, full of great design, photography and illustrations. And if you sign up for a year's subscription, you'll receive a couple more nice things, in the form of two new and exclusive risograph prints, created just for us by Inès Gradot and Atika Bennamane (pictured below). These prints won't be available anywhere else for the time being, so if you like the look of them, get subscribing.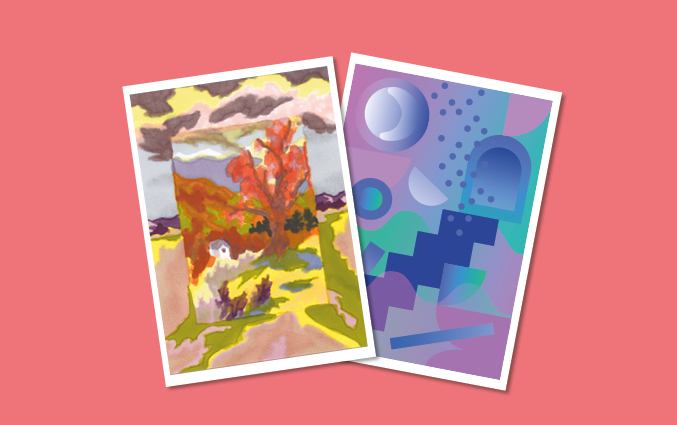 As well as twelve copies of the magazine to your door, and two exclusive prints, we're giving away a digital copy of our Pyramid Stage compilation while stocks last (the album features tracks from Free Love, Squiggles, Swim School, Kapil Seshasayee, Katherine Aly and many more), and we'll also send you copies of any other print publications we put out in 2022, like our City Guides.
Subscribe to The Skinny
For £55 a year, you'll receive twelve monthly issues of The Skinny posted direct to your door, two exclusive risograph prints from a pair of our favourite illustrators, a 14-track compilation of some of the best new Scottish music, and our unending gratitude for your support of our journalism. Not a bad haul for just over £4.50 a month, or roughly the cost of a disappointing sandwich.  
Subscribe to The Skinny for 12 months for £55

For students, we also offer a quarterly subscription for just £10 – you'll get three months of the magazine direct to your door, plus a copy of the Pyramid compilation.  
Subscribe to The Skinny on our three month student deal for £10

---
For more details, FAQ and full terms and conditions, head to theskinny.co.uk/subscribe