The Skinny's Favourite Day Trips from Edinburgh
Once you've explored the centre, venture outside Edinburgh's limits to find beaches, mountains and the cities of Scotland within easy reach, all updated for 2022
From its location in the heart of the lowlands, Edinburgh is perfectly placed as a starting point for day trips across Scotland. For those seeking shorter journey times, the Lothians are the natural place to start. Musselburgh sits just to the east of the city, and is reachable on foot in 40 minutes from nearby Portobello, on the bus from Princes Street Stop PD, or in ten minutes by train from Edinburgh Waverley. From there you can enjoy walks on the beach, ice creams in hand. 
To the west of Edinburgh City Council's domain, you can find Cramond and South Queensferry. Cramond (visited by Maggie Smith for clandestine rendezvous in The Prime of Miss Jean Brodie) is the gateway to tidal Cramond Island, accessed by causeway. Text CRAMOND to 81400 for daily details of safe crossing times from the RNLI. Catch the number 29 bus from the centre to be at the beach in half an hour, or get the 41 to approach through the village itself. Meanwhile, hop aboard the number 43 to journey to South Queensferry, which houses the southern half of three enormous bridges. Stand underneath the Forth Rail Bridge feeling small, and quake in your little boots every time a train rumbles along overhead, or ascend to bridge level yourself and take a walk across the Forth Road Bridge. On 12 August, the town hosts The Burryman, an ancient annual ritual where a local man is dressed in a costume made entirely of burrs, and tours the streets being fed booze by bystanders. South Queensferry is also accessible via a 17-minute train to nearby Dalmeny, plus five minutes of walking – an adult's off-peak day return will set you back £5.10.
South of the city, the Pentland Hills play host to a 100km network of marked paths for those who have brought their hillwalking boots. With such a variety of routes to choose from, there's a walk for everyone, regardless of your fitness level. For a gentler walk, get the 37 bus direct from Princes Street to Roslin Glen Country Park – a large expanse of ancient woodland that is just over an hour away from the city centre (it's also home to Rosslyn Chapel, made famous by The Da Vinci Code). Alternatively, on the other side of the Pentlands you can find Jupiter Artland, contemporary sculpture garden-cum-Instagram sensation which also serves as home to August's Jupiter Rising festival. Catch the X27 bus from Princes Street and you'll be there in 45 minutes.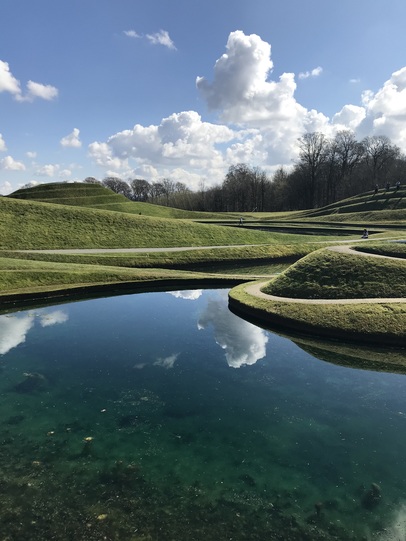 Jupiter Artland
In the centre of Scotland lies Stirling, the old capital. Stirling is just a 40-minute train journey from Edinburgh, and is built around what we will, perhaps controversially, name 'Scotland's Best Castle'. Take the tour, and be invited to sit on a reconstruction of the King's throne, or stand on the battlements and look out over miles of historic battlefields as the wind whips through your hair and you imagine you're in an episode of Outlander.
The bright lights of Glasgow are also within striking distance of the capital – go museum-tripping or shopping during the day, and drinking and dancing later on. The journey is only 50 minutes by train, and off-peak day return tickets are £14.20. Be careful if you're in a rush, though – there are two possible routes to Glasgow, and one takes twice as long. These slower trains are usually headed for Glasgow Central – if speed is what you're after, look for Queen Street. Either way, always check the arrival time of your train and compare with the two coming after it – you might find that a later train will get you in sooner.
Kelvingrove Art Gallery & Museum boasts a selection of art and natural history exhibits, while the Riverside Museum, designed by Zaha Hadid, pays tribute to Glasgow's shipbuilding past and is home to the transport museum. On the opposite bank of the Clyde, Glasgow Science Centre offers fun educational activities alongside a planetarium and IMAX cinema. For more of an in-depth guide to Scotland's biggest city, pick up a copy of The Skinny Guide to Glasgow. 
If you want to learn more about Scotland's history, and are keen to explore beyond the city boundaries, David Livingstone Birthplace in Blantyre attempts a balanced examination of the life of the Scottish explorer. Its exhibits present Livingstone against the backdrop of Victorian-era Scotland, and uses him as a vehicle through which to educate about Scotland's industrial past as well as its role in colonialism. Moving further south still, New Lanark, one of Scotland's six UNESCO World Heritage Sites, is an 18th century mill-village of striking proportions. It's accessible via local coach from Lanark bus station, or direct from Glasgow's Buchanan Street bus station – details for both services can be retrieved by calling Stuart's Coaches on 01555 773533.
Newcomers to Edinburgh might find themselves wondering what that expanse of land across the water is? That's the Kingdom of Fife. With huge stretches of beautiful coastline, the charming fishing villages of Fife's East Neuk are well worth a visit – but to do the trip justice a car is advisable. Further North, you can visit historic St Andrews via a train to Leuchars followed by a connecting bus – fear not, the journey might sound a tad complicated but it shouldn't take you more than an hour-and-a-half.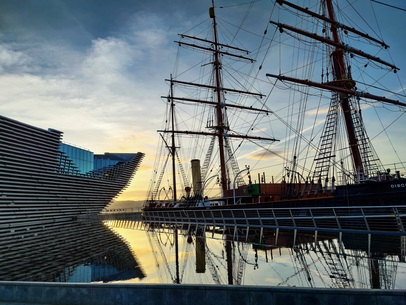 Dundee Waterfront
If you're satisfied admiring Fife's picturesque landscapes through the window of a motor vehicle, then a day trip to Dundee might be in order. Travel from St Andrew's Square with Ember, the country's first all-electric intercity bus, or get the train in a little over an hour, to approach the city over the river and take in the full splendour of this jewel of the Tay as it was meant to be seen – from the water. The most striking feature of Dundee's waterfront is undoubtedly the V&A – Scotland's first design museum – and with the RRS Discovery and Jannettas Gelateria on either side, you could spend an entire day out in Dundee without having to travel more than 500 metres from the train station. Alternatively, for a proper expedition into the city, grab some fish and chips and head for the top of the Law (fish and chips optional).