Get your ideas moving with Red Bull Amaphiko Connect Glasgow
The new programme from Red Bull aims to empower Glasgow's creative entrepreneurs to get their ideas moving in the right direction
We all have great ideas from time to time: problems we can spot solutions to, thoughts on how to improve our local communities, notions that have the potential to flourish into something great. But so often those ideas never achieve their potential – sometimes it comes down to a lack of resources, maybe you don't have the right people to work alongside, or you're simply not able to devote the time to take an idea from 'in your head' to 'out into the real world'.
That's where Red Bull Amaphiko Connect comes in. The new initiative is described as an "ideas bootcamp" with the goal of finding innovative solutions to social issues across the UK. It's aimed at inspiring a new wave of social enterprises and community-minded entrepreneurs, with the first event taking place in Glasgow (20-21 Oct). The project brings together budding social entrepreneurs with those who've done it before, providing them with the resources, motivation and information needed to get moving.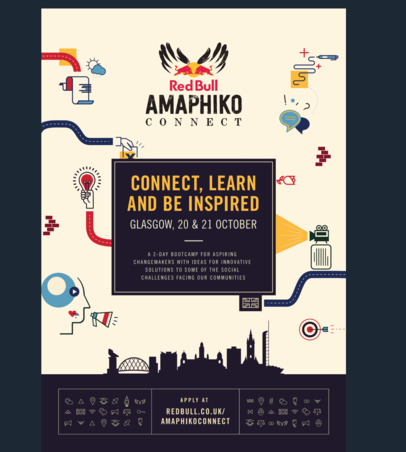 Day one of the Red Bull Amaphiko Connect weekend will focus on turning ideas into viable social enterprises – there'll be expert advice on putting together business plans, fundraising, and the nuts and bolts of running a business. Day two will look at how to tell the story of your newly-solidified idea by building a narrative, creating and engaging with your audience, and spreading the word of your great new plan both online and IRL.
Up to 30 applicants will take part in the bootcamp, and the best part is it's free to attend. So, if you have an idea that could create a positive change in your community, and want some help to direct your attention, energy and talent towards it, this is the opportunity for you.
Apply for Red Bull Amaphiko Connect Glasgow here; applications for the three Red Bull Amaphiko Connect weekends in Glasgow, Bradford (27-28 Oct) and London (3-4 Nov) close at midnight on 16 September.