Get The Skinny's September Issue!
Looking for a copy of our September 2021 magazine? Here's where to find one in Edinburgh, Glasgow and Dundee
We've got a bit of a student focus this September, bringing back our annual student guide after last year's hiatus. It's our way of saying welcome to the city, fellow young people.
The articles are all relevant regardless of your phase of life, though. We look at routes into getting involved in community engagement and activism, talk to author and journalist Rachel Thompson about ways of addressing sexual violence within society and share some hard-won tips on financial planning. We meet an Open University professor, Sophie Grace Chappell, to hear about taking the longer road to major life decisions, and salute the return of the club. The 16-page supplement inside this month's magazine, and it's also going to be available as a standalone, so look out for that. 
Also in this month's mag are the results of two of our writer development programmes. An in-depth interview with Turkish artist and video activist
belit sağ was developed through a writing programme with Alchemy Film & Arts and LUX Scotland, while we're also showcasing the work of EIFF's 2021 crop of Young Critics. We also take to Hamish Hawk, We Were Promised Jetpacks and Stina Marie Claire; film looks ahead to Take One Action; art meets Japanese artist Chikako Yamashiro; comedy chats to Rob Auton about returning to live performance ahead of his new book; and Eve Livingston discusses her union manifesto Make Bosses Pay.
Below is a list of places you can pick up your free copy of the September issue – we'll be working our way across Scotland over the course of the next week-or-so and will update this page as we go. If you want to support what we do consider subscribing to the mag (details below) or, if you Run A Thing and want people to Come To It, advertising in an upcoming issue or online.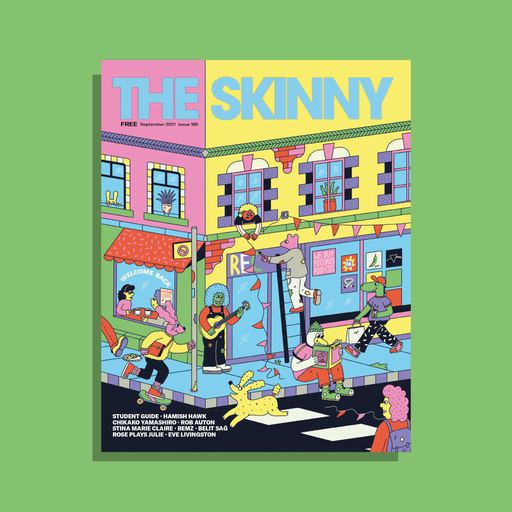 Distribution locations as of Thu 2 Sep
Get your copy in Glasgow
Sainsburys Buchanan Galleries, Buchanan St, G1 2GF
Sainsburys Partick, Crow Rd, G11 7RY
Morrisons Crossmyloof, Titwood Rd, G41 4DA
Tesco Rutherglen, Dalmarnock Rd, G73 1NY
Tesco Maryhill, Maryhill Rd, G20 9SH
Asda Govan, Helen St, G51 3HR
Sainsburys Drumchapel, Allerdyce Rd, G15 6RX
Sainsburys Braehead, Kings Inch Dr, G51 4BT
Tesco Burnside, Stonelaw Rd, G73 3RJ
Morrisons Newlands, Riverford Rd, G43 1PU
Tesco Silverburn, Barrhead Rd, G53 6AG
Get your copy in Edinburgh
Scotmid Tollcross, Leven St, EH3 9LH
Sainsburys Murrayfield, Westfield Rd/ Gorgie Rd, EH11 2QW
Tesco Leith, Duke St/ Foot of the Walk, EH6 8HL
Tesco Canonmills, Broughton Rd, EH7 4EW
Sainsbury's Meadowbank, Moray Park Ter, EH7 5TS
Morrisons Gyle Centre, Gyle Ave, EH12 9JU
Tesco Corstorphine, Meadow Pl Rd, EH12 7UQ
Sainsburys Craigleith, Craigleith Rd, EH4 2EB
Asda Chesser, New Market Rd, EH14 1RJ
Tesco Newington, Nicholson St, EH8 9EW
Tesco Hermiston Gait, Cultins Rd, EH11 4DG
Sainsburys Loanhead, Straiton Mains, EH20 9PW
Get your copy in Dundee
Tesco Extra, Riverside Dr, Dundee, DD2 1UG
Tesco Extra, South Rd, Dundee, DD2 4SR
Asda, Milton of Craigie Rd, Dundee, DD4 7RX
Sainsburys, Tom Johnston Rd, DD4 8XD