Get The Skinny's November 2020 issue!
Grab your copy of our November issue at the following locations across Edinburgh, Glasgow and Dundee
The nights are closing in, it's getting colder and windier, and whenever it is that you're reading this, it feels safe to say that We're In Some Sort of Lockdown. Thankfully, November's magazine highlights some of the great screen-based art and culture to be found courtesy of Scotland's creatives. We're talking film festivals, on your laptop! Comedians, up in the social media! Music and theatre, live-streaming!
Away from the screens, you'll find a chat with SAY Award-winner NOVA; an in-depth conversation between Bemz and Kobi Onyame; Mark Cousins bringing a lyrical, globetrotting flavour to our back-page Q&A; Andrés N Ordorica's reflections on the US Election as an American in Scotland; and plenty more besides. As ever, the mag is packed with exciting, intriguing, engaging and inspiring stuff from across the cultural map; it is also, as ever, free to pick up and enjoy. 
Here's where you can find your free copy of this month's magazine; we'll be updating this list as November goes on with more locations as and when they're confirmed.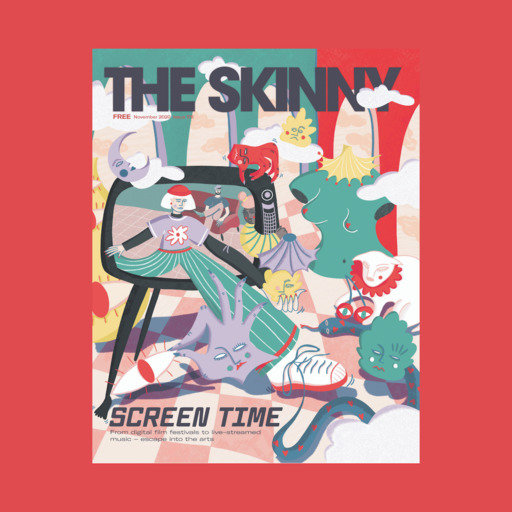 Get your copy in Edinburgh
Sainsburys Cameron Toll, Lady Rd, EH16 5PB
Sainsburys Murrayfield, Westfield Rd/ Gorgie Rd, EH11 2QW
Co-op Stockbridge, Hamilton Pl, EH3 5AZ,
Tesco Leith, Duke St/ Foot of the Walk, EH6 8HL
Tesco Newington, Nicholson St, EH8 9EW
Sainsbury's Meadowbank, Moray Park Ter, EH7 5TS
Tesco Canonmills, Broughton Road, EH7 4EW
Scotmid Tollcross, Leven Street, EH3 9LH
Sainsburys Longstone, Inglis Green Road, EH14 2ER
Real Foods, 37 Broughton St, EH1 3JU
Artisan Roast, 57 Broughton St, EH1 3RJ
Oddbins, 176 Bruntsfield Pl, EH10 4DF
Project Coffee, 196 Bruntsfield Pl, EH10 4DF
Bross Bagels, 165a Bruntsfield Pl, EH10 4DG
Fopp Records, 7-15 Rose St EH2 2PR
Snax, 15 West Register St, EH2 2AA
Pie In The Sky, 47 Cockburn St, EH1 1BP
Rudi's Sandwich Shop, 30 Forrest Rd, EH1 2QN
The French Institute, West Parliament Sq, EH1 1RN
Let Me Eat Too, 7 Cowgatehead, EH1 1JY
Royal Infirmary, 51 Little France Crescent, EH16 4SA
The Hideout Cafe, 40-42 Queen Charlotte St, EH6 6AT
Out of the Blue Drill Hall, 36 Dalmeny St, EH6 8RG
St Margarets House, 151 London Road, EH8 7TG
The Leith Arches, 6 Manderston St, EH6 8LY
Assai Records, 1 Grindlay St, EH3 9AT
Oxfam Music, 64 Raeburn Pl, Stockbridge, EH4 1HJ
Black Medicine, 2 Nicolson St, EH8 9DH
Coffee Angel, 95-97 Nicolson St, EH8 9BY
Edinburgh Uni Students Union; Teviot Row House + Potterrow, Bristo Sq, EH8 9AJ
Blackwells, 53-63 South Bridge, EH1 1YS
Summerhall, 1 Summerhall, EH9 1PL
Cult Espresso, 104 Buccleuch St, EH8 9NG
Arts & Craft Collective, 83 Causewayside, EH9 1QG
Scottish Storytelling Centre, 43-45 High St, EH1 1SR
The Mill House, 396-400 Gorgie Rd, EH11 2BF
Cairngorm Coffee, 1 Melville St, EH3 7PR
Get your copy in Glasgow
Sainsburys Buchanan Galleries, Buchanan St, G1 2GF
Sainsburys Partick, Crow Rd, G11 7RY
Morrisons Crossmyloof, Titwood Rd, G41 4DA
Tesco Rutherglen, Dalmarnoch Rd, G73 1NY
Tesco Springburn, Cobden Road, G21 1YL
Co-op Broomhill, Norby Rd, G11 7BN
Tesco Maryhill, Maryhill Rd, G20 9SH
Asda Parkhead, The Forge Centre, G31 4EB
QMU, 22 University Gardens, G12 8QN
Oxfam Music, 171 Byres Rd, G12 8TS
Oxfam Books, 330 Byres Rd, G12 8AP
Mixed Up Records, 16-18 Otago Ln, G12 8PB
Artisan Roast, 15-17 Gibson St, G12 8NU
Hillhead Bookclub, 17 Vinicombe St, G12 8SJ
Hanoi Bike Shop, Ruthven Ln, G12 9BG
Big Mouth Coffee Co, 167 Dumbarton Rd, G11 6AA
Colab Store, 11 Dowanhill St, G11 5QX
CCA, 350 Sauchiehall St, G2 3JD
Tinderbox, 24 Charing Cross Mansions, G3 6UJ
Route One, 254 Sauchiehall St, G2 3EQ
Vans Store, 185 Buchanan St, G1 2JY
Dr Martens Store, 50 Sauchiehall St, G2 3AH
Primal Roast, 278 St Vincent St, G2 5RL
Record Fayre, 13 Chisholm St, G1 5HA
Spitfire Espresso, 127 Candleriggs, G1 1NP
103 Trongate, 103 Trongate, G1 5HD
Soul Food Kitchen, 973 Sauchiehall St, G3 7TQ
Get your copy in Dundee
Tesco Extra, Riverside Dr, Dundee, DD2 1UG
Tesco Extra, South Rd, Dundee, DD2 4SR
Asda, Milton of Craigie Rd, Dundee, DD4 7RX
Sainsburys, Tom Johnston Rd, Dundee, DD4 8XD
---
If you're struggling to find a copy, or if you run a venue and want to stock the new issue, drop us a DM on Twitter or Instagram @theskinnymag