Get The Skinny's March 2021 issue!
Pick up your free copy of the March 2021 edition of The Skinny at the following locations across Edinburgh, Glasgow and Dundee
A full year on from the start of the COVID-19 lockdown, this month's cover story looks at the pandemic's impact on NHS workers, and the material conditions they face in the health service. Inside, we reflect on the life and work of SOPHIE, and consider the enduring impact of Trainspotting, 25 years after its cinema release. There's a whole lot more, including the first of our series of longreads with Edinburgh International Festival, in which we take the deepest of dives into the history of theatre. It beat the Spanish flu, the talkin' pictures, and Oliver Cromwell; can it see off the 'Rona? Early signs look good!
Scroll down to find your nearest copy – the magazine will be popping up in the following places this week (w/c 1 Mar), with more venues added to the list as and when we can.
Subscribe to The Skinny
We're all leaving the house less than usual, but our revamped subscription service can bring The Skinny direct to your door. An annual subscription – twelve issues sent to you, along with a pair of exclusive risograph prints and a digital compilation of some of our favourite Scottish bands – is £55; get the full details and sign up over at theskinny.co.uk/subscribe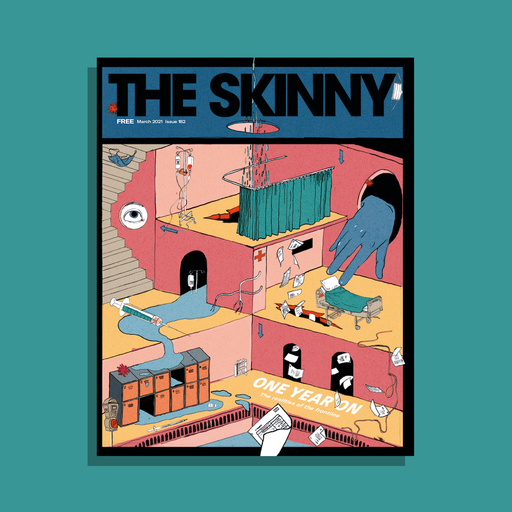 Get your copy in Edinburgh
Tesco Newington, Nicholson St, EH8 9EW
Sainsburys Murrayfield, Westfield Rd/ Gorgie Rd, EH11 2QW
Tesco Leith, Duke St/ Foot of the Walk, EH6 8HL
Sainsbury's Meadowbank, Moray Park Ter, EH7 5TS
Tesco Canonmills, Broughton Rd, EH7 4EW
Morrisons Gyle Centre, Gyle Ave, EH12 9JU
Tesco Colinton, Colinton Mains Dr, EH13 9AH
Morrisons Hunters Tryst, New Swanston, EH10 7JA
Tesco Penicuik, Edinburgh Rd, EH26 8NP
Asda Straiton, Pentland Rd, EH20 9NY
Tesco Corstorphine, Meadow Pl Rd, EH12 7UQ
Sainsburys Longstone, Inglis Green Rd, EH14 2ER  
Scotmid Tollcross, Leven St, EH3 9LH
Tesco Hermiston Gait, Cultins Rd, EH11 4DG
Asda Chesser, New Market Rd, EH14 1RJ
Get your copy in Glasgow
Tesco Rutherglen, Dalmarnock Rd, G73 1NY
Tesco Maryhill, Maryhill Rd, G20 9SH
Asda Govan, Helen St, G51 3HR 
Sainsburys Buchanan Galleries, Buchanan St, G1 2GF
Sainsburys Partick, Crow Rd, G11 7RY
Morrisons Crossmyloof, Titwood Rd, G41 4DA
Tesco Barrhead, Kelburn St, G78 1LS
Tesco Silverburn, Barrhead Rd, G53 6AG
Tesco Burnside, Stonelaw Rd, G73 3RJ
Tesco Parkhead, Beardmore Way, G31 4BG
Morrisons Newlands, Riverford Rd, G43 1PU
Sainsburys Braehead, Kings Inch Dr, G51 4BT
Sainsburys Drumchapel, Allerdyce Rd, G15 6RX
Tesco Metro Byers Rd, G12 9BG
Get your copy in Dundee
Tesco Extra, Riverside Dr, Dundee, DD2 1UG
Tesco Extra, South Rd, Dundee, DD2 4SR
Asda, Milton of Craigie Rd, Dundee, DD4 7RX
Sainsburys, Tom Johnston Rd, DD4 8XD