Get The Skinny's June 2021 issue!
Looking for your free copy of our June issue? Here's where you can find The Skinny in Edinburgh, Glasgow and Dundee
We're getting there, folks! The vaccine rollout continues (under-30s, register if you haven't already), Glasgow might be in its final week of Level 3 (fingers crossed), and according to the ever-accurate weather forecast, it looks like the summer might be on its way. It's hopeful, it's exciting, it's... well, it's a lot.
With that in mind, our June issue has a little bit of everything. Ahead of Record Store Day, we round up a selection of the country's best music shops and ask them for their RSD tips. With Glasgow International returning this month (they said, hopefully not putting a hex on anyone), we chat to a mix of organisers and artists about bringing some artistic energy to the city. Our ICYMI comedy column looks at Parks and Rec (grab your mag to see Ron Swanson riding a giant duck in a kids' playground), and we take an in-depth look at this year's graduating class from Glasgow School of Art.
Need more reasons to be interested? Check out the pieces below that also feature in this month's magazine, which is, as ever, FREE. That's right, FREE. Grab one, it's – say it with me or we're going to keep doing this all day – FREE! Available in supermarkets near you and, for the first time in a while, in some of our favourite indie shops and cafes. The magazine is making its way around Scotland this week, and we'll be updating this page with info on drops as and when we get it.
If you want to support what we do consider subscribing to the mag (details below) or, if you're one of those places that's reopened in the last few weeks, advertising in an upcoming issue. This month's cover photo is by Nico Utuk.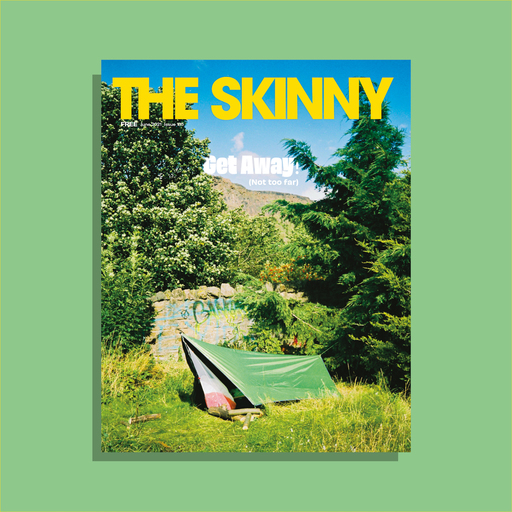 Get your copy in Edinburgh
Scotmid Tollcross, Leven St, EH3 9LH
Sainsburys Murrayfield, Westfield Rd/ Gorgie Rd, EH11 2QW
Tesco Leith, Duke St/ Foot of the Walk, EH6 8HL
Tesco Canonmills, Broughton Rd, EH7 4EW
Tesco Newington, Nicholson St, EH8 9EW
Sainsbury's Meadowbank, Moray Park Ter, EH7 5TS
Morrisons Gyle Centre, Gyle Ave, EH12 9JU
Tesco Corstorphine, Meadow Pl Rd, EH12 7UQ
Morrisons Granton, Waterfront Broadway, EH5 1SA
Sainsburys Craigleith, Craigleith Rd, EH4 2EB
Sainsburys Loanhead, Straiton Mains, EH20 9PW
Asda Chesser, New Market Rd, EH14 1RJ
Sainsburys Longstone, Inglis Green Road, EH14 2ER
Arthur Conan Doyle Centre, Palmerston Pl
Bross Bagels, Queensferry St
Cairngorm Coffee, Melville St
Frontiersman, Stafford St
Indigo Yard, Charlotte Ln
The Smoking Fox, Home St
Edinburgh Art Shop, Lauriston Pl
WHALE, Westburn Grove
Scottish Storytelling Centre, High St
Alpkit Sonder, Causewayside
Cult Espresso, Buccleuch St
Summerhall, Summerhall Pl
Blackwells, South Bridge
Talbot Rice Gallery, West College St
Red Box Noodle Bar, West Nicholson St
VoxBox, St Stephen St
New Town Deli, Henderson Row
Oxfam Music, Raeburn Pl
The Bailie, St Stephen St
Brew'd, Spittal St
Assai Records, Grindlay St
Filmhouse, Lothian Rd
The Chanter, Bread St
Art & Vintage, Lyne St
St Margaret's House, London Rd
The Regent, Montrose Ter
Out of the Blue Drill Hall, Dalmeny St
Royal Infirmary of Edinburgh, Little France
Paradise Palms, Lothian St
Edinburgh Art College Library, West Port
Black Bull, Grassmarket
The Melting Pot, Calton Rd
Shout: Scottish Music Experience, Waverley Mall
Avalanche Gapinski, Waverley Wall
Underground Solushn, Cockburn St
Black Bull, Leith St
FOPP, Rose St
Oddbins, Brunstfield Pl
The Blackbird, Leven St
Get your copy in Glasgow (from Fri 4 Jun)
Sainsburys Buchanan Galleries, Buchanan St, G1 2GF
Sainsburys Partick, Crow Rd, G11 7RY
Morrisons Crossmyloof, Titwood Rd, G41 4DA
Tesco Rutherglen, Dalmarnock Rd, G73 1NY
Tesco Maryhill, Maryhill Rd, G20 9SH
Asda Govan, Helen St, G51 3HR
Tesco Metro Byers Rd, G12 9BG
Tesco Burnside, Stonelaw Rd, G73 3RJ
Asda Toryglen, Prospecthill Rd, G42 0AE
Morrisons Newlands, Riverford Rd, G43 1PU
Tesco Silverburn, Barrhead Rd, G53 6AG
Sainsburys Drumchapel, Allerdyce Rd, G15 6RX
Sainsburys Braehead, Kings Inch Dr, G51 4BT
Tesco Parkhead / The Forge, Beardmore Way, G31 4BG
Decadent Riot, Park Rd
Inn Deep, Great Western Rd
Naked Soup, Kersland St
Oran Mor, Byres Rd
Hillhead Bookclub, Vinicombe St
Oxfam Books + Music, Byres Rd
Smug, Great George St
Mixed Up Records, Otago Ln
Hatch, West Princes St
The Alchemy Experiment, Byres Rd
Bag and Nail, Dumbarton Rd
Colab Store, Downhill St
Iota Gallery, Hyndland St
CCA, Sauchiehall St
Route One, Sauchiehall St
Icebox Arts, St Lukes Business Estate
Some Great Reward, Victoria Rd
Gusto & Relish, Pollokshaws Rd
The Glad Cafe, Pollokshaws Rd
The Hug Cafe, Skirving St
Spill the Beans, Skirving St
Rufus T Firefly, Hope St
Bloc+, Bath St
Buff Club, Bath Ln
Butterfly & Pig, Bath St
Record Fayre, Chisholm St
Mono, Kings Court
13th Note, King St
103 Trongate
Rubadub, Howard St
Ben Nevis, Argyle St
Lebowskis, Argyle St
Brass Monkey, Argyle St
The Cran, Argyle St
Strip Joint, Argyle St
The Big Slop, Kelvingrove St
Get your copy in Dundee
Tesco Extra, Riverside Dr, Dundee, DD2 1UG
Tesco Extra, South Rd, Dundee, DD2 4SR
Asda, Milton of Craigie Rd, Dundee, DD4 7RX
Sainsburys, Tom Johnston Rd, DD4 8XD
Thirteen Records, Union St
Assai Records, Union St
Cooper Gallery @ DJCAD, Perth Rd
Bird & Bear, Whitehall Crescent
Le Freak, Perth Rd
Caffe Nero, Murraygate
Spex Pistols, Johnstons Lane
Gallery 48, Westport
71 Brewing, Bellfield St
Benjamin Barker, Perth Rd
Dukers Corner, Brown St
WASPS Studios, Meadow Mill
HMV, Murraygate
Tonic, Nethergate
Kenny's Music, Castle St
Manifesto, Commercial St
Ozzys, Seagate
Dundee Contemporary Arts, Nethergate
The Nether Inn, Nethergate
Stage 2000, Riverside Dr
Subscribe to The Skinny
Our revamped subscription service brings The Skinny direct to your door. An annual subscription is £55; you get twelve issues sent anywhere in the UK, plus a pair of exclusive risograph prints, and a digital compilation of some of our favourite Scottish bands. Get the full details and sign up over at theskinny.co.uk/subscribe