Get The Skinny's July 2021 issue!
Looking for a copy of our July 2021 edition? Here's where to find one in Edinburgh, Glasgow and Dundee
It's July! That means it's summer! Does that mean music festivals? Potentially!
This month's mag is headed up with a focus on the local crop of festivals to be found over the next few months. We've taken a deep dive into the safety, hygiene and testing measures which are being put in place to make mass gatherings safe this summer. We examine how festivals continue to work to improve their sustainability, despite the setbacks caused by COVID. And one writer pens a love letter to music festivals, and the place their fill in all our lives. Our music editor Tallah has put together a detailed calendar of the festivals coming at you in the next 12 months. We remain optimistic. They. Will. Happen.
Elsewhere, one writer explores questions of access in Scottish arts post-COVID in our latest EIF-supported longread; we recap this year's art school degree shows; Intersections offers a fascinating insight into the Paisley print, exploring how its meaning has changed over the centuries in a history ranging from Babylonia to Renfrewshire. We speak to neurodiverse comics from across the UK to ask if the changes we're currently seeing may herald genuine change in the wider cultural sphere, and our Film section features an interview with Quentin Dupieux, aka Mr. Oizo, aka the guy behind Flat Beat, the French house banger with its own puppet mascot.
Below is a list of places you can grab your free copy of the July issue – we'll be working our way around the country over the course of the week. If you want to support what we do consider subscribing to the mag (details below) or, if you're one of those places that's reopened in the last few weeks, advertising in an upcoming issue.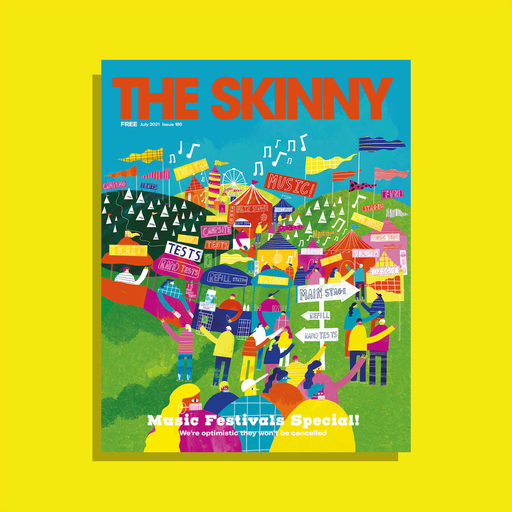 Get your copy in Edinburgh
Scotmid Tollcross, Leven St, EH3 9LH
Sainsburys Murrayfield, Westfield Rd/ Gorgie Rd, EH11 2QW
Tesco Leith, Duke St/ Foot of the Walk, EH6 8HL
Tesco Canonmills, Broughton Rd, EH7 4EW
Sainsbury's Meadowbank, Moray Park Ter, EH7 5TS
Morrisons Gyle Centre, Gyle Ave, EH12 9JU
Tesco Corstorphine, Meadow Pl Rd, EH12 7UQ
Sainsburys Craigleith, Craigleith Rd, EH4 2EB
Asda Chesser, New Market Rd, EH14 1RJ
Sainsburys Longstone, Inglis Green Road, EH14 2ER
Tesco Colinton, Colinton Mains Dr, EH13 9AH
Morrisons Hunters Tryst, New Swanston, EH10 7JA
Amarello Coffee Bar, 102 Causewayside
Art & Vintage, 3 Lyne St
Artisan Roast, 57 Broughton St
Artisan Roast, 100a Raeburn Pl
Arts & Craft Collective, 83 Causewayside
Arts Complex, 151 London Rd, St. Margarets House
Assai Records, 1 Grindlay St
Avalanche Gapinski, Waverley Mall
Beetroot Sauvage, 33 Ratcliffe Ter
Blackwells, 53-63 South Bridge
Brewd, 4 Spittal St
Bross Bagels, 165a Bruntsfield Pl
Bross Bagels, 19 Queensferry St
Caffé Nero (in Blackwells), 53-59 South Bridge
Cairngorm Coffee, 1 Melville St
Coffee Angel, 95-97 Nicolson St
Edinburgh Art Shop, 129 Lauriston Pl
Edinburgh Bookshop, 219 Bruntsfield Pl
Fopp Records, 7-15 Rose St
Frontiers Man, 18 Stafford St
Indigo Yard, 7 Charlotte Lane
Innis & Gunn), 81-83 Lothian Rd
Mahcina Espresso, 1 Brougham Pl
No 1 The Grange, 1 Grange Rd
Oddbins Bruntsfield, 176 Bruntsfield Pl
Oxfam Music, 64 Raeburn Pl
Pie In The Sky, 47 Cockburn St
Project Coffee, 196 Bruntsfield Pl
Real Foods, 37 Broughton St
Royal Infirmary Of Edinburgh, Little France
Scottish Story Telling Centre, 43-45 High St
Shout: Scottish Music Experience, Waverley Mall
Sir Arthur Conan Doyle Centre, 25 Palmerston Pl
Sketchy Beats, 208 Great Juncton St
St Christophers Inn And Belushis, Market St, Cockburn St
Summerhall, 1 Summerhall
Swish, 50 Cockburn St
The Biscuit Factory, 4 Anderson Pl
The Blackbird, 37-39 Leven St
The Drill Hall, 36 Dalmeny St
The Filmhouse, 88 Lothian Rd
The Leith Arches, 6 Manderston St
The Melting Pot, 15 Calton Rd
The New Town Deli, 23 Henderson Row
Underground Solushn, 9 Cockburn St
Vino, 1 Grange Loan
Voxbox Music, 21 St Stephen St
Get your copy in Glasgow
Sainsburys Buchanan Galleries, Buchanan St, G1 2GF
Sainsburys Partick, Crow Rd, G11 7RY
Morrisons Crossmyloof, Titwood Rd, G41 4DA
Tesco Rutherglen, Dalmarnock Rd, G73 1NY
Tesco Maryhill, Maryhill Rd, G20 9SH
Asda Govan, Helen St, G51 3HR
Tesco Metro Byers Rd, G12 9BG
Sainsburys Drumchapel, Allerdyce Rd, G15 6RX
Sainsburys Braehead, Kings Inch Dr, G51 4BT
Tesco Burnside, Stonelaw Rd, G73 3RJ
Morrisons Newlands, Riverford Rd, G43 1PU
Tesco Silverburn, Barrhead Rd, G53 6AG
103 Trongate, 103 Trongate
13th Note, 50 King St
An Clachan, Off La Belle Pl
Avant Garde, 34 King St
Bar 91, 89-91 Candleriggs
Bar Soba, 79 Albion St
Bar Vinyl, 42 London Rd
Boteco Do Brazil, 60 Trongate
Brewdog, 1397 Argyle St
Briggait, 141 Bridgegait
Custom Inc, 218 Kent Rd
Decadent Riot, 11 Park Rd
Drum and Monkey, 93 St Vincent St
Grosvenor Cinema, Ashton Lane
Guitar Guitar, 36 Trongate
Hemphouse, 8 Parnie St
Hillhead Bookclub, 17 Vinicombe St
Inn Deep, 445 Great Western Rd
Iolla, 1313 Argyle St
Lebowskis, 1008 Argyle St
Merchant City Music, 60 London Rd
Mint And Lime, 318 Clyde St
Mono, 12 Kings Court, 103 King St
Mr Bens Vintage Clothing, 6 Kings Court, 99 King St
Munros, 185 Great Western Rd
Oneills, 71-73 Albion St
Oran Mor, 731 Byres Rd
Oxfam Books, 330 Byres Rd
Oxfam Music, 171 Byres Rd
Papercup Coffee Company, 603 Great Western Rd
Park Bar, 1202 Argyle St
Rainbow Rooms International, 607 Great Western Rd
Rubadub, 35 Howard St
Shelter, 679 Great Western Rd
Smug, 167 Great George St
Soul Food Kitchen, 973 Sauchiehall St
Spitfire Espresso, 127 Candleriggs
St Lukes, 17 Bain St
Strip Joint, 956 Argyle St
The Big Slope, 36a Kelvingrove St
The Brass Monkey, 1004 Argyle St
The Cran, 994 Argyle St
The Hug & Pint, 171 Great Western Rd
Ubiquitous Chip, 8-12 Ashton Lane
Van Winkle Bbq Pit, 267 Gallowgate
Wasps Dovehill Studios, 15 East Campbell St
Get your copy in Dundee
Tesco Extra, Riverside Dr, Dundee, DD2 1UG
Tesco Extra, South Rd, Dundee, DD2 4SR
Asda, Milton of Craigie Rd, Dundee, DD4 7RX
Sainsburys, Tom Johnston Rd, DD4 8XD
Thirteen Records, Union St
Assai Records, Union St
Cooper Gallery @ DJCAD, Perth Rd
Bird & Bear, Whitehall Crescent
Le Freak, Perth Rd
Caffe Nero, Murraygate
Spex Pistols, Johnstons Lane
Gallery 48, Westport
71 Brewing, Bellfield St
Benjamin Barker, Perth Rd
Dukers Corner, Brown St
WASPS Studios, Meadow Mill
HMV, Murraygate
Tonic, Nethergate
Kenny's Music, Castle St
Manifesto, Commercial St
Ozzys, Seagate
Dundee Contemporary Arts, Nethergate
The Nether Inn, Nethergate
Stage 2000, Riverside Dr
Central Library, Wellgate
Hard Grind, Exchange St
Waterstones, Commercial St
Dynamo, Union St
Subscribe to The Skinny
Our revamped subscription service brings The Skinny direct to your door. An annual subscription is £55; you get twelve issues sent anywhere in the UK, plus a pair of exclusive risograph prints, and a digital compilation of some of our favourite Scottish bands. Get the full details and sign up over at theskinny.co.uk/subscribe