Get The Skinny's February 2021 issue!
Pick up your free copy of the February 2021 edition of The Skinny at the following locations across Edinburgh, Glasgow and Dundee
The lockdown continues, and we're all grasping for ways to stay connected with one another. This month's magazine highlights some of the things we've been making use of to stay connected to our friends, families and selves – whether that's online cook-alongs or foodie Instagram, the resurgence of The Radio, or innovative theatrical use of the telephone.
Read up on all those in our February issue – you'll also find chats with Mogwai's Stuart Braithwaite (new album out this month!), author Salena Godden (her new novel is out now!), and filmmakers Ben Sharrock and Lawrence Michael Levine (their latest films play at Glasgow Film Festival's online fest!). Scroll down to find your nearest drop – we'll be updating the list as February continues...
Subscribe to The Skinny
The new lockdown is going to put most of us in the house for the foreseeable future, but our revamped subscription service can bring The Skinny direct to your door. An annual subscription – twelve issues sent to you, along with a pair of exclusive risograph prints and a digital compilation of some of our favourite Scottish bands – is £55; get the full details and sign up over at theskinny.co.uk/subscribe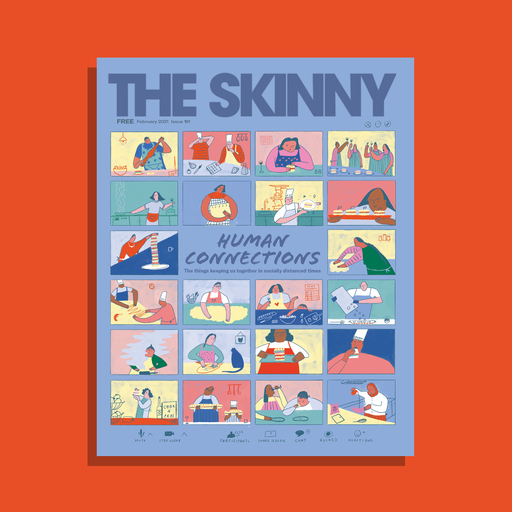 Get your copy in Edinburgh
Sainsburys Murrayfield, Westfield Rd/ Gorgie Rd, EH11 2QW
Tesco Leith, Duke St/ Foot of the Walk, EH6 8HL
Tesco Newington, Nicholson St, EH8 9EW
Sainsbury's Meadowbank, Moray Park Ter, EH7 5TS
Morrisons Ferry Rd, Pilton Dr, EH5 2XS
Tesco Canonmills, Broughton Rd, EH7 4EW
Sainsburys Blackhall, Craigleith Rd, EH4 2EB
Sainsburys Loanhead, Straiton Mains, EH20 9PW
Asda Straiton, Pentland Rd, EH20 9NY
Morrisons Gyle Centre, Gyle Ave, EH12 9JU
Tesco South Queensferry, Ferrymuir, EH30 9QZ
Asda Chesser, New Market Rd, EH14 1RJ
Tesco Colinton, Colinton Mains Dr, EH13 9AH
Morrisons Hunters Tryst, New Swanston, EH10 7JA
Tesco Penicuik, Edinburgh Rd, EH26 8NP
Get your copy in Glasgow
Sainsburys Buchanan Galleries, Buchanan St, G1 2GF
Sainsburys Partick, Crow Rd, G11 7RY
Morrisons Crossmyloof, Titwood Rd, G41 4DA
Tesco Rutherglen, Dalmarnock Rd, G73 1NY
Tesco Maryhill, Maryhill Rd, G20 9SH
Asda Govan, Helen St, G51 3HR
Tesco Metro Byers Rd, G12 9BG
Tesco Burnside, Stonelaw Rd, G73 3RJ
Asda Toryglen, Prospecthill Rd, G42 0AE
Morrisons Newlands, Riverford Rd, G43 1PU
Morrisons Cardonald, Paisley Rd West, G52 2BW
Tesco Silverburn, Barrhead Rd, G53 6AG
Sainsburys Drumchapel, Allerdyce Rd, G15 6RX
Sainsburys Braehead, Kings Inch Dr, G51 4BT
Get your copy in Dundee
Tesco Extra, Riverside Dr, Dundee, DD2 1UG
Tesco Extra, South Rd, Dundee, DD2 4SR
Asda, Milton of Craigie Rd, Dundee, DD4 7RX 
Sainsburys, Tom Johnston Rd, DD4 8XD