The Skinny's Christmas Gift Guide 2020
If we've learned two things in 2020 they are that community is essential, and further enriching Jeff Bezos contributes to the multiplying inequalities that are devastating society. So we've compiled a shop local gift guide!

Riso Club
I am obsessed with pretty printed paper things (I too have a fierce eye on the East End Press garlands on Polly's list further down the page) and print studio Risotto's monthly Riso Club subscription is too tempting to pass up, even if there's not an inch of blank space on my walls. [Anahit Behrooz]
risottostudio.com/club 

Artrox
There are so many gorgeous ceramic pieces to choose from at Artrox, but I am particularly infatuated with Leonie's face plant pots and I know all my baby plants would be too. [AB]
etsy.com/uk/shop/artroxinabox

Odd Company Jewellery
Earrings are the only jewellery I wear and I absolutely love the statement pieces in this collection, created by our Art Director Rachael. My favourites are the Stacked Stones and Pearl Drops – subtlety is not my style. [AB]
etsy.com/uk/shop/oddcompanyjewellery
Market Gift Vouchers
Weekends in Edinburgh are for wandering around the city's cornucopia of outdoor markets (for me, it's got to be Leith on Saturday, Stockbridge on Sunday) and being gluttonous. Buy your loved ones some market vouchers, so they too can snack on scotch eggs the size of footballs, try to get hold of some freshly handmade ravioli before it all sells out, and happily queue for the best paella this side of Valencia. [Jamie Dunn]
stockbridgemarket.com 

Orkney Akvavit
Orkney Gin Company have recently started producing Akvavit (tasty Scandinavian spirit, think gin 2.0), and are the only UK distillery that make it. This might not be local as such, but my flatmate (local to me) lives next door to them back home (local to her). So local². [Laurie Presswood]
orkneygincompany.com/orkney-akvavit
GFT CineCard
Cinemas may be closed, but that's why it's more important than ever to become a member of your local indie. At £45, GFT's CineCard is insanely good value, coming as it does with four free tickets, discounts on all future tickets for a year and a subscription to ace arthouse streaming service MUBI, which should keep you going until theatres reopen. [JD]
glasgowfilm.org/plan-your-visit/memberships/gft-cinecard

Crabbit Design Posters
I love these travel-style posters inspired by spots around Dundee. I have the Keiller Centre one above my desk and whenever I look at it I am reminded of simpler times (sneaking out to get my ears pierced, the piercings getting infected, and then turning out to be wildly squint). [LP]
etsy.com/uk/shop/CrabbitDesign
The Smiddy BBQ Night School
A night-time crash course in barbecuing from the Edinburgh meat men, leaving recipients informed, inspired, and smelling faintly of burning wood. [Peter Simpson]
smiddybbq.com

FARE
This globetrotting magazine lets you explore some of the world's best food in a fully COVID-safe format. Also, bit of a weird point, but new issues always *smell* great – must be all that delicious ink. [PS]
faremag.com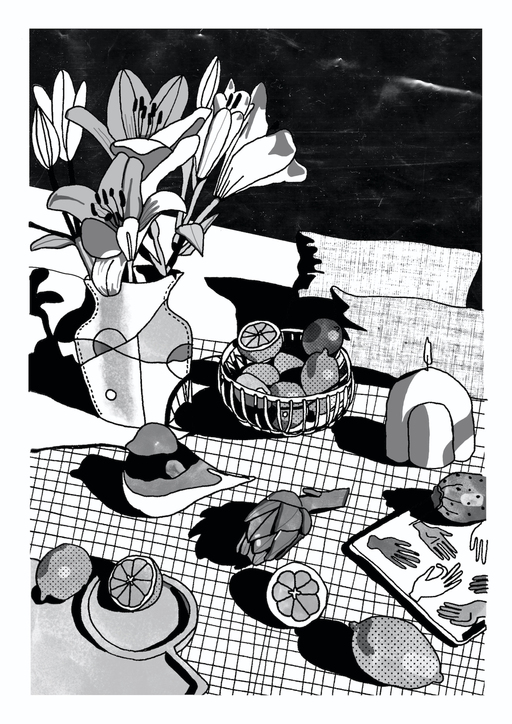 Big Suze
Glasgow-based illustrator/designer/printmaker Big Suze did some really gorge still lifes over lockdown, which you can find on her webshop along with some super cute Christmas cards and a big variety of prints. Look very carefully at the flowers in one of her prints for a cheeky surprise. [Phoebe Willison]
bigsuze.bigcartel.com/products
Palm of Feronia
If you're after small batch natural skincare, based on the principles of aromatherapy and natural healing (who isn't?), Palm of Feronia is for you. I'm obsessed with them, I don't even know what half the stuff does but I also don't care cause the packaging looks incredible. Plus they're super sustainable, and they plant a tree for every item you purchase. [PW]
Palmofferonia.com

East End Press
Literally everyone on my list is getting something from Glasgow-based printers East End Press this year (sorry, now you know). They do stunning Christmas (and non-Christmas) decorations/garlands/cards/prints and they're all super cute, screen-printed locally and a bit different. Fancy getting a Tunnocks teacake to hang on your tree? We got you. [Polly Glynn]
eastendpress.com

Alex Harwood Design
Long-time friend and putter-upper of me, Alex Harwood is behind some of the best Fringe flyers and posters of the past few years. This year he's turned his hand to fantastical prints, funny Christmas cards and contributed to the Edinburgh Pub Project and #SaveScottishComedy fundraisers. [PG]
alexharwooddesign.bigcartel.com/products | localburgh.com/collections/edinburgh-pub-project

Max Machen
What's not to love about Max Machen's work? It's colourful, original and a bit silly too. I've got El Leon above my fireplace and it makes me smile every time I walk in the room. [Rachael Hood]
etsy.com/uk/shop/MAXMACHENsShop
Miczka Ceramics
Chances are you've been working from home since March and been saving a fortune on flat whites from that cute cafe near your office. Treat yourself, then, to some of these beautiful, handmade mugs for your morning caffeine hit at home, which should make even your sad instant coffee taste special. [JD]
miczkaceramics.com

Studio Emma
Studio Emma's colourful pots, plates, vases and clocks are a ray of sunshine and exactly what we all need during a COVID-19 winter. The tricky part is deciding which gorgeous product to get first. [RH]
studioemmaconcrete.com

Eve Balashova
If you're after unusual and striking earrings, Eve Balashova's masterpieces are well worth checking out. My personal favourites are the Brush Earrings, which are made of 3D printed nylon and Sterling Silver. [RH]
evebalashova.com/shop

Grow Urban
One of the high points of Lockdown 1 was a delivery of beautiful oxygenating plants, many of which have survived the intervening months of my increasingly neurotic care. A giant leafy one would surely help bring joy to the remaining months of deep winter. [Rosamund West]
growurban.uk
The Village School
The online workshops available here offer a real opportunity for passive aggressive gifting. Perhaps an introduction to cooking for your primary meal provider? Or you could just buy a loved one the chance to learn a new skill like photography or soap making from the comfort of their own home. [RW]
thevillageschool.co.uk

Dust Studio
The Memphis Party Earrings are brightly coloured, fun, look great on Zoom. They're also made of polymer clay so (I imagine, still waiting for someone to give me a pair IRL, this is a heavy hint in case that wasn't clear) light on the ears. [RW]
duststudio.uk/shop
Fortitude Coffee
Fortitude roast some of the best coffee beans in the capital and have kept me powered through most of 2020. They offer all different kinds of coffee subscriptions as well as just individual bags of beans, tote bags and they have some lovely prints available too, one of which is delightfully called the 'roaster poster'. What's not to love? [Tallah Brash]
fortitudecoffee.com
Pure Mettle Jewellery
These statement rings and earrings made from plain silver (or a one-off ring-making workshop) are the perfect treat for the person in your life that's worth spending a little extra on. You know the one – she's kind, she's charming, she works at The Skinny, she's about 5' 10''? [LP] puremettlejewellery.bigcartel.com/products

Ather Prints
This Edinburgh-based illustrator is definitely one for the music fans, with bright prints of Childish Gambino, The Notorious B.I.G. and Frank Ocean, along with several Frightened Rabbit lyric prints including my personal favourite: 'I am that dickhead in the kitchen'. The lovely thing about the Frabbit prints is that 25% of all sales go to the Tiny Changes mental health charity set up in Scott's name. [TB]
etsy.com/uk/shop/AtherPrints
Gaelleria
Gaelleria is a one stop shop for contemporary Scottish art and design, which is beautifully curated and has a swish website where you can even browse by region of Scotland. I love the Trees for Life selection, where all profits go towards re-wilding the Scottish Highlands. [PW]
gaelleria.com

Irregular Sleep Pattern
I love the bold patterns and colours of this organic, ethical bedding and pyjama brand from Glasgow, and often daydream about what it might be like to one day sleep in one of their fabulous pyjama suits. In fact, I often daydream about wearing one on a night out. Remember those? Who says pyjamas are just for wearing to bed anyway?! [TB]
irregularsleeppattern.com/pages/about

The Skinny
We're launching a new subscription package just in time for Christmas! As you can likely imagine, getting this magazine into the hands of our readers has been a constant struggle in 2020 as restrictions change and venues open and shut. With that in mind, we've revamped our subscription package so you can sign up to receive 12 months direct to your door AND your choice of these two beautiful, exclusive riso prints by much-loved illustrators Katie Smith and Lucy Grainge, PLUS a digital copy of our collaborative album. Details will be shared through our socials from 7 December, so check out @theskinnymag for more info.