Group Portrait in a Summer Landscape @ Royal Lyceum, Edinburgh
Peter Arnott's family drama about Scottish independence touches on poignant moments but lacks focus
In the summer of 2014, Scotland was a nation divided. Up and down the country, families debated and sometimes argued over whether aye or no was the right answer to the question of Scottish independence. In Group Portrait in a Summer Landscape, written by Peter Arnott and directed by David Greig, the relationships in the Rennie household have been fractured for decades. Although the story is set just prior to the independence referendum, and the vote is debated at points by the characters, the outcome is actually of little import or impact, and friction has long been part of the menu. 
George Rennie (John Michie) has invited his family and friends to his Perthshire home for his retirement dinner, where he has some difficult news to share. Over the course of the evening, old wounds resurface, and tensions run high as it becomes evident that behind the picture-perfect Perthshire backdrop is grief and anger. 
The play has poignant moments – Keith Macpherson as Frank, an undervalued colleague, is convincing in his portrayal of a man fighting for his career and finally standing up to Rennie. As Will, Rennie's son who tragically died as a teenager, Robbie Scott plays his role powerfully despite largely being restricted to communicating through facial expressions and mime.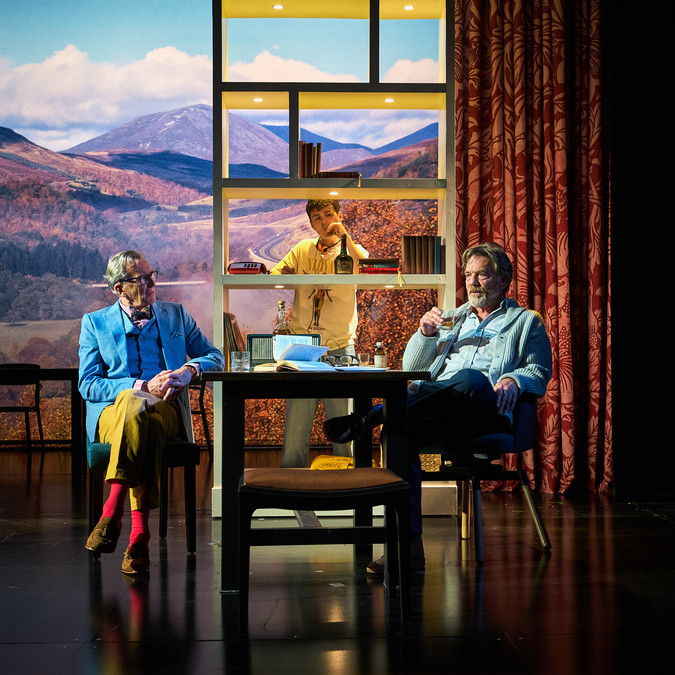 Benny Young as Moon, Robbie Scott as Will and John Michie as Rennie in Group Portrait in a Summer Landscape. Photo: Fraser Brand
However, like the claims political leaders make in their manifestos, the play doesn't fully stand up to scrutiny. Some of the characters, and the relationships they have with one another, feel somewhat hollow. Rennie's daughter Emma, played well by Sally Reid, lacks much of a back story other than her existing in relation to Frank and Charlie (Matthew Trevannion). The fight scene between Frank and Charlie looks awkward rather than tense, and a final encounter between Will and Edie (Deirdre Davis) doesn't feel fully heartfelt and offers no sense of resolution. 
Overall, this snapshot of a family at a critical point in Scottish history has impactful moments, but Group Portrait in a Summer Landscape doesn't quite come into focus. 
---
Group Portrait in a Summer Landscape, Royal Lyceum Theatre, Edinburgh, until Sat 14 Oct