Dead Dog in a Suitcase @ HOME, Manchester
HOME is starting to establish a recognisable style in the theatre it is producing and staging; cinematic in scope, it mixes drama, music and dance together, stirring in some show-stopping staging and finishing it all off with a sprinkling of 'wow' moments. Dead Dog in a Suitcase (and other love songs) is no different, making for an exciting – if somewhat detached – night of theatre.
Dead Dog, from Kneehigh Theatre, is a reimagining of John Gay's The Beggar's Opera and Bertolt Brecht's later adaptation, The Threepenny Opera. It tells the story of Macheath, a conscience-free criminal who will say anything to solve a problem and kill anyone for cash. As he stalks the fictional town in which Dead Dog is set the list of his emotional and physical victims grows ever longer. Meanwhile, the mayor is murdered by local criminal Les Peachum who, with the help of his scheming wife, intends on taking over the town for himself.
---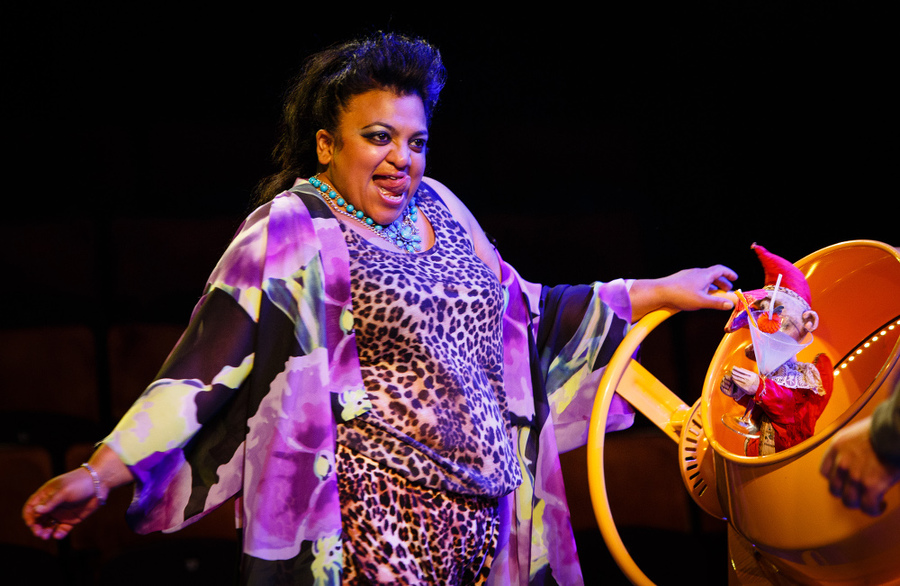 Rina Fatania as Mrs Peachum in Dead Dog in a Suitcase (and other love songs) by Kneehigh Theatre @ HOME Manchester | image: Steve Tanner
---
Bertolt Brecht's Mack the Knife became an instant classic, so how does Charles Hazlewood's new score stand up against those high standards? Very well, it turns out, with a mix of mournful, funny and furious numbers spread evenly across the production. Ska, pop, metal and psychedelia all have outings, with the live band (who at various points become part of the production) giving the show a feeling of vitality.
Dominic Marsh's Macheath is slimy yet sympathetic, a tricky balancing act that's central to Dead Dog's success. Another notable performance is Rina Fatania, whose larger than life Mrs Peachum generates lots of laughs. Finally, a tip of the hat to Sarah Wright, whose sinister Punch and Judy puppetry acts as narrator and envelops the whole show in an old-time atmosphere.
Director Mike Shepherd certainly has a lot on his hands here, and has done well to balance all the various elements and keep a complicated piece moving along at a steady pace. The stage, which incorporates a slide and a gallows, is almost a character in itself, providing many striking visual images that will stick in the mind for some time.
So, plenty of great performances and many memorable moments, but what Dead Dog doesn't have is much emotional impact. Yes it was impressive, but it didn't move me, and I wonder if all the razzmatazz in these HOME shows might actually be detracting from the drama itself.
---
Until 26 Sep