ART @ King's Theatre, Edinburgh
If you don't hate them, are they even your friends? That's the question posed by Yasmina Reza's monstrously successful play, ART, which has all the trimmings that a high-billed touring production should have
So just what exactly is Yasmina Reza's ART all about? It's by no means just a play surrounding art or its subjectivity, it's more of an examination of the plight faced by a bunch of middle-aged, middle-class white men (you know, a real struggle). The astonishing heights of male ego, control and relationships all centre around the purchase of a white painting, though it isn't all white of course…
The play follows three friends in Paris, each facing their own crises in their greying years – Serge (Nigel Havers) invests in a modernist work without the consultation of his best friend Marc (Denis Lawson), who detests the piece. In reality, he thinks it's actually "quite shit" but it isn't the painting which hurts him, rather it's Serge's independence from his control.
The character who really draws our attention though is Stephen Tompkinson as Yvan. At first, Yvan is the Yes man, a comic foil who feels more of a tag-along than an individual. But when he's red-faced, breathless and pumping out verbose scenes to a belly-aching audience, he proves us completely wrong.
Havers, meanwhile, produces a 'more Nigel Havers' performance than has ever been seen before; magnetic, cocky yet also playful to an extent. When he's partnered with Lawson, the two bounce off one another seamlessly.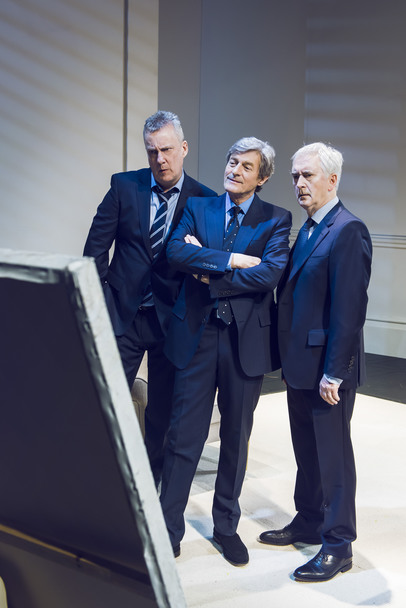 Staged similarly to its London run, Mark Thompson's design is rather like the aforementioned painting itself. It's clean, effective but there's more merit to it the longer we observe. It's accentuated with crisp sound design supplied by Mic Pool, who uses sound moderately and to a purpose. 
We don't doubt these three know each other. Quite often, especially with big-name headliners, the chemistry cannot match expectation, but ART shows all three in their best light, none come out on top or trail behind. What seems to be missing is that they get on together a little too well... We want blood, we want conflict and we want humour which really punches home that these three detest – yet adore – one another.
What we do have is a stupendously tight touring production in almost every other aspect. Lawson, Havers and Tompkinson have utterly sublime chemistry, and Ellie Jones' direction is balanced, but this production just needed a little more venom to its bitterness.
---
ART @ King's Theatre, Edinburgh, until Sat 16 Feb, various times
capitaltheatres.com/whats-on/art