Election Time in Pantoland: A Scottish Panto Guide
You think Pantoland doesn't have general elections? Think again! As the countdown to the big day continues, here are some of the candidates standing for election and re-election
Sick of elections? Well, guess what? The good people of Pantoland are fed up of them too! But they're getting another one, just at the same time as the UK. What a coincidence!  The election, which is also due to take place on 12 December, was triggered by the now former Pantoland Prime Minister, The Rt Hon Beast. The Beast who decided to call an election in an attempt to cover up his worrying habit of never turning up to Parliament, never leaving his home constituency, and his fascination with keeping young women in his home, seemingly against their will. 
Pantoland is now without a leader and directionless. With such big, terrible shoes to fill, a number of candidates have put themselves forward as the person who can turn Pantoland around and shake off any connections to the sleazy former PM. This year's line-up of prospective MPs features rising stars amid the ones that you wouldn't trust to make a decent cup of tea or mop the floor after a flood.
Ebenezer Scrooge
An Edinburgh Christmas Carol, Royal Lyceum Theatre, Edinburgh
The world of politics is full of grumpy old white men, and they don't get much whiter, older or grumpier than Ebenezer Scrooge from A Christmas Carol. He's so mean he probably reuses teabags, and only boils the kettle once a day. That's if you're lucky enough to be offered a cup of tea when you visit his constituency office.
Blessed with deep pockets and short arms, Scrooge could be the man to fix Pantoland's deficit and cut any unnecessary spending. However, his love of austerity, his general demeanour and his inability to understand modern concepts like 'annual leave' and 'Christmas', could damage his relationship with voters.
Vote for Scrooge if: You like to save money.
Don't vote for Scrooge if: You like to have money, Christmas, job security, summer holidays etc.
Goldilocks
Goldilocks and the Three Bears, King's Theatre, Edinburgh
Once the golden girl of Pantoland, the electorate is still reeling from recent claims about her private life. The allegations, which were first reported by her arch-nemesis, Baby Bear, revealed her past criminal history, including convictions of housebreaking, trespassing and dishonesty.
With her reputation in tatters, and rumours that Baby Bear, with support from both Mama and Papa Bear, is set to launch their own campaign to take her proposed seat, Goldilocks has put her reputation on the line. Her campaign includes free porridge at the point of use and other free goods including furniture, although questions have been raised about the ownership of these items.
Vote for Goldilocks if: You want free stuff, no questions asked.
Don't vote for Goldilocks if: You don't like porridge, or stuff that fell off the back of a lorry.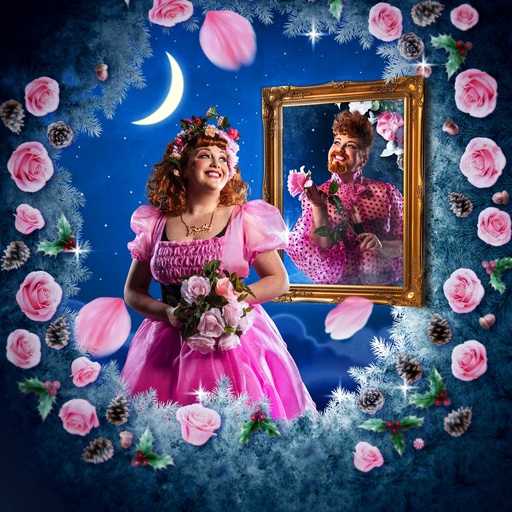 Tron Theatre, Glasgow
You've heard of Cinderella, but have you heard of Cinderfella? A first time candidate with no experience of politics, she's a self-made woman in every way, and she knows how to work hard because she works all day and all night in her stepmother's dressmaking business.
Used to picking up the slack left by useless predecessors, in this case, her lazy stepbrothers, she has an entrepreneurial eye, big dreams for saving the family business and making Pantoland more profitable. Let's face it, if she can run a house and business, then a whole country in dire need of new leadership and direction really shouldn't be that much of an issue. [Photo: Joe Connolly/Jamhot]
Vote for Cinderfella if: You want to see real change
Don't vote for Cinderfella if: You're related to her.
Jack and the Beanstalk
Ayr Gaiety Theatre and King's Theatre, Glasgow
Representing both Ayr Gaiety and Glasgow's King's Theatre, that loveable rogue Jack is, for want of a better word, back (sorry) on the ballot paper, and he wants your vote.
There are many sides and stories to Jack. Yes, he has previously acknowledged that selling the last cow he had for some useless beans was a poor decision in hindsight, but he insists that the decision was sound at the time. In fact, he's got a plan for these beans: if he gets the vote, then he'll plant them; you'll see, everything will be alright – don't you trust him?
Given Jack just sold a perfectly good cow for a handful of questionable beans, good guy Jack has a lot to prove with this latest venture.
Vote for Jack if: You think magic exists, you trust him, and you also like surprises.
Don't vote for Jack if: You're a rational being and hope for a better future.
Lanark Memorial Hall and East Kilbride Village Theatre
Another new face on the block is Jackie, the strong Scots woman at the heart of Jackie and the Baked Bean Stock, who is standing in both Lanark and East Kilbride this election.
What's her story? Well, we know that she's billed herself as a female version of Jack from Jack and the Beanstalk – complete with better haggling skills – and her campaign team consists of her Mammy Lola, and her pals Joe the Joker and Janey. However, she has raised eyebrows by repeatedly reffering to someone called "The Evil Endora", who she feels she must defeat. Her campaign tagline is 'Banter and Bouncing Beats' which luckily isn't a typo. Just don't mention beans.
Vote for Jackie if: You like banter and bouncing beats.
Don't vote for Jackie if: Your name is Endora.
Citz Theatre (at Tramway), Glasgow
From his early days as a young politician, Pinocchio has been accused of being 'too wooden' during public engagements, and people have struggled to believe his tall tales of adventure. From long yarns about his humble beginnings to stories about being swallowed by a whale and more, questions have been raised about the legitimacy of his claims for years.
Known more for the changing size of his nose, which allegedly grows larger by the day, if not the hour, Pinocchio's struggle to relate to the average person in Pantoland has been brought to the surface by a number of faux pas, including his inability to use a mop.
Vote for Pinocchio if: You like a good story.
Don't vote for Pinocchio if: You want an actual flesh and blood leader in charge.
Despite her name, Mother Goose is not a real goose. She's a human woman, known as Keeper of All Stories whose campaign message has focused on the importance of love and friendship. But also, according to insiders, Goose is also claiming to be Pantoland's last line of defence against an incoming and ancient evil. Honk honk.
While her campaign may be a bit more fire and brimstone than we're used to, Mother Goose's old-fashioned message, albeit mysterious and somewhat terrifying, could be the wake-up call that Pantoland needs. However, rumours of Mother Goose's vanity, including her wish for eternal youth and beauty have led her competitors to question where her loyalty lies. Can she prove them wrong?
Vote for Mother Goose if: You think Pantoland needs a bit of a face lift.
Don't vote for Mother Goose if: Honk honk.