Scottish Opera's Roxana Haines on Tosca and accessible opera
Scottish Opera's Staff Director, Roxana Haines, tells us about the company's current production of Tosca and how they're trying to make opera accessible to a wider audience
"It's still mesmerising to me that these performers can sing with such technique and skill, while also creating believable characters and telling clear stories." That's just one of the reasons why opera resonates with Scottish Opera's Staff Director, Roxana Haines. "Beyond that, it's an artform that requires collaboration," she continues. "It's literally the meeting points of lots of other disciplines which all have to be delivered to the same high standard." 
Haines first joined Scottish Opera in 2018 as a freelance assistant director, working on the company's adaptation of Richard Strauss's Ariadne auf Naxos, a co-production with Opera Holland Park in London. Progressing to a full-time position as Staff Director in January this year, Haines has since directed some of the company's smaller projects, including touring production Opera Highlights and Fox-tot!, Scottish Opera's opera for toddlers. "I loved working as the director of Fox-tot! because we were able to challenge expectations of what opera is or should be, while still creating something really beautiful and engaging," says Haines.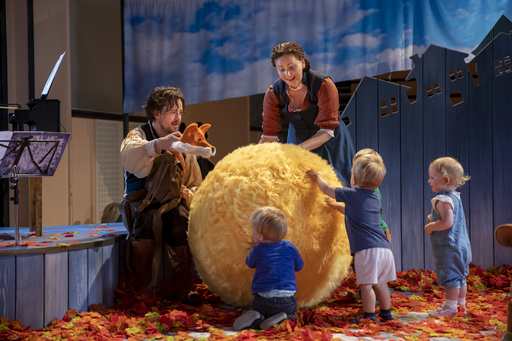 Katie Grosset and Daniel Keating-Roberts in Fox-tot! [Image: James Glossop]
"We incorporated sign language into the choreography of the show, with thanks to Jennifer Bates and Jamie Rea, which felt like another way of clearly telling this story in a way that opera isn't usually told," she continues. "We had some wonderful responses from children that were hard of hearing or who had learned sign language at school or from TV, and it felt so organic that lots of people didn't know it was integrated – it was part of the world of the show."
Moving up to the adults' table though, Haines is currently working on Scottish Opera's latest show, a revival of Giacomo Puccini's Tosca. This production of Puccini's opera was first created by Anthony Besch in 1980 and has since been revived several times all over the world. "I wasn't convinced when I was preparing the show," she says. "I wondered how a show that was made so long ago could still be current or relevant. I mean, it was revived for the fourth time the same year I was born [in 1993], so I was sceptical as to what it had to offer for an audience today."
But, soon enough, she realised she was sorely mistaken. This production is set in Rome in 1943, during the Second World War. Essentially a timeless tale about true love prevailing, it follows protagonist Floria Tosca as she attempts to free her lover from the hands of the Chief of Police, Baron Scarpia. "Puccini's music is perfect storytelling," Haines adds. "It's really beautiful and feels filmic at points, underscoring the character's emotions. I am still moved by the music and our extraordinary performers, even after six weeks of rehearsals."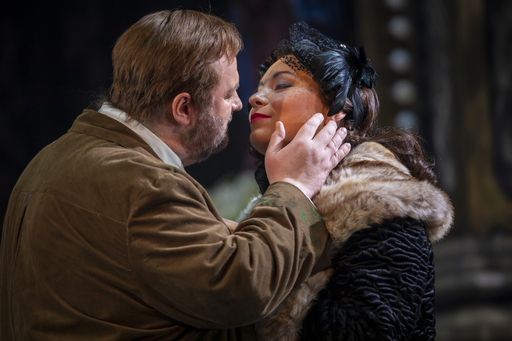 Natalya Romaniw as Tosca and Gwyn Hughes Jones as Cavaradossi [Image: James Glossop]
In an attempt to make their productions more accessible to a younger audience, Scottish Opera run a cheaper ticket scheme, where those under the age of 26 can purchase tickets for the full-scale production for only £10, with no seat or date restrictions; a scheme that's available on the current production of Tosca. And if you want to gain an even deeper understanding of opera as an artform, the company also host Unwrapped shows and pre-show talks to coincide with their current production and "to help demystify opera," says Haines. 
The Unwrapped shows provide an introduction to opera over the course of an hour, featuring interviews with the production's cast members, as well as explanations of the set design and the music, while the pre-show talks break down the inner workings of the show. "The Unwrapped shows literally bring the curtain up on how we make a show, the magic of opera and the people behind the story and scenes," says Haines. "And you get to hear more from me if you come to the pre-show talks… Essentially it's all the things I think are interesting or exciting about making this particular show."
Despite her career revolving around the craft, however, Haines doesn't claim to be a diehard opera fan. "It's probably a little controversial but I want to mention that I don't like all operas!" she says. Just like with all artforms, some operas won't be up everyone's street and, at the end of the day, it's all down to preference. But there's no time like the present to try something new, and as Haines says, "You might be surprised at what you find."
---
Scottish Opera: Tosca is currently running at Theatre Royal, Glasgow, until 26 Oct then travels to His Majesty's Theatre, Aberdeen, 31 Oct-2 Nov; Eden Court, Inverness, 5-9 Nov; Festival Theatre, Edinburgh, 14-23 Nov – tickets available here