Scottish Opera's Emma Black on A Midsummer Night's Dream
As Scottish Opera bring their version of A Midsummer Night's Dream to Glasgow and Edinburgh, we talk to the production's Assistant Director Emma Black to find out more
After a two-year wait due to the pandemic, Scottish Opera are finally bringing Benjamin Britten's operatic reimagining of Shakespeare's A Midsummer Night's Dream to the stage this year. With runs at Glasgow's Theatre Royal from 22-26 February and Edinburgh's Festival Theatre from 1-5 March, if you're under 26 you can bag any seat in the house for just £10 with Scottish Opera's Under 26 ticket deal. 
With many adaptations and takes on A Midsummer Night's Dream over the years, chances are you're probably aware of the romantic comedy in some form or another already. Get Over It, the 2001 teen romcom starring Kirsten Dunst immediately springs to mind for us, but maybe you read the play at school? It's utterly mind-blowing to think that something written in the late 16th century continues to provide inspiration to so many, over 400 years later. "I think one of the reasons A Midsummer Night's Dream is still so popular today is that its themes are universal," Assistant Director for Scottish Opera's upcoming production Emma Black tells us. "Looking at Helena's plight at the beginning – we've all been in love with someone who hasn't loved us back, or know someone who has been in that situation, and wished for a magic potion to solve our problems.
"When we first meet Bottom and his gang – we've all been in a group where someone's a bit of a show-off, and we've wanted them to be taken down a peg or two. And we've all had a squabble with our significant other, as in the case of Tytania and Oberon, which has caused global warming, right!?"
Black continues: "Shakespeare has endured because he was incredible at getting to the root of human nature, and even though A Midsummer Night's Dream is mainly set in a fantastical version of our world, the human element remains – arguments that couples had 400 years ago are still happening today!"
Although best known as a play, in 1960 A Midsummer Night's Dream was brought to life as an opera thanks to the work of Benjamin Britten and his partner and co-librettist Peter Pears who, as Black informs us, "played the character of Flute in the original 1960 production." The original play did feature some songs, so its realisation as an opera makes perfect sense. "Britten put his own spin on [the songs]," Black explains, "plus from a composer's point of view there's a lot of fun to be had creating the music for the three distinct groups of characters – otherworldly fairies, heartfelt lovers, and an amateur dramatics group who are by turns bombastic, shy and, ultimately, loveable."
Black adds: "This is the play that gave us 'the course of true love never did run smooth', and the now iconic feminist line currently adorning T-shirts and other merchandise: 'Though she be but little, she is fierce', and they're all in the opera! The music is also sublime, and is a perfect companion to the play – if you've never seen an opera, but enjoy Shakespeare, this is the perfect first opera for you." And remember, if you're under 26 then Scottish Opera's £10 ticket scheme is a great incentive for you to try something new, and what better way to try something new than with such an iconic story.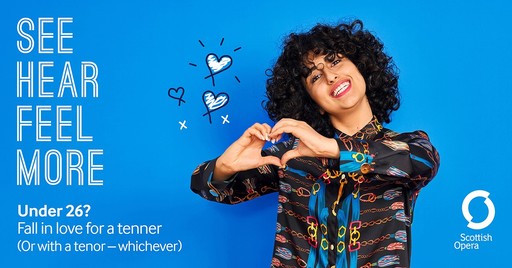 Scottish Opera's production of A Midsummer Night's Dream is directed by Dominic Hill with set and costume design from Tom Piper. So what can we expect from their take on Britten's opus? "You can expect pure theatrical magic," Black excitedly tells us. "There's flying, juggling, incredible singing, hilarious jokes and our very own band of fairies. The world that Dominic and Tom have created brilliantly contrasts the formality of the court (which rules over the four lovers, and the six rustics led by Bottom) with the more fluid rules of the wood where we find our two leaders of the fairies. We're in a post-World War II era, where society was in a process of change, and some of the old rules no longer apply. Our gang of fairy children are not the beautiful pristine choir Britten imagined, but instead are a streetwise bunch of kids that you wouldn't want to meet down a dark alley!"
If you're itching to experience Scottish Opera's modern take on A Midsummer Night's Dream with its slick comedy and magical setting, and are under 26, unlike some other young person ticket offers, there are no restrictions on Scottish Opera's £10 tickets, meaning if you get in quick you can quite literally get the best seat in the house at any performance of the show you like. Though the price be but little, the experience will be fierce.
---
Scottish Opera: A Midsummer Night's Dream runs at Theatre Royal, Glasgow, 22-26 Feb; Festival Theatre, Edinburgh, 1-5 Mar – tickets available here