Introducing Dundee Rep Stripped
We chat to Jordan Blackwood and Carla Marina Almeida, the people behind Dundee Rep's new theatre festival for emerging and established artists, Rep Stripped
"We didn't want to just look at emerging artists or just find established artists," explains Rep Stripped's Director Jordan Blackwood, who along with Producer Carla Marina Almeida, created and programmed the new festival, which takes place later this month. They wanted to create a space for artists at any point in their career to perform work in a stripped-back environment – hence the name.
The programme
The festival programme contains relative unknowns standing alongside new works-in-progress from some of Scottish Theatre's big-hitters, performing as part of the festival's IN PROGRESS sharings, including Oliver Emanuel and Gareth Williams and the National Theatre of Scotland's associate company Blood of the Young. Meanwhile, emerging writers such as Kolbrún Sigfúsdóttir and Tandem Writing Collective are represented in the SCRATCH segment of the programme. 
"We wanted to find a variety of work – in the eventual programme we have achieved this with artists coming together where they can share ideas and be inspired," Blackwood explains.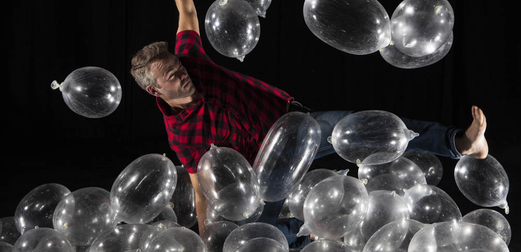 The festival boasts around a dozen extracts from a diverse range of plays and disciplines, from theatre, to spoken word, alongside workshops from the likes of the National Theatre of Scotland, BUZZCUT and Scottish Youth Theatre.
"We also didn't want to go for just plays, or just one style of work; devised work, new musicals, puppetry, a real diversity," Blackworrd continues. "It's offering up something a bit different to the established audience at the Dundee Rep."
The price
While the programme was created to allow audiences to see works-in-progress from recognisable names, alongside curtain raisers that might be more challenging, it's also affordable.
"On Saturday 27 April, for example, there's lots of work on and you can see it all for £12.50," Blackwood explains. "People can come to just one show, but it doesn't cost much more for them to see everything else that's going on."
A unique opportunity for artists
This Festival's model is new for theatre in Scotland; focusing more on sharing ideas and learning from audiences and other artists, than on presenting the most polished performances. "We're encouraging collaboration," says Blackwood, "and we're pushing the idea that artists are constantly developing at every stage of their careers."

Artists in Scotland have a real appetite for opportunities to put new ideas in front of audiences, to see what people think of their work, and help shape the piece as they take it forward – Carla Marina Almeida points out that, "even artists who didn't make the final programme contacted us to say that they were happy it's happening. They were excited by the opportunity."
A collaborative future for theatre

Festivals like this are an insight into what kind of work might be coming to Scotland's stages in full production a few years in the future – in the applications for the programme this year, Blackwood and Almeida both noticed a theme emerging: a more collaborative, holistic approach to making theatre.

"There are a lot more companies making devised work, and being more collaborative in approach," notes Blackwood. "People are looking at different media for their work, too."
"People are coming with designers and other creators on board even at the application stage, and they're a part of the whole process, always having an input," adds Almeida. 
The Rep Ensemble as they haven't been seen before
There's a diversity of work within Rep Stripped, and because of its unique programme and prices, the audience can really be a part of the development process, according to Blackwood.
"It's a chance to see those amazing, well-known Dundee Rep Ensemble performers, but maybe they'll be writing or designing or directing – it'll be a way you haven't seen them before."
---
Rep Stripped, Dundee Rep Theatre, 18-27 Apr