En Pointe: 50 Years of Scottish Ballet
As Scottish Ballet prepare to mark their fifth decade of existence, they chat about their new season of bold programming and challenging contemporary perceptions of ballet
2019 marks 50 years since Peter Darrell founded Scotland's national ballet company, Scottish Ballet, which was then called Scottish Theatre Ballet. To mark the occasion, the Spring! Tour opens later this month at Eden Court in Inverness, a location that's always on Scottish Ballet's touring list but not necessarily for a season's premiere, emphasising the company's status as a national (rather than simply a Central Belt) company.
The Spring! Tour
The Spring! is a new double bill which includes late Scottish choreographer, Sir Kenneth MacMillan's Elite Syncopations, described as an 'antidote to the blues', which will be performed with a live ragtime band on stage, and the premiere of Sophie Laplane's Dextera, set to the music of Mozart and played by the Scottish Ballet Orchestra. Born in Dunfermline, MacMillan was an internationally renowned choreographer, known for putting real and emotionally volatile characters on the classical stage.
Laplane is a rising star of Scottish Ballet. Having previously danced with the company she's now their artist-in-residence, a transition that was supported by Scottish Ballet CEO and artistic director Christopher Hampson, who commissioned Oxymore, her first piece for the company, in 2013.
She speaks of the encouraging atmosphere within the company that allowed her to transition to choreographer. "I had already choreographed while dancing with Scottish Ballet, [Maze, 2015, Sibilo, 2017], but felt the time had come for me to fully invest in a choreographic career. So when I hung up my pointe shoes in 2017 Christopher Hampson gave me the opportunity to stay close to Scottish Ballet by making me artist-in-residence. It's an amazing privilege to have the title. He has given me a lot of support, acting as my mentor throughout the process."
---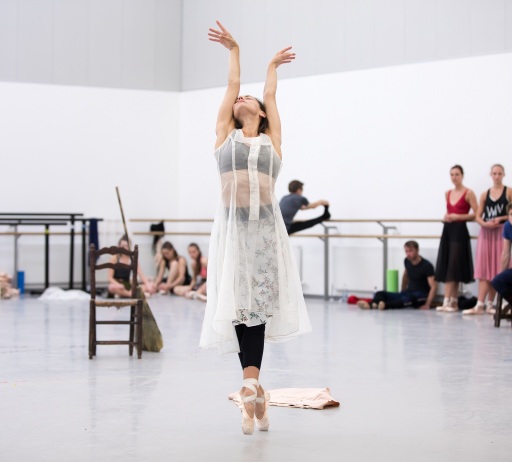 Sophie Martin rehearsing Scottish Ballet's production of Helen Pickett's The Crucible. Photo by Andy Ross
---
Dextera, Laplane explains, is a response to the celebratory nature of the Spring! tour: "When I think of Scottish Ballet, the first word that comes to mind is 'creativity'! I've always been fascinated by hands and the multiple meanings attached to their vocabulary. So I wanted to explore the idea of creators and their hands, their artistic vision, of course, but also the hard work that goes into a 'creation'."
Another starting point was her decision to use Mozart's music in her first opportunity to work with the Scottish Ballet Orchestra. With Mozart, she says, "The scope for a choreographer is amazing – you can go from playful to awe-inspiring to absolute beauty." She quotes the highly-experimental choreographer whose work crossed between ballet, modern dance and Broadway, Twyla Tharp, who states of Mozart: "his hands were deformed because of all the hours he had spent practising, performing and gripping a quill to compose." "This is what it's all about: creativity and sheer hard work!" Laplane explains. 
Digital Season
Not limiting themselves to a traditional touring format, Scottish Ballet will be unveiling a new 2019 digital season in late March, following the success of 2017's inaugural run. One strand will be a selection of work from digital artist-in-residence Zachary Eastwood-Bloom.
Eastwood-Bloom describes his process as somewhat 'nebulous'. He studied ceramics at Edinburgh College of Art and Royal College of Art in London, and works with digital software to explore shape and form in sculpture. "Prior to this residency the only experience I had working with dance was making an audio responsive digital projection that dancers performed in front of," he explains, though he admits that he has found this experience very informative for working with Scottish Ballet.  
He stresses he is not a dancer, and this informs his approach. "I knew I wanted this residency to be highly collaborative. Everyone has their own way of thinking. I happen to think through making art and sculpture, but others think through dance, music, words… and I was keen to bring those multiple ways of thinking together to explore a succinct set of allegorical stories that represent modern technological life." He continues, "It is a very ideas-led approach where the music, dance, visuals and tone of each piece come together in stages along the way until we have a finished set of short films."
Edinburgh International Festival 
In addition, Scottish Ballet have a coveted spot at the Edinburgh International Festival this year: the world premiere of Helen Pickett's The Crucible, based on Arthur Miller's 1953 theatrical masterpiece which depicts the hysteria and paranoia of the Salem witch trials. Anyone lucky enough to have seen the company's double bill in 2016 featuring work from Crystal Pite, one of the most exciting and sought-after choreographers working today, will no doubt expect the same level of intensity, innovative choreography and physical virtuosity.
Other announcements for their 50th year include: an ambitious Five in Five plan, which aims to create five new full-length ballets in five years; a new production for winter titled The Snow Queen and choreographed by Hampson; and five wishes granted to members of the public, to be given throughout the year.
#metoo
As across all arts and political infrastructure, it's a time of reckoning for those in power. The ballet world has not been without its share of scandals and revelations of abuses of authority. In March last year, Hampson released a strong statement emphasising the importance of those in charge to abandon old, potentially damaging practices (the statement can be read on Scottish Ballet's website). "Artistic directors, choreographers, teachers, coaches are all, in some form or another, in a position of power and influence," he states. "Dancers today are asking more of us as leaders. That's a good thing, and it is important that we listen, learn and deliver success to the next generation."
That there are two female choreographers in this season's announcement is a positive sign. Despite the abundance of young girls who go into ballet, unfortunately there are still far fewer female choreographers than male choreographers working at the top level in ballet institutions. And people are calling for change.
Bold Programming, Challenging Perceptions 
Hopefully these surprises continue on stage for the company's receptive audience. Hampson emphasises that "since our very beginnings in 1969, Scottish Ballet have been known for bold programming and bringing the best in dance to people all across Scotland. Now, in our 50th year, we want to highlight how far we've come in continuing that pioneering spirit."
For Eastwood-Bloom, the audience might find something within ballet they hadn't seen before. "I think Scottish Ballet is being very forward thinking in challenging preconceptions with their 'Digital Season', especially with bringing in people like me who work in different creative practices.
"Bringing ballet out of the theatrical realm and introducing what might be considered unusual genres of music for ballet and then adding visual effects, brings a whole realm of possibilities in terms of concepts. I am really hoping to reach people who see what we have done and think 'Shit, maybe I do like ballet, I want to make music or dance or make art like that!' It is all about creative thinking whatever your mode of thinking might be."