Archos Virtual Reality Glasses
French tech innovators Archos have dipped their toe into the rapidly-evolving world of VR with their budget-priced headset.
French tech innovators Archos have dipped their toe into the rapidly-evolving world of VR with this budget-priced headset, retailing at just £20. You will of course need to supply your own eye-wateringly expensive smartphone, but chances are you've already got one of those.

Simply slide your iOS or Android device (I used the Sony Xperia Z3) into the front of the unit where it sits securely gripped between rubber bumpers, strap on the headset, and you're provided with a stereoscopic view of your smartphone screen – giving you access to hundreds of VR applications in the Play and App stores. These apps make clever use of your device's gyroscope, giving you a 360° vista and a true virtual reality experience without having to shell out $350 for an Oculus Rift dev kit, or one of the other expensive early contenders such as the £499 Avegant Glyph.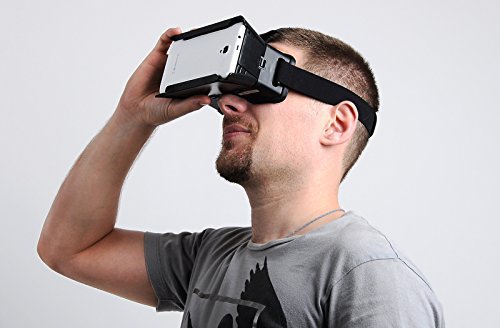 In reality, what we have here is a posh Google Cardboard kit without the hassle of having to put the thing together, or worry about your £500 phone sliding out of the front as the whole thing falls to bits. It's a hell of a lot more comfortable to wear as well, and easily adaptable for heads and phones of all shapes and sizes.

So how are the apps? Well, once the initial wow factor has worn off, the answer would be diversionary at best. The roller coasters and racing car rides are fun, for a couple of times. And that goes for most of the VR apps that promise immersive experiences but really amount to a passive three-minute thrill. There are attempts at games, but with one button available to use, they're not the most engrossing or action-packed affairs. These things take up a lot of space on your device; you'll probably download them, have a quick bash and then delete. You can watch movies in 3D, or experience sitting in a cinema while your movies play on the big screen – if you really want to.

As with Google Cardboard, the most interesting use of the technology for me is the ability to remotely sightsee. A tour of the Palace of Versaille gives you a genuine perspective of grandeur that you just don't appreciate from images or video alone. When VR-proper arrives I will lap up these kind of fully-fledged cyber-tourist experiences.

Should you get one then? Well, if you want something to keep you occupied for a while, or whet your appetite for the likes of Oculus Rift and Project Morpheus – absolutely, it's worth its £20 price tag.