Game Masters: The Spirit of Independents
For its residency in Edinburgh, Game Masters has reserved a spot to celebrate Scotland's contribution to the games industry. We speak with the three developers chosen to represent its growing independent scene
"What if we showed that video games in Scotland can be more than games about crime and misogyny?" This proposition offered by Yann Seznec of Edinburgh-based Lucky Frame could serve as a mission statement for all three of the local developers participating in Game Masters. In their own way, each of them is driven by this possibility, striving to challenge widespread assumptions about what video games can be in a country that's most celebrated contribution to the medium is also conspicuously complicit in its ideological stagnation.
Granted, Grand Theft Auto has secured Scotland's status as a cornerstone of the industry, a reality Game Masters reflects with an exhibit dedicated to the series' original creators DMA Design. Yet it threatens to overshadow some of the pivotal work being produced by its vibrant independent community – by folks like Lucky Frame, Glasgow's Simon Meek and Dundee's Space Budgie, who are proving that modern Scottish game development is far from the stronghold of the status quo its heritage might suggest.
"The most important thing for an independent game scene in Scotland is unrelenting and unapologetic originality," states Seznec, and Lucky Frame's output exudes this in droves. Bad Hotel, which is playable at Game Masters, tasks players with constructing weaponised, beat-making hotels (what else?), whilst Roflpillar requires players to lie supine and perform their best caterpillar impression. Genuinely.
For Space Budgie, independent development offers the freedom to address issues unbroached by the heavyweights of the industry. Their current project, Glitchspace, aims to advance programming literacy, according to co-founder Ronan Quigley: "Programming can seem quite elusive so we wanted to break away these sorts of pre-conceptions by making Glitchspace an environment where players could be introduced to coding in a visual manner."
---
"The most important thing for an independent game scene in Scotland is unrelenting and unapologetic originality" – Yann Seznec, Lucky Frame
---
Just as Space Budgie believes in the medium's capacity to enhance learning, Simon Meek is convinced of its potential to transform the practice of storytelling. "Video games should be credited as being the single most disruptive force in storytelling over the past forty years," he claims. "They challenge conventions, they present problems and they afford exciting new possibilities." Meek's 'digital adaption' of John Buchan's The 39 Steps presents his theory in action, a multimedia retelling of the early 20th century thriller that embeds excerpts of the original prose within an audio-visual, interactive framework that includes puzzle solving and navigation elements.
It's a period piece that asks the audience to interact with history itself; to peruse contemporary newspapers sourced from The Scotsman's archives or consult old street maps and photographs. If it sounds a little sedate, that's the point, and Meek plans to extend this formula to his future work. "Our ethos is to challenge conventions and to produce compelling character-driven titles for audiences who want more than just an adrenaline rush," he states.
In highlighting these three developers, Game Masters sends a clear message to visitors, the majority of whom will be encountering them for the first time; video games in Scotland can be whatever they want to be. Not every fresh faced game developer can make it into the National Museum but these three have earned their respective places and have done so without subscribing to corporate agendas. As Meek puts it, "some experiments are lost and forgotten, others bring about change – but the important thing is that we're experimenting."
---
MORE ON GAME MASTERS: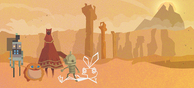 • Six indie developers vying for your thumbs at Game Masters


• Robert Florence on gaming's past and present ahead of his 'Christmas morning' show
---
http://spacebudgie.com/ http://luckyframe.co.uk/ http://thestorymechanics.com/