Make Works – An Innovative Scottish Tech Startup
Scottish start-up Make Works facilitate artists and designers in sourcing materials from local factories. We met up with founder Fi Scott to discuss her experiences of getting the start-up off the ground
Make Works is a unique Scottish start-up; their website facilitates users (typically artists, designers, engineers) in sourcing materials from local factories, enabling them to make just about anything.
The website's users benefit from a wealth of information (videos, images, guides, maps), making the experience of sourcing materials for their creative purposes an accessible one, while listed factories (currently over 130) receive free marketing and the opportunity to connect with a new customer base – ultimately generating new revenue streams.
Founder Fi Scott conceived of the idea whilst in her final year of studies at Glasgow School of Art: "It was out of my own frustrations really, I am a product designer by training, and I'm also interested in making things by hand. I spent some time in the US gaining experience in this area, working for a bespoke furniture workshop in New York. They've a really good network in place over there; from knowing where to get good machinery, or just knowing someone else that can help with a part of the process.
"On returning to Scotland, I remember sketching, 'Where's industry in Scotland?' The association I had with manufacturing was really old school, and it felt quite intimidating. I realised that a lot of these companies simply don't exist on the internet; they don't have websites, and if they do, they're often terrible. Essentially, because I couldn't find any of these people online, I just started going out to the industrial estates around Glasgow. Once I'd been out to visit a few factories, I soon realised that everyone else wanted this information."
Through this hands-on research, Fi had inadvertently become something of a maven among her arts community. Most importantly, she'd identified a need and started to think of a potential solution. Such considerations became the focus of her dissertation and degree show, and formed her initial business plan.
---
"When you see the bit at the end, when you see that someone has been able to get something made, I find that so satisfying" – Fi Scott
---
Upon graduating, she was kindly offered a free desk space at the MAKLab workshops in Glasgow, and it was here that the transition from idea to start-up venture began to take shape: "Everyone there was really creative and into making stuff, that's where things really started to happen. I spent six months applying for just about every single fund in Scotland; I applied to Creative Scotland, Prince's Trust, Scottish Enterprise, SIE, NESTA, Starter for Six, Business Gateway, along with all the small art grants I could find. Unfortunately this proved a bit of a fail as I received a huge stack of rejection letters."
Whereas these initial rejections might've deterred many, Fi was keen to understand what seemed to be hindering their progress: "Our problem was that we were partly art-based, and as such we didn't fit into any one box or associated criteria. Eventually I got so frustrated that, rather than pitching it as a business, I phrased it as a 'project', and that's where we came up with the idea for the Make Works Tour."
In changing tack, the idea for the Make Works Tour began to gather momentum. After borrowing a VW camper van and enlisting the help of a couple of friends, they hit the road and set about documenting a significant number of factories throughout Scotland. Fi talks fondly of this tipping point: "We got to go on this incredible trip. We soon had a lot of substance for the site, received a big following, and then shortly after, we were successful in receiving funding from Creative Scotland to build the first version [of the website], along with further funding from the Jerwood Foundation."
The video shone a light on Scottish factories, but predominantly it helped people understand they were going to build a marketplace, and the creative possibilities this presented. Following the launch of the site in 2014, Fi then applied for an accelerator programme in London called Seedcamp. Initially she didn't think she'd even get onto the programme, let alone end up winning it. Success with these initial grants allowed her to take things to the next stage; not only could she afford to proceed with the website as intended, but she could pay two full-time staff.
Make Works is a non-profit start-up, and Fi is keen to point out the reasoning: "I'm really passionate about making sure that the information remains free, and also that listing for factories remains free. A lot of these companies see the value in doing it, but things like having a film – they wouldn't normally pay for that sort of thing. It's really important to continue the service being free, and then developing our other revenue streams around it. In that sense it's not a typical startup model."
Since the launch of the website last year, Make Works have been focused on getting out to visit factories, developing relationships, and documenting new listings. Although clearly the website has the potential to become a comprehensive marketplace within the UK, early on it was decided that they'd concentrate on compiling a definitive marketplace for Scotland first, focussing on quality rather than quantity, before then expanding. Through her hands-on experiences and documenting how things are made, Fi has learned the processes specific to those listed factories, along with the technical language or jargon that often applies. This knowledge has been fed back to assist the site's users, many of whom might've otherwise felt confused or intimidated.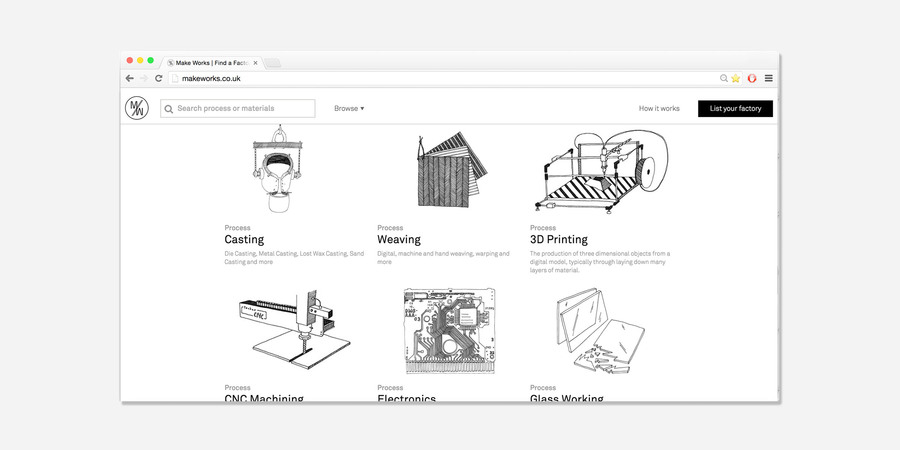 How have new people been discovering the site? Fi mentions: "The site's content is incredibly important in this process, along with effective use of SEO." Ensuring that their website is visible in search engine results generates a steady stream of new users; currently there are around 8000 people a week using the site.
As a GSA graduate herself, she's been able to tap into Scotland's various art colleges to encourage new users to the site: "I get to go and give lectures, so that's really helpful in generating awareness. We also just did a guide for graduates, to all the facilities you can access on the site. We can also see what everyone's searching for, and just before degree show time, there's a rise in certain things, like business cards."

While discussing some of the profiled artists and designers who are using the site, she enthusiastically mentions: "We are running a residency programme with an arts organisation called Hospitalfield. They're an arts space up in Arbroath; and they've just worked on the Venice Biennale stuff. They got in touch and said 'we want some of our artists to work with fabricators near Arbroath, can you help us out'? We then got a set of textile designers from Bespoke Atelier involved; they are now making stuff with composite factories, it's an industrial process with a very artistic side. That's the stuff I love, it's really great seeing artists get excited about a new process".

For all the effort, trials and tribulations that have gone into establishing Make Works, it seems clear that one of the most rewarding aspects of her work is seeing when others have benefited from the service: "When you see the bit at the end, when you see that someone has been able to get something made, I find that so satisfying. The other part is when the factories we have listed tell me they've generated new work through the site."

What lies ahead for Make Works? Well, for starters they've just released a new version of the website. You can expect plenty of new listings for Scottish factories, which are set to double within the next year. They've just secured another grant to turn Make Works into a sustainable non-profit within 9 months. There are plans to do more Maker Speed Dater events (an event they tested out last year) which brings together makers with manufacturers. Finally, keep an eye out for the debut Make Works publication, a magazine containing related articles and stories which they're planning to release every six months.