Scotland's grassroots/DIY gig scene
If you're new in town, here's a look at some of our favourite DIY and grassroots promoters putting on gigs across Glasgow, Edinburgh and Dundee
While your favourite band will probably pass through your city promoting their latest album, the heart of a city's community lies at a grassroots level. Luckily for you, Scotland has some of the finest DIY and grassroots gig promoters around, passionate to the core to bring you local talent and lesser known touring bands in abundance, while building a safe, inclusive environment to forge friendships in.
Glasgow's Freakender have been doing so since 2016 and their 2022 all-day festival is just around the corner. "We aim for inclusivity," co-founder and organiser Ross Keppie says, "and I guess the lineups – especially the festival – are as diverse as they can be for garage, psych, post-punk, predominantly guitar acts, but we have always aimed for a 50/50 gender split." Keppie continues: "We want to bring together people who share our love of these acts from underground to international and give people the opportunity to discover their new favourites."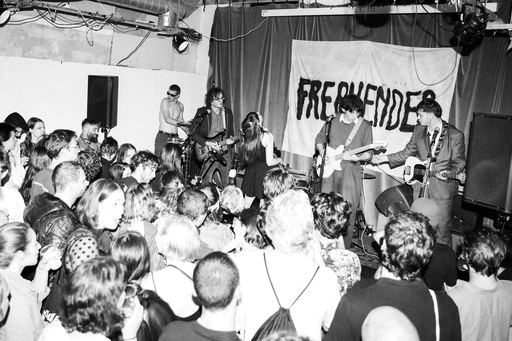 Image: Freakender by Neelam Khan Vela
Also in Glasgow you'll find Pop Mutations. Born during the pandemic, they brought communities together online while they couldn't be together IRL. Run by various bookers from venues you'll come to love, if you don't already (Stereo, The Old Hairdressers, The Glad Cafe, Mono and The Flying Duck), Pop Mutations are very much a live entity now. With a regular run of genre-diverse gigs taking place across the city, their inaugural festival is happening from 13-16 October. They tell us: "Attending a Pop Mutations gig provides a direct line into Glasgow's wealth of underground talent and a showcase of the city's DIY spirit."
In Edinburgh, from 30 September queer party throwers 249 will call arts venue Summerhall home as they settle in for a new monthly residency in the city's southside. Combining live bands, DJs, cabaret, drag and more, when we ask how 249 came about, co-organiser Patrick Harris tells us: "We wanted to put on the kind of party we wish existed when we were taking our first cautious steps into the LGBTQ+ scene." Harris continues: "[We offer] an inclusive and super-friendly atmosphere for everyone, where fun is essential and wildness and hedonism are encouraged... We want people to feel free, liberated and leave the party smiling."
At the more electronic and experimental end of the scale, Edinburgh's monthly Wavetable shows were also born out of the want for a night that organisers Andrew Oster and Simon Kirby wished already existed. Live visuals also play a big part, and unlike other DIY nights, Wavetable operates in a space not usually used for live music, with a BYOB policy adding to its appeal, alongside the inclusive and open nature of the nights themselves. "We try to curate so each night is a good mix," Oster says, "and we try to keep the amount of actual music under control so there's plenty of time for chat. The community aspect was also something we had in mind at the start."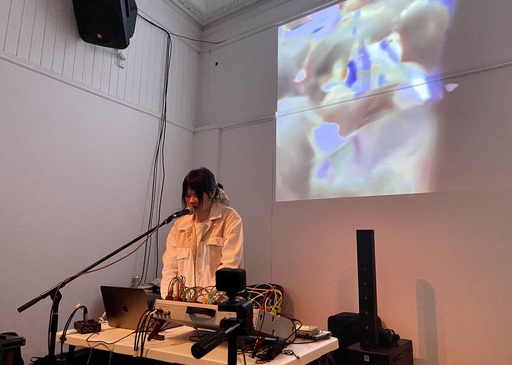 Image: Wavetable by Simon Kirby
In Dundee, punk label Make-That-A-Take Records have been putting on gigs and bringing together the local community through music since 2006. The label run all of their gigs in Conroy's Basement, housed in the downstairs of vegan restaurant Rad Apples, a queer-positive, Good Night Out campaign-accredited venue. Label boss Derrick Johnston enthusiastically describes the ethos of MTAT as destroying the patriarchy, being radical and spreading joy, going on to tell us that "bands have been formed, marriage stories started, babies nearly born, friendships forged and thousands of connections made at MTAT shows over the years. That's a very beautiful thing indeed."
In 2018, Sami Omar launched online music platform Up2Stndrd in order to "highlight and bring exposure to hip-hop artists in Scotland." Recently they've started programming live events under the banner Up2live, such is their commitment "to bring these acts to the stage and help connect them to a wider audience." They've so far programmed events at Glasgow's iconic King Tut's and have an event coming up on 25 September in conjunction with Scotland on Tour, BEMIS and the Edinburgh Festival Fringe, with more planned throughout the year.
It's also important to highlight the work of We Are Here Scotland in bringing young Black and people of colour together through the universal connection of music. WAHS have just launched INCUBATA, with events to follow later in the year, alongside the return of their glorious gig series AMPLIFI, set to return this winter/spring 2022/23 to The Queen's Hall.
Community can also be found via local indie labels like OK Pal Records, Lost Map Records, Olive Grove Records and Night School Records, record shops like Monorail, Assai, Le Freak Records and Thorne Records, or via community-run radio stations – EHFM, Clyde Built Radio and Radio Buena Vida – while other organisations and promoters worth seeking out include Intercultural Youth Scotland, Braw Gigs, Other Other Music and Redolent's we should catch up if ur around, with dates in the diary at The Biscuit Factory until the end of the year.
In the words of Nirvana, 'Load up on gigs / Bring your friends'. Sure, Kurt Cobain may not have said 'gigs' in the original lyrics to Smells Like Teen Spirit, but please allow us some artistic license, and please load up on gigs.
---
Follow your new favourite grassroots promoters on Instagram @freakenderglasgow @popmutations @twofournine.nights @wavetable_ed @makethatatake @up2stndrd @weareherescot