Why you should join your local tenants' union
Scotland's housing problems predate COVID-19 but the pandemic has made tenants even more vulnerable. One writer explores how tenants' unions, like Living Rent, are fighting back
The beginning of the pandemic, fraught with precarity and vulnerability, gave rise to calls to unionise across social media, echoing labour activist Joe Hill's instruction: Don't mourn, organize! There is certainly merit to this message, but, during a period of mass (and increasing) unemployment and job insecurity, the imperative may sound slightly out of touch. In this context, tenants' unions offer a collective solidarity outside of wage labour relations that so many of us need. 
Tenants' unions are, as the name suggests, comprised of tenants working together to challenge the conditions that oppress them. In Scotland, the tenants' union, Living Rent, push national campaigns and the member defence team organises around specific cases, while neighbourhoods form branches to work together on local issues. Often, these feed into and inform each other.
Personally speaking, a stranger, who later became a friend, helped me get my rent reduced when my freelance work disappeared overnight. I got to do the same for another friend in turn. But the work Living Rent does goes beyond individual cases; recently, a mother fighting an eviction mid-winter sparked a campaign that resulted in a nation-wide eviction ban. What doing this kind of work tells you is: you aren't alone because your neighbours won't let you be; you matter; you deserve a home. This isn't charity. It's a recognition of our mutual humanity, worth and interdependence. 
While Scotland's housing problems predate COVID-19, tenants' unions are especially crucial right now because they serve the purpose of protecting public health, both physical and mental, while working to shape the narrative and material conditions of our society during these uncertain times, as well as post-pandemic. Branch meetings put people in touch with their neighbours. Your problems, previously individualised, are situated in a broader context. You learn what problems your neighbours are facing. Coming together over common goals and working towards them as a community provides some relief to the sense of isolation and helplessness so many of us have experienced throughout the pandemic – it fulfils our desire for a collective life.
Broadly speaking, the work tenants' unions do serves to challenge the myths of the housing market and the system that traps people in a lifetime of what tenancy entails in a neoliberal society. These conditions are not a personal failure; they are systemic. Four decades of the increased commodification of housing has resulted in falling homeownership rates. In Scotland, more than half of the tenant population was once comprised of people living in council housing but the right-to-buy scheme delivered a third of this to private landlords. Much of the remaining housing was demolished or transferred to housing associations through stock transfer, and private tenancies increased exponentially. Meanwhile, across the rental sector, tenants face routine displacement, disproportionate rent rises and housing in critical states of disrepair.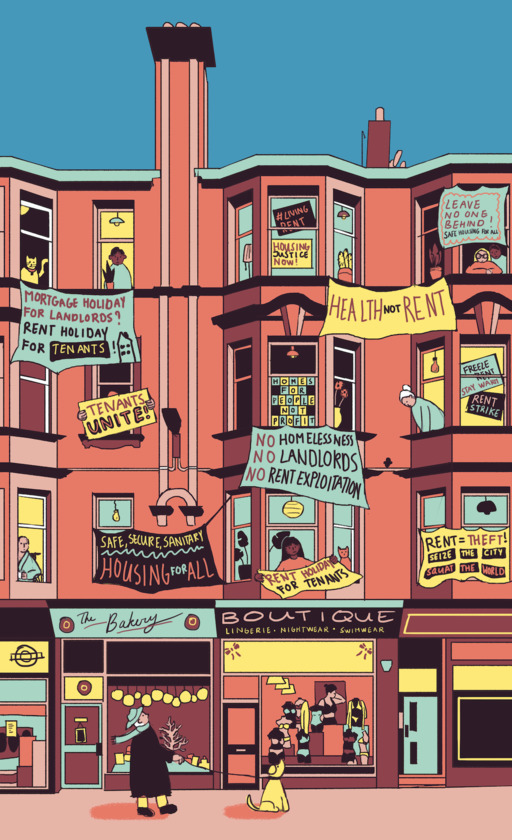 In this environment, Living Rent's work both contributes to and is sustained by a significant ideological shift in our communal imagination with regards to housing and the stigmatisation of tenants and rented homes. This is not limited to a critique of the current housing system; it involves actively challenging both private and social landlords and taking the fight to the government. It protects our material conditions while reminding us that we have power and we have each other. 
The point here is not to enact a form of sentimentality that allows us to feel that we're in the same boat, or even to exercise compassion for or receive sympathy from those who are facing this pandemic under different circumstances than us. The point is to feel and act in solidarity with each other – to recognise our shared stakes in a system full of injustice and inequality and to change it.
As urban planner Raquel Rolnik states in a recent interview on the podcast A World to Win: "A house is a portal to other human rights: access to education, a good environment, access to health, access to cultural and economic opportunities." Through my experience with Living Rent, I would add to this that a house can connect you to your street, your block, your city, and these, in turn, can help you make your house a home – not just as a building, but as part of a community. 
All of this marks a significant shift in our collective narrative about our homes, our cities, the country, even the world we share. The housing market is not a god that should decide our fate; it's up to us to build a community where people's needs are met. This work isn't done, but your neighbours are doing it, and you can join them.
---
Find out more about Living Rent at livingrent.org
Illustration by Lotte Schuengel