How Asian food Instagram joyously resists racism
Lockdown and restaurants closing has devastated and isolated diaspora communities. We explore how food Instagram accounts have been keeping communities connected, celebrating heritage and fighting racism
It's 3am and my phone is an inch away from my nose. I'm inspecting an old Instagram post from a year ago. It's a photo of bean sprouts: stout, fat, translucent bean sprouts, piled on top of each other, mountainous and glistening with soy sauce. I can still taste them – so fresh, so crunchy, so good. The photo was taken in Ipoh, bean sprout capital of the world. When I look at the picture, I remember my aunt who brought me to eat them. I remember the plastic chopsticks I clutched, the cramped restaurant we sat in, the street we walked down afterwards, the way people in Ipoh talk about bean sprouts, the fact that I won't be able to eat them again for a long, long time.
I miss those bean sprouts. I think about them every week.
I refresh Instagram and start scrolling. I've followed so many food Instagram accounts since the beginning of lockdown that my feed is 50/50 food and selfies. Most of the accounts post photos of Chinese, Malaysian or Singaporean food – food that is familiar to me, that I've eaten all my life, or street food that I miss nearly as much as my family. I scroll through photos of dim sum, crispy pork belly, chilli crab and laksa noodles and read the comments:
Dumpling swoon! 
OH MY GOD YUMMMM
omg u made that ?? can u share the recipe?
I miss kl so much
A hunger, much deeper than a craving for bean sprouts, gnaws inside me.
Lockdown has made us all solitary creatures. Dinner parties, work lunches and the joy of solo eating while surrounded by strangers have all disappeared. Coming together over food, an act that feels quintessentially human, is just one more victim of the pandemic. But while we all miss sharing plates, for immigrant communities in particular, not being able to come together over food has been especially isolating.
For diaspora, food is a bridge, crossing oceans and continents to maintain a connection to the motherland. A bite of a scalding soup dumpling, the right brand of chilli sauce or a tiny pomelo can become a portal to the past and a comfort in the bitter, Scottish winter. But food can also be a means of resistance. In predominantly white cities, a Chinatown, a Nigerian restaurant or an Indian buffet can be a refuge, a safe space for intergenerational communities to come together to celebrate their heritage and culture. Steve McQueen's recent film Mangrove is a striking dramatisation of this role food plays in diaspora communities, focusing on the historic Notting Hill Carribean restaurant that served as a vital hub for Black activists in the late 60s and early 70s.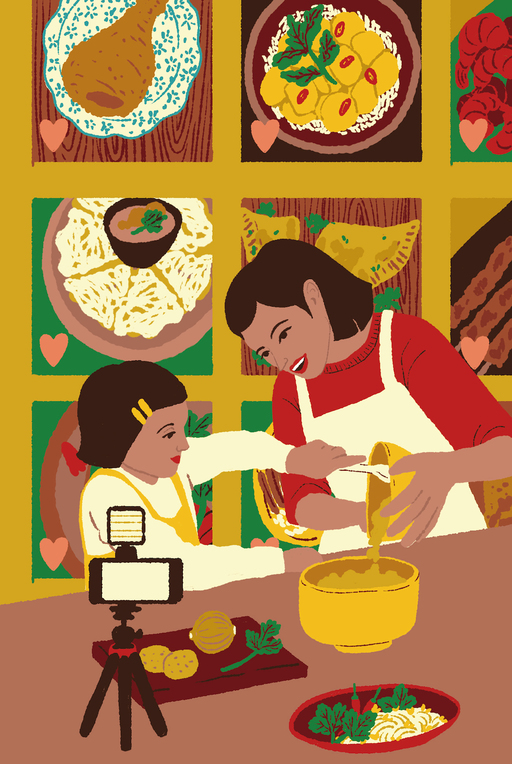 Food has always been political, used to both galvanise and suppress communities. Recently, MasterChef: The Professionals contestant, Philli Armitage-Mattin, was criticised when she, a self-proclaimed 'Asian specialist', referred to street food as "dirty". Armitage-Mattin has since apologised, but it's this rhetoric, far too common in the West, that normalises racism around food. Every Asian kid growing up somewhere predominately white has experienced this racism. The food in your lunchbox is "smelly", "weird", "disgusting" – in retrospect, a deeply ironic racism as it tends to come from a classmate who has the remains of an egg-mayonnaise sandwich and Wotsits stuck in their teeth.
Chinese food in the West has always suffered from being othered but as COVID-19 numbers reached epidemic levels at the start of 2020, Chinese restaurants started to be avoided by many in the West, as the media and politicians – including the then-president of the United States – correlated China with COVID. Racist hate attacks on East and Southeast Asian (ESEA) people quadrupled in the UK during the first lockdown, vilified as the faces of the virus.
As racism soared, food became a comfort and way of resistance for many ESEA people. After Armitage-Mattin's "dirty food" comment, people started posting photos of their favourite Asian meals on social media. Stacked bamboo baskets of bouncy baozi, shiny, yellow durian and thick udon were celebrated, unapologetically, in a joyous defiance of racist narratives around food.
Tapping through these photos on Instagram is the closest I've felt to communal eating during lockdown. Strangers coming together over a shared love of a regional dish, suggesting where to get the best takeaway ramen and how to get the crisp of a scallion pancake just right feels close to the safe space offered by a community's favourite restaurant.
As I eat lunch while scrolling through Instagram, double-tapping the neverending stream of char kway teow and roti canai and bean sprouts, I feel connected, not only to my own family half a world away but also to my community of ESEA people closer to home. I slurp my noodles a little louder.
---
Illustration by Eunjoo Lee
Do you have a food story to tell? Click here for details of our Food and Drink Writing Competition...