Primavera Sound: Going global or selling out?
With global expansions of the Barcelona festival's brand amidst the hip dystopia of commodified identity politics, we look back on the 2019 edition of Primavera Sound
With the dust barely settled on Primavera Sound 2019's Barcelona edition, dispatches are already out on what lies ahead for the Primavera brand. Firstly, a monopoly on live Pavement reunion shows next year at the festival's Barcelona and Porto editions. Secondly, the Primavera brand is expanding: alongside Barcelona and Porto there will now be an ATP-style holiday camp 'weekender' in Benidorm (8-9 Nov 2019), and a two-day sister festival in Los Angeles (19-20 Sep 2020).
Change is also evident on the ground. At the Parc Del Fòrum in Barcelona the festival's grounds are expanding down to the water's edge, and with an ever more extensive 'club resort' area down by the beach. The crowds are denser than ever before, making for teeth-grinding log-jams and interminable queues at water fountains.
The line-up is also expanding, to a dizzyingly diverse roster that defies the bounds of genre or scene. This year's focus on recycling allows you to cast your eye back over previous line-ups printed on the festival's new eco-friendly, reusable cups. The comparisons are not always flattering: 2019's headliners – including J Balvin, Future and Miley Cyrus – seem some significant steps away from those in 2002 (Pulp, Spiritualized, Aphex Twin), 2008 (Public Enemy, Portishead, Vampire Weekend) or 2016 (LCD Soundsystem, Radiohead, PJ Harvey).
Within the grounds, sponsorship and advertisement are intensifying in direct proportion with welcome, seemingly well-intentioned initiatives on recycling, anti-harassment, and inclusivity. There's now a branch of fast fashion store Pull&Bear on site, where you can shop for skinny fit denim and carrot jeans without leaving the festival grounds. Pringles have set up camp alongside a growing list of sponsors, and nothing sums up the growing unease better than the words 'Living Primavera by IKEA'.
Reflecting this shift, Primavera's social media has increasingly of late become a locus of loyalist disgruntlement. Many feel 2019's line-up (Miley Cyrus in particular, who we should add was a last minute replacement for Cardi B) represents the end of an era; a prized authenticity crushed beneath the wheels of a relentless drive to become the European Coachella.
Is Primavera selling out?
Yes and no. More than ever, the confounding, omnivorous scope of Primavera Sound's Barcelona leg – which in stature remains surely the Cannes of European music festivals – allows for a bewildering array of different paths through the festival; different experiences and different demographics who can co-exist relatively happily without every truly crossing paths. And yet, Primavera's postmodern plurality, set alongside its alliances with an increasing number of multinational 'lifestyle' corporations, seems every bit the mirror of late Western capitalism.
Scratch beneath the surface of the idyllic global village and you find the dead weight of advertising and a relentless, empire-building ambition – all neatly rationalised under the rubric of consumer choice. Even the liberal messaging, with its welcome focus on 'The New Normal' inclusivity, #NoCallem initiative on sexual harassment, and a less convincing appeal to festival-goers to pick their own UN resolution, seems complexly coloured and complicit in the festival's nakedly expansionist capitalism.
I was initially drawn to Primavera five years ago after the collapse of All Tomorrow's Parties, finding what felt like a promise of Utopia beneath Barcelona's warm night-time skies; a hermetic, nocturnal bubble of some of the best music imaginable, heard amidst and along with warm, international crowds. Seeing the sun come up on the last night felt like Hogmanay, a collective experience magical precisely for its sense of commonality, of sharing it with other people. Whilst a fair degree of that Utopian promise seems to have been lost amidst the thickening throng, the relentless tenor of advertising and questionable dilutions of the line-up, it's still there, if you want to find it. A festival within a festival; one possibility within multiple possible Primaveras.
A festival within a festival: 2019 recap
That promise is particularly evident in the Auditori Rockdelux. A 3,000 capacity seated concert hall, the Auditori remains one of Primavera's trump cards, showcasing the festival at its most hermetic, its most engrossing and – thankfully – its strangest. On Thursday, The Necks loosen the bounds of time, making an hour seem like a moment, and a moment seem like an hour, peaking in a terrifying atonal catharsis that shares more with the outer reaches of Swans than any piano trio we've heard of late. On Friday, Midori Takada is a mesmerising presence within a garden of cymbals and drums, sculpting a sparse, minutely-focused performance where each gesture – every sweep of the foot and arch of the arm – achieves a significance many bands struggle for across entire albums.
Having seen her in various less-deserving venues, it's great to see Julia Holter's Aviary ensemble (piano, violin, trumpet, bagpipes, electronics, synth, upright bass, drums) have the space to spread out and explore the full scope and grandiosity of Aviary and Have You in My Wilderness. Whilst her Nord stage piano gives the orchestration an unhelpful MIDI muddiness, there are moments where the interplay between Holter's voice, Dina Maccabee's violin and Sarah Belle Reid's trumpet achieve the titular sense of birds in a cathedral; a fragmented sonic poetics reminiscent of Talk Talk, or the more recent, haunted fragments of G.S Schray.
On Saturday, the Auditori provides an equally compelling space for the beguiling nonchalance of Tirzah and Mica Levi's deconstructed R'n'B. Starting their set in complete darkness, it's thrilling to hear Tirzah's rich murmur echo around such an expansive space, to hear music of such intriguing modesty occupy a space so enormous. Beyond the vast space of the Auditori Rockdelux, there's equal magic to be found within the headline slots on some of the bigger stages.
---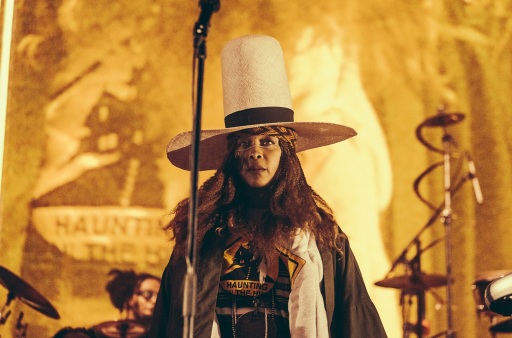 Erykah Badu. Photo: Sergio Albert
---
Despite the commendable priority it placed on gender balance, the announcement of Primavera's 2019 line-up was followed by a significant wave of disgruntlement, focusing in particular on what many saw as a lack of headliners. Certain bands – The Cure, Cat Power and The 1975 in particular – were conspicuous by their absence, reflecting a tendency (peaking perhaps in 2017) when it seemed if a band of a certain stature were touring during the summer, they would play Primavera. Whilst that moment now seems to have passed (if, indeed, it ever existed), we suspect those grousing about a lack of headliners have never seen Erykah Badu, whose Thursday night slot on the Pull&Bear stage has all the bombast, divine chaos and visionary might of a minor deity.
Fittingly, given the importance the festival has placed in recent years on addressing gender balance, its headliners frame 2019 as Primavera's year of the goddess. Badu presides as master alchemist over a stunning blend of careful orchestration and spontaneity to offer one of the strangest, funniest headline sets Primavera has likely ever seen. Appearing on stage in an enormous, Dr. Seuss-style hat, Badu is mercurial, quixotic and defiant, an otherworldly apparition borrowed fleetingly from the wild imagination of the cosmos. At one point she stops her band mid-song to tell us, "Remember that I'm an artist, and I'm sensitive about my shit". No-one seems inclined to argue.
On Friday night Robyn is a vision in white and red on the Seat stage, in a set with such powerful mise-en-scène between what is seen and heard it has the taste of cinema. It's hard to do justice to just how intensely emotional it is when Robyn finally appears, standing atop a white staircase by an enormous statue of two clasped hands, to the sound of Send to Robyn Immediately; a pale shadow upon white silk. 'Say you need me', she sings, and somehow, indefinably, there's nothing or no-one we need more at this precise moment. Robyn is generous, intimate, playful, the beating heart of a set that embodies all that is still great about Primavera; the sense of ecstatic togetherness arising from a charged communion between artist and crowd. "Thank you" she says when the crowd sings Dancing On My Own back at her almost in its entirety. "Thank you!" someone shouts back.
Three shows into her new tour, Solange triumphantly brings When I Get Home to the same stage on Saturday night. Songs like Stay Flo and Binz taking on new confidence and significance live; a deeply personal, intimate album unfurling into a magnificent, expansive live experience. Like Badu, Solange is a master of set dynamics, exercising an intricate sense of control over multiple, simultaneous strands of choreography (both within the band and among the troupe of besuited and behatted performers who ascend the white staircase behind her), yet managing to imbue it all with the lithe, dexterous feel of improvisation. Just as memorable is an address she makes to the crowd about her difficult return to health and the deep roots of When I Get Home, laying a disarming vulnerability alongside her seemingly boundless grace and charisma.
---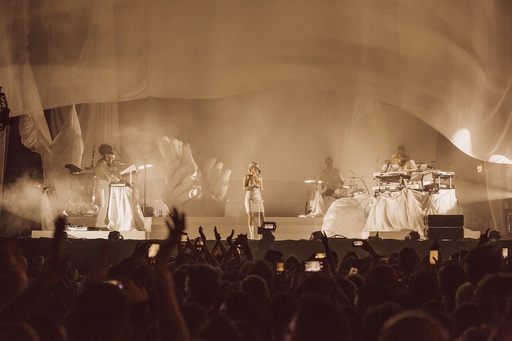 Robyn. Photo: Sergio Albert

---
Between the intimate spectacle of the Auditori Rockdelux and the ornamental grandeur of the festival's headliners, there are plenty of stranger, more particular performances to savour. Yves Tumor's new live band puts in one of the performances of the festival, finding uncanny new points of intersection between glam, industrial, pop, punk and R'n'B in an exhilarating, genreless blast of neon anxiety. It seems nothing can stand in the way of Yves Tumor and a band so brutally inspired, bulldozing through their set as if the presence of an audience were completely irrelevant.
Surrounded by four drum kits, Sons of Kemet XL play in the baking heat of Friday afternoon, their inspired, sun-scorched fusion of jazz, afro-pop and dance packing the punch of a rave. Surrounded by bouquets of orange flowers, Big Thief are a marvel, exuding an instant, effortless classicism – like late 60s Fairport Convention stepping out of a bohemian timewarp into the hyper-neoliberalism of 2019. Elsewhere, Built to Spill offer an immaculate rendition of Keep it Like a Secret in full, and Low are reliably incisive in an all-too-brief set (that arguably deserved the full reverence of the Auditori Rockdelux) which admirably conjures the full industrial weight of Double Negative.
If there was one defining moment of Primavera 2019, however, it was the triumphant return of Stereolab. We should admit to being hitherto a little nonplussed by Stereolab, who seemed (wrongly) to be the loungy shibboleth of an older generation of indie kids. Live, however, the band are a revelation, packing serious teeth and snarl alongside their suaver, peppier stylings. For now at least, Stereolab's component parts – Lætitia Sadier's wry, Gallic cool, and Tim Gane's driving, kraut guitar – are back in glorious alignment, simultaneously harmonious and discordant. If we were tired at 1.30am on Saturday night/Sunday morning, we forgot it in minutes.
---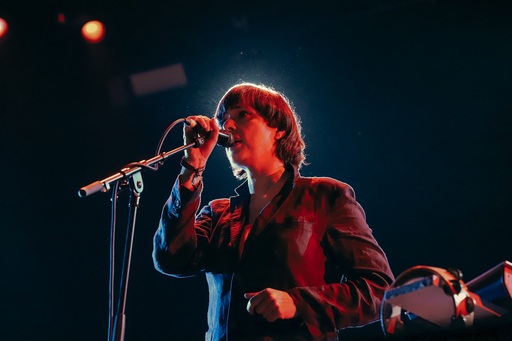 Stereolab. Photo: Sharon Lopez
---
Not without its missteps
Primavera's 2019 programme is not without considerable missteps, however. Less than an hour after the collective euphoria of Janelle Monáe's semi-epochal performance of PYNK in silken vagina trousers, Miley Cyrus introducing Cattitude as "a song about my pussy" is the jarringly-juxtaposed clanger many of us knew it was always going to be. Interpol, playing Primavera for what seems like the thousandth time, are reliably monotonous – Joy Division reimagined by GQ.
Despite a promising start and some luminous moments, Aaron Dessner and Justin Vernon's Big Red Machine are an odd choice of opening headliner on Wednesday night, with a set of what we are told are more "ideas" than songs, and certainly sound like it. The band also make for an uneasy start to Primavera's gender-conscious 'New Normal', with the considerably-talented Julien Baker standing awkwardly front of stage, an intermittent backing vocalist with nothing to do surrounded by endless, middle-aged white men 'rocking out' boringly around her.
Yet such missteps are largely lost within a cacophonous cornucopia, a true embarrassment of riches. There is an exquisite pain and equally exquisite pleasure in being surrounded by so many world-class performances, and having to choose between them. Do you see Big Thief, Stephen Malkmus, Tomberlin or Terry Riley? Solange, Jarvis Cocker, Lizzo, Neneh Cherry or Hieroglyphic Being? Tierra Whack, Primal Scream or June of 44? The choices are both awful and wonderful. We could have attended the festival five times and still have wanted to go again.
Ultimately, amidst a hip dystopia of commodified identity politics, IKEA-sponsored humanitarianism and ravenous expansionism, it seems the promise of Utopia is still here at Primavera, within a shared experience that – thankfully – is still burning, still green.
---
Primavera Sound returns to Barcelona in 2020, 4-6 Jun; tickets go on sale 17 Jun