The Skinny on EH-FM: Show Ten (Listen Again)
Tyler, the Creator, Chance the Rapper, Interpol, Carly Rae Jepsen, Slowthai and a Riverside Festival special all feature on our latest show on EH-FM – listen back
We – Tallah Brash (Music Editor) and Nadia Younes (Clubs Editor) – were back on the radio this week (20 May) for our tenth show (TENTH!!) on Edinburgh community station EH-FM. Much less eventful than last week's, we were there for the full time slot this week and only had a few fumbles.
Our show happens every Monday from 12-2pm and is your go-to guide for what's on that week in the world of gigs and clubs across Scotland; listen back to our latest show in the below Mixcloud player, which featured lots of lovely new music and a closer look at Riverside Festival, taking place at Glasgow's Riverside Museum this weekend (25-25 May).

Beyond that there's not much left to say beyond get stuck in, crank it up loud and, most importantly, enjoy yourself.
Here's our full playlist from the latest show, along with key dates to put in your diary for the week ahead:
Intro, Hi, Hello
Tyler, the Creator – EARFQUAKE
Chance the Rapper – GRoCERIES
Walt Disco – Strange to Know Nothing (supporting Interpol at SWG3 Galvanizer's Yard, Glasgow, 26 May)
Two Door Cinema Club –  Satellite (playing O2 Academy, Glasgow, 4 & 5 Oct)

What's On This Week
Róisín Murphy – The Rumble (playing SWG3, Glasgow, 20 May)
Kamasi Washington – Street Fighter Mas (playing Barrowlands, Glasgow, 22 May)
ULTRAS – This Is Where I Fall (playing Leith Depot, Edinburgh, 23 May)
Eyes of Others – Lust Unrequited (playing Supper Club at The Safari Lounge, Edinburgh, 25 May)
Tomberlin – Self-Help (playing The Hug & Pint, Glasgow, 23 May)
Interpol – Thrones (playing SWG3 Galvanizer's Yard, Glasgow, 26 May)
Ex Hex – Tough Enough (playing Stereo, Glasgow, 23 May)
Belle & Sebastian – Lazy Line Painter Jane (catch Belle & Sebastian DJing at the Edinburgh Craft Beer Festival at The Biscuit Factory, 25 May)
Solareye – Brickwall (playing Knockengorroch Festival, Carsphairn Hills, Kirkcudbrightshire, Dumfries & Galloway, 23-26 May)
Don't Speak
Erland Cooper – Flattie (playing The Queen's Hall, Edinburgh, 24 May)
The National – Where Is Her Head
Slowthai – Grow Up (feat. Jaykae)
Carly Rae Jepsen – Happy Not Knowing

Love Local
Digitalanalogue – Spiel Protokoll
Goodnight Louisa – Hollow God (playing our stage as part of LeithLate, Leith Links, Edinburgh, 8 Jun)
Clubs: Riverside Special (taking place at the Riverside Museum, Glasgow, 25 & 26 May)
Todd Terje – Inspector Norse (playing the Sulta Selects stage on Saturday)
Omar S – Thank U 4 Letting Me Be Myself (playing the La Cheetah 10 stage on Saturday)
Shanti Celeste – Universal Glow (playing the La Cheetah 10 stage on Saturday)
Daphni – The Truth (playing B2B with Hunee on Bicep's Feel My Bicep stage on Saturday)
Jon Hopkins – Neon Pattern Drum (playing a live set on the Feel My Bicep stage on Sunday)
Rebekah – 1997 Reprise (playing a live set on the Maximum Pressure stage on Sunday)
New Music/Goodbye
The Juan Maclean – Zone Non Linear
Charli XCX – Blame It On Your Love (feat. Lizzo)
---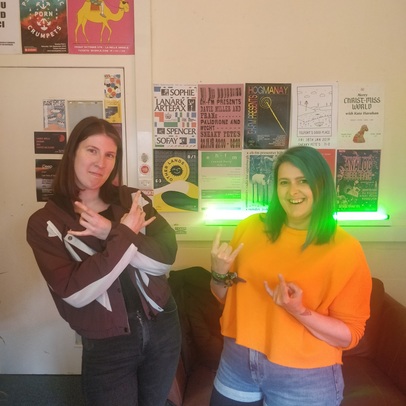 ---
Tune in next Monday 27 May from 12-2pm for our Primavera Sound / Hidden Door Weekender Special at ehfm.live; tell your friends.