The Skinny on EH-FM: Show Seven (Listen Again)
FKA twigs, Aldous Harding, Dream Wife, James Yorkston, Lucy Dacus, Nightwave and Foxygen all feature on our latest show on EH-FM – listen back below
We – Tallah Brash (Music Editor) and Nadia Younes (Clubs Editor) – were back on the radio today (29 Apr) for our seventh show on Edinburgh community station EH-FM.
Our show happens every Monday from 12-2pm and is your go-to guide for what's on that week in the world of gigs and clubs across Scotland; listen back to our latest show in the below Mixcloud player, which featured lots of lovely new music, a look at SPOT Festival in Aarhus, Denmark, a closer look at Glasgow's Stag & Dagger Festival, a guest reggae mix from Nightwave and an extended Love Local section as loads of great new Scottish music came out last week.

As per usual, there was also lots of daft patter and top tunes, naturally. Enjoy.
Here's our full playlist from the latest show, along with key dates to put in your diary for the week ahead:
Intro, Hi, Hello
FKA twigs – Cellophane
Lucy Dacus – My Mother & I (playing Voodoo Rooms, Edinburgh, 11 Jun)
Kwamie Liv – New Boo (playing SPOT Festival, Aarhus, Denmark, 7:30pm, Saturday 4 May)
Ravi Kuma – Staring At My Dick (playing SPOT Festival, Aarhus, Denmark, 9:30pm, Saturday 4 May)
What's On This Week
Mesadorm – The Joy It Joins Us Up (playing The Hug & Pint, Glasgow, 29 Apr)
Rozi Plain – Conditions (playing The Blue Arrow, Glasgow, 3 May)
James Yorkston – Shallow (playing Summerhall, Edinburgh, 2 May; Oran Mor, Glasgow, 3 May)
Stella Donnelly – Mosquito (playing The Blue Arrow, Glasgow, 1 May)
Idlewild – There's a Place For Everything (playing Barrowlands, Glasgow, 4 May)
Drahla – Stimulus For Living (playing Broadcast, Glasgow, 2 May)
Martha – Mini Was a Preteen Arsonist (playing Mono, Glasgow, 3 May)
Stag & Dagger Festival, Various Venues, Glasgow, 5 May
Dream Wife – Hey Heartbreaker (playing The Garage, 7:45pm)
Goat Girl – Country Sleaze (playing the Banditti Secret Club Stage, 10:30pm)
Pip Blom – Ruby (playing CCA, 9:45pm)
Just Mustard – Frank (playing Broadcast, 3:30pm)
Don't Speak
SOAK – I Was Blue, Technicolour Too (playing King Tut's, Glasgow, 12 May)
Aldous Harding – Designer (playing The Art School, Glasgow, 18 May)
NOVAA – HMLTM
Foxygen – The Thing Is
Clubs: Nightwave Reggae Mix
Ahead of her reggae set at Playground of Sound's Bank Holiday Weekender, Nightwave made us a very special mix; catch Nightwave at Barras Art and Design Centre, Glasgow, 4-5 May.
Love Local / Goodbye
Squiggles – Bend Becomes Break
Heavy Rapids – Paisley Pattern (playing Stag & Dagger, Glasgow, 5 May)
CRYSTAL – Sugar Sweet (playing Stag & Dagger, Glasgow, 5 May)
Kohla – pxrxdise
Maranta – Radiate (playing Hidden Door Weekend, Leith Theatre, Edinburgh, 31 May; Kelburn Garden Party, 6 Jul; Doune the Rabbit Hole Festival, 21 Jul)
---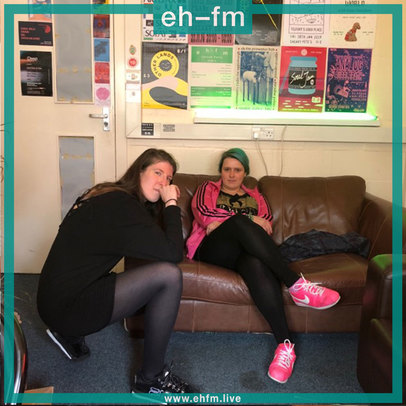 ---
We'll be back on the internet airwaves for your listening (dis)pleasure once again on Monday 6 May from 12-2pm at ehfm.live