The Skinny on EH-FM: Show Eight (Listen Again)
BANKS, Confidence Man, Flohio, Big Thief, DJ Seinfeld, C Duncan and Kindness all feature on our latest show on EH-FM – listen back below
We – Tallah Brash (Music Editor) and Nadia Younes (Clubs Editor) – were back on the radio this week (6 May) for our eighth show on Edinburgh community station EH-FM.
Our show happens every Monday from 12-2pm and is your go-to guide for what's on that week in the world of gigs and clubs across Scotland; listen back to our latest show in the below Mixcloud player, which featured lots of lovely new music and a look at The Great Escape in Brighton.

As per usual, there was also lots of daft patter and top tunes, naturally. Enjoy.
Here's our full playlist from the latest show, along with key dates to put in your diary for the week ahead:
Intro, Hi, Hello
BANKS – Gimme
Chromatics – Time Rider (playing SWG3, Glasgow, 24 Oct)
Skepta – Pure Water
Danny Brown – Rolling Stone (feat. Petite Noir)
What's On This Week
Confidence Man – C.O.O.L. Party (playing St Luke's, Glasgow, 7 May)
PAWS – Not Enough (playing CCA, Glasgow, 10 May; Summerhall, Edinburgh, 11 May)
Mini Mansions – GummyBear
Hamish Hawk – Mudchute (playing The Glad Cafe, Glasgow, 7 May; The East Neuk Hotel, Crail, 8 May)
Wu-Tang Clan – Wu-Tang Clan Aint Nuthin to Fuck With (playing Gods of Rap at SSE Hydro, Glasgow, 12 May)
Public Enemy – Don't Believe the Hype (playing Gods of Rap at SSE Hydro, Glasgow, 12 May)
De La Soul – Me Myself and I (playing Gods of Rap at SSE Hydro, Glasgow, 12 May)
The Great Escape, Various Venues, Brighton, 9-11 May
Flohio – Wealth (playing The Deep End – Beach Site, 9 May, 9.15pm)
Kobi Onyame – Wedadi (feat. Heir of the Cursed) (playing One Church, 10 May, 2.30pm; Jubilee Square, 11 May, 7.15pm)
OK Button – Grenade (playing One Church, 10 May, 12.45pm; Fabrica, 11 May, 9pm)
Squid – Houseplants (Hideout, 10 May, 1.45pm; Horatios, 10 May, 9.15pm. Also playing The Art School, Glasgow, 16 May; Electric Fields at SWG3, Glasgow, 6 Jul)
Don't Speak
Big Thief – Century (playing SWG3, Glasgow, 19 May)
Tacocat – Hologram
Flamingods – Paradise Drive (playing Broadcast, Glasgow, 16 May)
Nathan Micay – Ecstasy Is On Maple Mountain
Clubs
Bicep – Glue (playing Minival 11: The Castle Party at Drums Castle, Banchory, 11 May; Riverside Festival at Riverside Museum, Glasgow, 26 May)
DJ Seinfeld – Typeless (playing Unit 51, Aberdeen, 11 May)
Overmono – Quadraluv (playing Room 2, Glasgow, 11 May)
Brain Dancing – Cera Alba (playing Sneaky Pete's, Edinburgh, 10 May; Riverside Festival at Riverside Museum, Glasgow, 25 May; Sub Club, Glasgow, 7 Jun; Stereo, Glasgow, 21 Jun)

Love Local
Faith Eliott – Carl Sagan Cosmos (playing Skylight, Edinburgh, 10 May)
C Duncan – Talk Talk Talk (playing Summerhall, Edinburgh, 10 May; Maryhill Community Centre, Glasgow, 11 May)
New Music/Goodbye
Kindness – Lost Without (feat. Seinabo Sey)
Absolutely Free – Currency (feat. U.S. Girls)
Bleached – Hard to Kill
---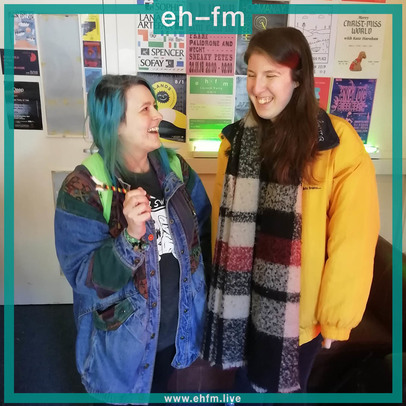 ---
We'll be back on the internet airwaves for your listening (dis)pleasure once again on Monday 13 May from 12-2pm at ehfm.live