The Skinny on EH-FM: Show 13 (Listen Again)
Sacred Paws, Arab Strap, Pavement, Honeyblood, Lucy Dacus, Metronomy, Jai Paul and Anna Meredith all feature on our latest show on EH-FM – listen back
We – Tallah Brash (Music Editor) and Nadia Younes (Clubs Editor) – were back on the radio this week (10 Jun) for The Skinny's 13th show – unlucky for some – on Edinburgh community station EH-FM.
Our show happens every Monday from 12-2pm and is your go-to guide for what's on that week in the world of gigs and clubs across Scotland. This week, along with the usual Love Local, Don't Speak, Gig and Club guides, we celebrated Glasgow venue The Hug & Pint's upcoming 4th birthday celebrations with a wee gig retrospective; listen back to our latest show in the below Mixcloud player. Enjoy!
Here's our full playlist from the latest show, along with key dates to put in your diary for the week ahead:
Intro, Hi, Hello
Pavement – Cut Your Hair
S.L.P. – Favourites (feat. Little Simz)
Chastity Belt – Different Now (playing Stereo, Glasgow, 17 Oct)
Swim School – Sway (playing TRNSMT, Glasgow Green, 13 Jul)

What's On This Week
Sophie Ellis Bextor – Murder on the Dancefloor (playing Usher Hall, Edinburgh, 11 Jun)
SHEARS – Circle Line (playing Sneaky Pete's, Edinburgh, 12 Jun)
Szun Waves – Constellation (playing Broadcast, Glasgow, 12 Jun)
Lucy Dacus – Next of Kin (playing Voodoo Rooms, Edinburgh, 11 Jun)
Hop Along – How Simple (playing CCA, Glasgow, 13 Jun)
Jonnie Common – Restless (playing Songs to End Homelessness at Saint Lukes, Glasgow, 16 Jun)
Sacred Paws – Almost It (playing Summerhall, Edinburgh, 15 Jun)
The Hug & Pint 4th Birthday Special
As The Hug & Pint gear up to celebrate their fourth birthday on Friday 14 June, we played some tracks from artists who have played at the venue over the years and kicked things off with the opening track from Arab Strap's fifth studio album and venue namesake, Monday Night at The Hug & Pint.
Arab Strap – The Shy Retirer
Priests – YouTube Sartre 
Haley Heynderickx – Oom Sha La La
Honeyblood – Gibberish
Anna Meredith – Something Helpful
Don't Speak
Keel Her – Aloof
AURORA – Daydreamer (playing SWG3, Glasgow, 8 Nov)
Pixx – Peanuts Grow Underground
Yeasayer – Ecstatic Baby
Love Local
Chuchoter – Gentleman (playing our Pyramid Stage takeover at Kelburn Garden Party, Kelburn Castle, nr. Largs, 6 Jul)
ST.MARTiiNS – Want God (playing Queen Tut's at TRNSMT, Glasgow Green, 12 Jul)
Clubs
object blue – Even In You (playing Sneaky Pete's, Edinburgh, 12 Jun)
Noncompliant – More Than Surviving (playing Return to Mono at Sub Club, Glasgow, 14 Jun)
Chaos in the CBD – Green Dove (playing Subculture at Sub Club, Glasgow, 15 Jun)
Wheelman – Underwater Sunrise Party (playing Clyde Built 5.0 Party at Civic House, Glasgow, 15 Jun)
Neinzer – Horus (playing Agora at The Mash House, Edinburgh, 15 Jun)

Goodbye / New Music
Metronomy – Lately
(Sandy) Alex G – Gretel
Jai Paul – Do You Love Her Now

---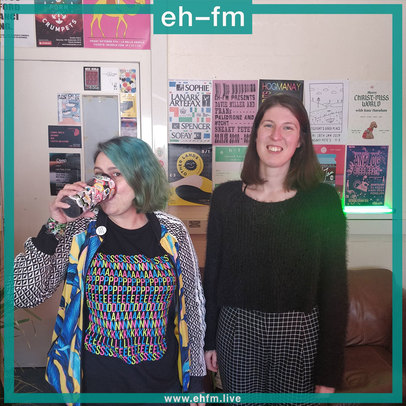 ---
Be sure to tune in next Monday, 17 Jun, from 12-2pm when we'll be back once again, like the renegade master, for your listening (dis)pleasure on ehfm.live; tell your friends

For a full list of this month's gig highlights click here