The Skinny on EH-FM: Show 11 (Listen Again)
This week we take a closer look at Barcelona's Primavera Sound Festival and Edinburgh's Hidden Door Weekender on our latest show on EH-FM – listen back
We – Tallah Brash (Music Editor) and Nadia Younes (Clubs Editor) – were back on the radio this week (27 May) for our 11th show on Edinburgh community station EH-FM.
Our show happens every Monday from 12-2pm and is your go-to guide for what's on that week in the world of gigs and clubs across Scotland. This week, however, we went beyond Scotland, taking a closer look at Primavera Sound Festival in Barcelona (27 May-1 Jun), but also kept it local with a feature on Edinburgh's Hidden Door Weekender, taking place at Leith Theatre this weekend (30 May-2 Jun); listen back to our latest show in the below Mixcloud player.
Beyond that there's not much left to say beyond get stuck in, crank it up loud and, most importantly, enjoy yourself. And if you're at Primavera Sound and see us then be sure to say hello!
Here's our full playlist from the latest show, along with key dates to put in your diary for the week ahead:
Intro, Hi, Hello
Grace Jones – Warm Leatherette
The Knife – A Tooth For An Eye
The Postal Service – Such Great Heights
LCD Soundsystem – Us vs Them

Primavera Sound Special
Janelle Monáe – Screwed (feat. Zoë Kravitz) (playing the Pull & Bear stage, 31 May, 9.35pm)
Yves Tumor – Noid (playing the Pitchfork stage, 31 May, 12.30am)
Dirty Projectors – Up In Hudson (playing the Ray Ban stage, 30 May, 12.45am & Auditori Rockdelux, 31 May, 9pm)
Empress Of – How Do You Do It (playing the Pitchfork stage, 30 May, 2.10am)
Tirzah – Holding On (playing the Living Primavera by IKEA stage, 1 Jun, 1pm & Auditori Rockdelux, 1 Jun, 5.30pm)
Tierra Whack – 4 Wings & Hookers (playing the Lotus stage, 1 Jun, 12am)
Gangsta Boo – Where Dem Dollas At (feat. DJ Paul & Juicy J) (playing the El Punto by Adidas Originals stage, 30 May, 1.15am)
La Goony Chonga – Modelo (playing the El Punto by Adidas Originals stage, 31 May, 3am)
Rosalía – Di mi nombre (playing the Pull & Bear stage, 1 Jun, 9.55pm)
Nathy Peluso – Natikillah (playing the Pull & Bear stage, 1 Jun, 7.40pm)
Don't Speak
Honeyblood – You're a Trick (playing Summerhall, Edinburgh, 3 Jun)
Skinny Pelembe – No Blacks, No Dogs, No Irish (playing The Hug & Pint, Glasgow, 21 Jun)
Steve Lacy – N Side
J-E-T-S – PLAY (feat. Mykki Blanco)
Flying Lotus – Spontaneous (feat. Little Dragon)
What's On This Week
Pip Blom – Daddy Issues (playing The Mash House, Edinburgh, 2 Jun)
Gwenno – Tir Ha Mor (playing Mono, Glasgow, 29 May)
Hidden Door Weekender Special (taking place at Leith Theatre, Edinburgh, 30 May-2 Jun)
Ray BLK – 5050 (playing 30 May)
George FitzGerald – Roll Back (feat. Lil Silva) (playing 31 May)
Kelly Lee Owens – Bird (playing 31 May)
Nathan Fake – HoursDaysMonthsSeasons (playing 31 May)
MIDI Paul – Wandering (playing 1 Jun)

Goodbye
Tongue Trap – Taco Tuesday (playing our co-curated stage on Leith Links for LeithLate, Edinburgh, 8 Jun)

---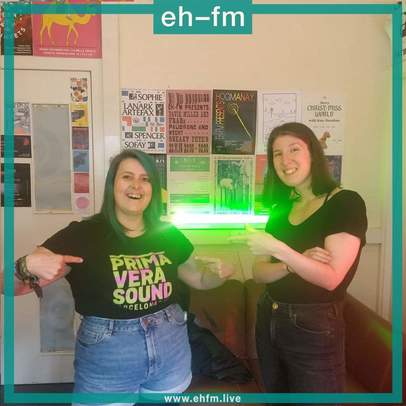 ---
Tune in next Monday, 3 Jun, from 12-2pm when LeithLate will be stepping in for us while we're away, at ehfm.live; tell your friends