The Skinny on EH-FM, 9 September: Listen Again
Listen to our latest show on EH-FM with new music from Foals, Trentemøller, Bat for Lashes, Broken Chanter, Jenny Hval and Charli XCX
With Nadia away this week at LISB-ON festival, I was left to my own devices and discovered that I say the word 'enjoy' a lot, and also phrases like 'it's an absolute scorcher'. Gross, right? All of that aside, this week's show celebrates all music featured in this month's magazine with picks taken from our Heads Up and Do Not Miss calendars as well as our albums pages and interview features. Listen back in the below Mixcloud player.
Here's our full playlist: 
ICYMI
Auntie Flo – Nobody Said It Would Be Easy (Congrats to Auntie Flo for winning the 2019 Scottish Album of the Year Award last Friday; catch Auntie Flo playing all-night-long at Sneaky Pete's, Edinburgh, 21 Sep)
Trentemøller – Try a Little (feat. jennylee)
Geowulf – Lonely
Rachael Dadd – Cut My Roots

Gigs featured in the mag this month
The Spook School – Keep In Touch (played their last ever show at The Art School in Glasgow on 7 September and it was beautiful; read our farewell interview with them here)
Lust for Youth – By No Means (play Broadcast, Glasgow, 11 Sep)
Mi Mye – OK so (play OK PAL's afternoon gig, Leith Depot, Edinburgh, 14 Sep)
Gaelynn Lea – Someday We'll Linger in the Sun (plays The Glad Cafe, Glasgow, 24 Sep; Wee Red Bar, Edinburgh, 25 Sep)
Pixies – Where is My Mind? (play O2 Academy, Glasgow, 22 Sep; Usher Hall, Edinburgh, 23 Sep)
Callum Easter – Fall Down (plays Tae Sup wi' a Fifer, Adam Smith Theatre, Fife, 14 Sep)
KAPUTT – Highlight (play Freakender, The Old Hairdressers, Glasgow, 13-14 Sep)
Romeo Taylor – The Kingdom of Scotland (plays Freakender, The Old Hairdressers, Glasgow, 13-14 Sep)
Self Esteem – The Best (plays True North, The Lemon Tree, Aberdeen, 21 Sep)
The Twilight Sad – I/m Not Here [Missing Face] (plays True North, The Music Hall, Aberdeen, 21 Sep)
Don't Speak (all taken from albums released on 6 Sep)
Broken Chanter – Nineteen Ninety-Eight
Frankie Cosmos – Wannago
Kindness – The Warning (feat. Robyn)
Bat for Lashes – Kids in the Dark

Tracks from some other albums out this month as featured in the mag
Charli XCX – Gone (feat. Christine and the Queens) (our Album of the Month)
(Sandy) Alex G – Hope
Jenny Hval – Ashes to Ashes
Chelsea Wolfe – Deranged for Rock & Roll
Gruff Rhys – Pang! (Muzi Remix)
Girl Band – Shoulderblades

New Music/Goodbye
S-Type – Waiting
Squid – Match Bet
Foals – The Runner
Sigrid – Strangers (September's Cover Star!)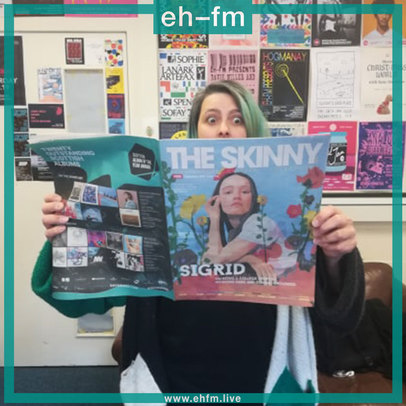 ---
The Skinny's EH-FM radio show airs every Monday between 12-2pm on ehfm.live; tune in next week (16 Sep)!