Scott Hutchison: A Tribute
As we come to grips with the loss of Frightened Rabbit's Scott Hutchison, a few pals of ours and Scott's share some happy memories, tributes and messages of comfort
When the devastating news came on Friday 11 May about our beloved Scott Hutchison I was in disbelief and the truth of it is, I still am. I felt numb. I personally didn't know Scott that well although we had met several times over the years and these meetings always featured friendly hellos. Frightened Rabbit were one of the first bands I ever put on when I was the Head of Music for Fresh Air, and as the day went on and my emotions peaked and troughed I ended up finding a live recording from that night at Cabaret Voltaire, pre-Midnight Organ Fight, and I sobbed myself into a migraine slumped on my couch.
From being online that day it was comforting to see how many people Scott had touched through friendship and lyrics over the years. The Scottish music industry was and is crushed by its massive loss and the outpouring of love across every social channel from far and wide is testament to how special a person Scott was and will continue to be for so many people.
One of our favourite memories of Scott was seeing him perform in the street down in Stockbridge for VoxBox's 2017 Record Store Day celebration where he stopped midway through Modern Leper to ask, "did someone just get shat on?" It was obviously us. Well, thankfully it just hit one of our bags, but still, it was hilarious. Later he snuck a line about 'seagull shit' into Scottish Winds. Scott's sense of humour was second to none and we're glad we got to share this stupid, warm and a mingin' moment with him. We'll remember it forever.
With warm memories in mind, we've brought together a collection of moving tweets and have reached out to a number of pals of ours and Scott's to bring together a truly heartwarming collection of tributes, memories and messages which will hopefully help bring some comfort.
David Weaver (Detour)
"I first met Scott at Belladrum Festival in 2008, just after Midnight Organ Fight had come out. He agreed to come down to do a session for me and Ally – we were still doing student radio at the time and had no idea how to film, record, or do anything properly. We just knew Frightened Rabbit were magic, and we invited him down to our pal's caravan to play a couple of songs in return for a dram and a hug and nothing else. He played his absolute heart out for us, and the badly filmed, awful quality video of Fast Blood still gives me the chills when I watch it.
"He did the same for us many times over the next decade. He wore stupid costumes for us, he played sweaty pubs, he made compilation albums and contributed his time, energy and creativity to help us out because he was just like that; kind, modest, humble, supportive.
"He's been such a huge inspiration and influence for us since the beginning, I know we wouldn't be doing what we are doing without him. And the fact that so many hundreds, and thousands of people in Scotland, and around the world, feel the same, shows just what an incredible person he was, and what a legacy he's leaving.
"Scott has been the soundtrack to a whole generation, a supportive pal to a whole community, and a catalyst for so many good things in Glasgow, Scotland and beyond."
Ally McCrae (Detour)
"Aye, that first session, outside a caravan for two idiots with a shit camcorder, a dodgy mic (and a crowd of about eight folk) kind of sums up the big man's kindness and attitude – he belted out tracks that afternoon with the exact same energy, passion, warmth (and outstanding ability to swear) that we'd all grow accustomed to seeing him do again and again in front of thousands. One of those rare, great humans, who properly had time for everyone's patter, and with a shouted conversation in a pub or cheery wave across a festival field would make you feel instantly valued and like you belonged. That can be a low commodity in the downright silly vocation of working in music and creative arts and entirely rare from someone who achieved so much and connected with so many. That outpouring of love in the days after, I just hope, brought a glimmer of light to Scott's nearest and dearest – my heart is broken for them.
"Scott soundtracked some of my happiest and saddest of memories over a decade, I hear his voice when I think of some of my closest friends (nudge, Weaver), one song in particular I associate with coming to terms with losing my dad, years after it had happened, all down to those lyrics, they live on, and thank you Scott for every one of them. I also never said thanks for that time at T in the Park 2013 when I found myself presenting on national telly like a rabbit in the headlights (sorry).

"I interviewed the brothers Hutchison straight after their set. It had been a bit of a moment for the band, having risen up the stages at the festival over the years, totally a watershed moment for the band's popularity. When pushed on the achievement, humble as ever, Scott was more keen to deflect and talk nonsense about Kesha being into guys with beards or something – what I'll remember more though, is seconds before going live, him jovially threatening to do some really good swearing mid-interview, not to be a dick, but rather because he'd clocked my absolute terror about being on telly for the first time, and him winding me up, totally chilled me, I think it's meant to be the other way round in those situations eh? What a lad.
"The day after that devastating news was confirmed, I had tickets for an Aussie band Gang of Youths in that London. I, like so many, felt a bit lost and just totally empty. I went to the show as the music doesn't stop, but what I wasn't expecting three songs in was a lengthy, beautifully put dedication to Scott, who it turns out had invited Gang of Youths on tour in Australia a few years back, when "nobody gave a shit about them." Of course he did. The man gave so much to so many, near and far. What a loss, what a legacy. Cheers big man."
Julien Baker
Via Twitter: "Been trying to find the right words but there are none; Frightened Rabbit's music had a huge impact on my life, and what interaction we had was always marked by such kindness. My heart is broken for this loss and for those who loved and were close to Scott."
Halina Rifai (Glasgow Podcart)
"Scott was a prodigious artist. The mind-blowing ripple effect of his songwriting created so many connections to people in music and beyond for me. I regard it to be something similar to a constellation, something that will be embossed forever. He and Frightened Rabbit soundtracked some of my most difficult times and some of my most joyous. I want to keep this positive and recall one of the conversations on the podcast I did with him that left me smiling. He said he "needed" to re-write and live score the soundtrack for Terminator 2. I hope someone undertakes this as a remarkable tribute."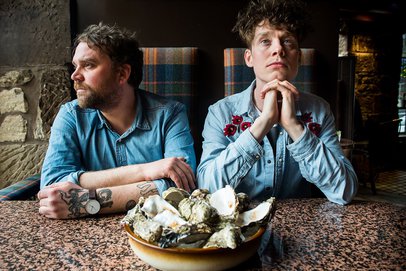 Michael Pedersen (Neu! Reekie!)
"To my best friend Scott John H-Craft. You brilliant beautiful human soul – a best to many I've no doubt and rightly/most righteously so; be it bandmates, brothers, lovers, mothers, wooden spoons or complete strangers. You are gone now (as we know it) and that is not, nor will it ever be, okay. The devastating and abundant void you left spills among us, it encases us like arms can like wax like ocean. I know now that this same force shall unify us, for in it is the befuddling beauty of an entire galaxy of magnets – it is your pull, you supreme magnet, you glimmering moon.
Let's keep talking – I love you…. Michael xXx"
Aaron Dessner (The National)
Via Twitter: "Will always raise a glass to you... way into the night and beyond the grave Scott. RIP"
Vic Galloway (BBC Radio 1 and 6Music)
"I started playing Frightened Rabbit on radio around 2006 and slowly got to know Scott via interviews, live sessions, gigs, festivals and parties. We had a lot of mutual friends too. As my mother and her side of my family are from Selkirk we bonded immediately over that and had a laugh. Billy from the band once referred to a teenage Scott as the 'Jimi Hendrix of Selkirk'... I loved that and often teased him about it!
"There are many people who knew him far better than me, but over the years we became more than simply musical acquaintances... We went for pints together, we went to watch stand up comedy and other bands of course. I always found him to be a sensitive, friendly, warm guy who had a wry, realistic and down-to-earth view of the world. He always went out of his way to help others and show kindness too. He said some very complimentary and encouraging things to me over the years that I won't forget either.
"Obviously I knew he had personal struggles with depression and problems with mental health due to the lyrics of his songs... but I had no idea how much he was hurting. His death is so utterly tragic and I am deeply saddened by what has happened. He was a genuinely lovely person."
The Twilight Sad
Via Twitter: "I love you Scott. I wish we could have wrote a million more songs together."
Tom Johnson (GoldFlakePaint)
"When living in Bristol, my best friend Sammy and I started a new monthly night. We'd left it a bit late so I tentatively asked Scott if he fancied doing it as Frabbits were in town for a headline show the following night. He replied saying management strongly told him not to but, aye, of course he would. He walked in carrying only his guitar five minutes before the start, played an hour-long request show and asked for nothing more than a beer and a charity collection on the door. Pedestrian Verse entered the UK Top 10 that same week."
We Were Promised Jetpacks
Via Twitter: "'While I'm alive I'll make tiny changes to Earth.' He did. If you know our band it's probably because of Scott. To us he was an inspiration, a role model, a friend, and we love him and will miss him."
Sandra Gordon
"The beauty of being Scott's friend was that you could show your true, raw, vulnerable self to him. He would listen attentively with love and lift you up. He never judged, he didn't look for answers, he was just there, in that moment with you, emotionally holding you.
"The highs with Scott were the best. I felt drawn to my friend like a magnet as so many others did too. He was utterly charismatic, he was hilarious, he was cheeky, he was brilliant (and pretty sweaty too). He lit up every room. He was as good as friends get. Things won't ever be the same, but you put up a great fight my friend. I will take strength from that. I'm so fucking proud of YOU, and I love you always. Always."
Kathryn Joseph
Via Twitter: "If @frabbits hadn't existed neither would @vintageclaire and Marcus's  #hitsthefanrecords and so neither would mine. Thank you for everything and everyone Scott, we were and are all the luckiest to have you."
Kat Gollock (Neu! Reekie!)
"There are a handful of days in my life that I hold onto as some of my favourites. Two of those involve Scutch. There's not many people that I could be stuck in a car with on the A9 for eight hours but he was certainly one of them.
"Our friendship was based on a love of each other's laughs, an understanding of each other's demons and a deep love of crime dramas and it was a friendship that meant a great deal to me. It bugged me that he didn't accept that fig rolls were a biscuit and we bickered a lot. But we laughed so much more.
"I am truly devastated by his loss and so very sad I won't see my friend again but I hope that his gentle soul has found some peace. I can't quite imagine a life without him but I will always remember my life with him. Rest easy Scutch, I love you very much and we will always be top banana."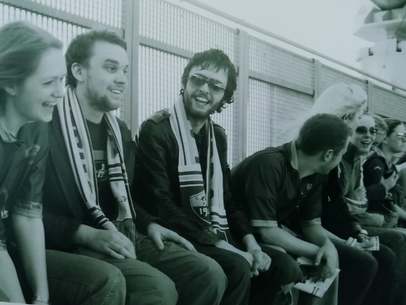 Darren Cullen
"I'm heartbroken about Scott Hutchison's death. We were classmates and neighbours at Glasgow School of Art and his wit, intelligence, and kindness were a massive influence on me at a vitally important time in my life. He was a great illustrator as well being a brilliant musician, and when I arrived on that course I was in awe of his lateral thinking, the originality of his ideas, and the humour and pathos that struck through everything he made.
"I was once singled out and arbitrarily banned from going on the design department's class trip after falling out with the tutors and Scott decided to pull out of the trip himself and told me we'd buy our own tickets and go anyway, which we did. I've never forgotten that simple act of solidarity, at a time when I felt mistreated and alone. It's especially sad when some of the kindest people we know find it hard to extend that kindness to themselves.
"Scott always has been, and always will be a hugely positive influence on my life and on many, many thousands of others. The tiny changes he made multiply exponentially through those who knew him and his work.
What a fucking magnificent human being."
Stuart Murdoch (Belle and Sebastian)
Via Twitter: "Tragic news about Scott Hutchison. The whole music community in Scotland was praying for a different outcome. Folks, if you are up against it, having dark thoughts, please tell someone, family, a friend or a doctor. There is always another way, though it might not seem like it."
---
Scott was never shy when speaking up about his struggles with mental health and it's heartbreaking that he was unable to overcome the power it held over him. It's okay not to be okay but it's important to talk to someone if you're struggling, and if you can't speak to someone you know about it there are organisations out there who can help, SAMH, Help Musicians UK and Samaritans being three.

Our thoughts are with Scott, his friends, his family and everyone who has been affected by his loss. Let's all raise a glass and continue to make tiny changes in his honour. If you have memories you'd like to share, we'd love to hear them.