Reasons to be Cheerful: Liverpool and Arts Spaces
Eight months on from the final show at the Kazimier, another Liverpool theatre closes. With the city's independent venues and arts spaces repeatedly coming under threat, we look at the full story, and find plenty of reasons for optimism
On 27 April this year, Liverpool's Lantern Theatre announced that it was due to close at the end of July. Operating in its current incarnation since 2011, it had forged a reputation as a testing ground for new theatre, comedy and music, taking a chance on many independent productions and proudly celebrating local talent. "We had hoped to remain in Blundell Street beyond our lease," they said in a statement, "but the sale of the building means we must now find a new more suitable venue."
It's the latest entry on an increasingly lengthy list of Liverpool performance spaces that have bitten the dust in recent times: Don't Drop The Dumbells, its successor Drop The Dumbells, Static Gallery, Wolstenholme Creative Space (WSC), MelloMello, The Lomax, The Kazimier…
The Lantern's closure was rightfully greeted with a mixture of disappointment and anger, but it was also tempered with a tangible sense of resignation: closing down just seems to be what independent arts hubs are forced to do these days, in Liverpool and beyond. And therein lies the danger – there's now a suspicion of a wider malaise, in that this situation is becoming accepted as the norm. Why have we become so passive about this? 
With this question preying on our minds, we investigate the current mood of the city's creative community.
A resilient spirit
"I think the general feeling is much more positive now than it was maybe six months ago," says Rob Longson, part of the team behind MelloMello and The Kazimier, now working at new venture Invisible Wind Factory. "There was certainly a feeling that [The Kazimier's closure] would herald the end of the experimental and free-wheeling creative culture that was born out of the Wolstenholme Square area – however, that obviously turned out not to be the case."
Of all the fallen giants among Liverpool's venues, The Kazimier was the mightiest. More than a venue, it seemed to have become emblematic of the city's cultural renaissance. Together with cafe, bar and arts hub MelloMello, it formed an environment that could host both the messiest of grassroots events and the bigger shows that Liverpool had always seemed to lose to nearby Manchester.
The community rallied around Mello when news filtered out that they were due to leave their Slater Street premises, but months later the team were forced to close their doors regardless. And when all attempts to block the sale of The Kaz failed, it's hard not to wonder if the deal's opponents subsequently lost their confidence in the fight. Having been involved in both battles, Longson prefers to dwell on the positives.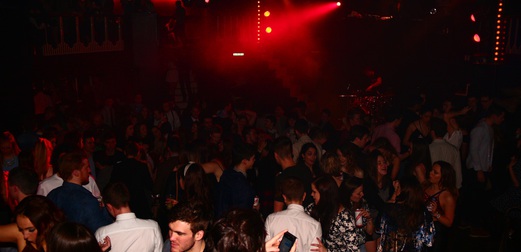 [The Kazimier]
"I think creative communities and the people surrounding them tend to be highly adaptable and inventive," he says. "To make something that isn't normal work you need to exploit its uniquenesses in a way that can capture the imagination. You could apply that to any of the venues in Liverpool that are remembered fondly – The Cavern, Eric's, The Picket, Korova, Wolstenholme Creative Space.... The other thing they all have in common is that they all closed – all for very different reasons, but they were all filled with a creative spirit that brought people together."
It's worthwhile considering those reasons too. In some cases, proceedings have been relatively straightforward – the much-loved WSC, for instance, was deemed structurally unsound, which forced hands in terms of its closure, while The Lomax was closed for three months following a drugs raid and has not reopened since.
Static Gallery, meanwhile, faced complaints about volume (the scourge of music venues since time immemorial) from nearby residents. On that point, at least there's now legislation that requires property developers to seek prior approval on noise impacts before converting office blocks into residential buildings. Evidently, that represents good news for small venues, although lamentably the regulations were introduced long after they could have prevented the noise abatement notice that forced Static to cancel its live music programme in 2012.
As for the other venues listed, there may have been different factors involved, but the outcome remains the same: venues have been closed because their properties had been sold. Some will become new apartment complexes, continuing the ongoing epidemic of 'student' flats in the city centre. Others have already become bars or eateries – lifestyle destinations, as opposed to centres for cultural contribution.
Zoned out
In the meantime, the city's creative scene seems to be thrust ever further outside the city centre – first to the Baltic Triangle, although The Lantern's forced evacuation of Baltic premises suggests a storm may be coming for that area too. Newer independent venues such as Drop The Dumbulls (formerly an abandoned pub called The Bull) and the Invisible Wind Factory are located in the derelict warehouses of the North Docks, near the district of Vauxhall and merely a mile away from the city centre itself, albeit much less immediately accessible.
Longson is philosophical about this. "The most interesting thing is what creative groups do after a venue has been taken away – or how that creative spirit evolves into the next project, and the project after that... While there may appear to be an 'inevitability' in regards to venue closure, I don't think it in any way sounds a death knell for live music or creative endeavour, because if anyone is going to be able to imaginatively think of ways to keep their dreams and pleasures alive it's going to be the artists and the people around them."
Events programmer Andrew Ellis agrees, although he has his own concerns about location. "I think more things will inevitably move down to the North Docks," he says, "but I'm wary about it becoming a 'buzz' area like the Baltic Triangle quickly became. Baltic has some amazing spaces, like 24 Kitchen Street, Black Lodge et al, but it'd have been nice to see a bit more time before the big residential developments moved in."
It's clear that this is an important issue for Ellis, who has spoken as an 'unelected representative' of the creative community since it first became apparent that The Kazimier was due to close. "If you look at areas that have flourished into exciting scenes, they've flourished in a petri dish away from outside interference," he says. "I'm hoping there's enough development of more mainstream activity in central Liverpool that North Docks can grow organically; people drawn together as a support network for one another.
"If you look at Salford, with Islington Mill as a hub, or the area around The Cluny in Newcastle where communities were allowed time to build, they're good examples of the kind of thing I'd like to see here. Slow and steady's the way forward; a land-grab will undoubtedly cause more damage than it does good."
The march of gentrification
The word that always comes up in these instances is 'gentrification': the much-reviled process by which property values are increased in dilapidated or lower-income areas. The displacement of venues in areas like the Baltic Triangle and Wolstenholme Square (such as The Kazimier and WSC) is clear evidence of this process being well underway, although not everyone is convinced or concerned.
"Unlike London's Southbank," wrote The Independent's Kirsty Major in December 2015, "regeneration [in Liverpool] has not led to gentrification. The area has remained a social melting pot of working class families on day trips to The Museum of Liverpool and middle class modern art enthusiasts visiting The Tate."
While that conjures a faintly idyllic vision of cross-strata social harmony, it's quite clearly not the case. A better depiction came in January this year, via locally focused blog Seven Streets' assessment of how the city's longstanding independent shops were disappearing in favour of 'hipster' boutiques and lifestyle destinations.
"It's been written before of how gentrification ruined Paris," wrote editor David Lloyd. "Spike Lee's raged against the more sinister side – its clear subtext of white middle-class gentrification. A so-called liberal world view that, when examined closely, is anything but."
With this in mind, we turned to Dr Dave O'Brien, a native of Liverpool and senior lecturer in Cultural Policy at Goldsmiths, for an academic viewpoint on the gentrification process. 
"A failure by local politics"
"I don't think gentrification, in the form of luxury flats and venue or scene closures, is inevitable or part of a linear process," O'Brien says. "There are always political decisions that accompany planning and development.
"The UK still has local decision-making about planning and development, so it's important to see that property development decisions are not just about sales profits or rent, but represent a collective political decision against certain cultural spaces and cultural forms. Sometimes politicians and council officers assume venues will just pop up elsewhere, or that art has 'done its job' to regenerate a place.
"Really we need to see the common thread as a failure by local politics to value cultural spaces. It's important to note that some trade-offs are worth it – there is a housing crisis in the UK that has to be addressed. However... building in areas based on the ability to make profits – often from developments that are aimed at the most affluent for investment purposes – is placing capital or profit over culture."
Longson is more fatalistic: "The cycle of gentrification is a pretty natural and sensical occurence," he says. "Industry disappears; artists populate the abandonded industrial areas and make them interesting and eventually fashionable; the properties become desirable and the organisations with the most money end up capitalising.
"The Wolstenholme Square area was pretty derelict in the late 2000s but soon it's going to have [multi]-storey apartment blocks with a littering of Starbucks-style outlets, trendy hotspots and the odd faux-creative throwback that rides on the back of the area's history. It's always the case that the younger or hungrier more creative and risk-taking organisations get pushed to the fringes."
Ways to move forward
So what, then, can be done to protect our venues – not just in Liverpool, but anywhere? Ellis's experience of local politicians is also somewhat different to the theory put forward by Dr O'Brien, but he has ideas for the future nonetheless: "I did a lot of research into planning committees with the council," he explains.
"They really don't have a great deal of say into what developers plan to do. If it ticks all of the boxes as far as planning law is concerned, there's little they can do to turn something down. With existing legislation there's not a great deal even councils can do at this point.
"My suggestions would be new legislation that really enforces the character of certain areas and strikes the right balance for development. Something that allows small businesses to grow and actually benefits the surrounding area has to be the way forward."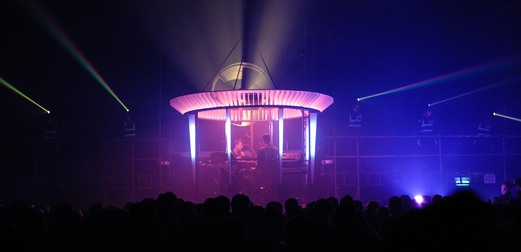 [Invisible Wind Factory]
As the city's assistant mayor and cabinet member for Culture, Tourism and Events, Councillor Wendy Simon echoes Ellis's comments regarding legislation: "There are times when there is very little we can do – when the land is owned by a developer and there is no legal framework in place to restrict the type of developments that take place."
Cllr Simon does assert, however, that the council has also been involved in the development of existing structures within the creative scene: "The City played an active role in developing the Baltic Triangle area as a place for independent art and creative industry," she explains via email. "I was really pleased to hear that Baltic Creative are in the process of extending their footprint and including space for artists. We continue to look at new ways of supporting the cultural sector despite the financial restrictions we are operating under.
"In terms of preserving spaces it is difficult to advise generally as different solutions apply in individual cases. Baltic Creative have had great success by establishing themselves as a CIC [Community Interest Company] and taking ownership of property so they are totally secure. Some developers are very supportive of culture. They may not be able to offer permanent solutions but if they can offer something on a temporary basis, it is a way in and helps you to develop a relationship with them."
There is always an opportunity to open dialogue with the council in these instances, Cllr Simon adds, an assertion which will likely be greeted by responses polarised between cynicism and optimism – both seem justifiable. When starting this article, The Skinny tended toward the former, and indeed we initially envisioned this piece as something of an existential howl of despair and frustration. It's heartening, though, to see that even those affected most harshly by the treadmill of venue closures have still found reasons to be cheerful.
As the likely destination for the next wave of creative spaces, the North Docks area may still be in its formative stages, but Longson speaks brightly about its future: "It certainly has a fascinating potential to be an amazing mix of fringe and alternative venues, art production houses, creative businesses alongside the industry that already exists there and the massive Liverpool Waters project," he says. "Whether all of those things can survive together will be revealed... but at the moment it would seem as though all the necessary parties are working hard together for a viable future."
And what of the Docks' off-the-beaten-track location? "I don't think that ease of access will be much of an issue once the area becomes more established, or if the city continues to grow at the rate it is doing," Longson says. "I don't think people with an appetite for the things that are on offer will be put off by the small effort involved in getting up here; and as what is on offer becomes more broad, so too will the number and types of people who attend. I think the area has a truly bright and exciting future."
How you can help
It's clear that there are lessons for all of us here, whether as participants in or consumers of independent culture – and yes, journalists need to take a greater share of responsibility too. There are avenues we can all pursue in order to protect arts spaces, such as petitioning for venues to be designated as assets of community value, or even seeking listed status for buildings. But as Dr O'Brien observes, "culture will always be made, venues will always be opened and people will always be creative, which is one of the reasons people are often blasé about closures."
Perhaps the most vital thing we can take away from all of this, then, is not to take our venue spaces for granted. After all, they're more than just places we go to watch live music, new theatre, independent comedy or indeed any piece of art that places its focus outside the mainstream. They're also the exact sort of environments that inspire people to get involved themselves; where people meet to exchange ideas and develop new ones; where creative instincts are nurtured and encouraged.
They're also meeting places – not just arts hubs, but community ones too. Even if gentrification is indeed inevitable, we must cherish the spaces we have – if only so we remember to take their best qualities into whatever happens next.