The Importance of Band Merch
We look at the importance of merch in music and urge you to support your local scene this Christmas
Ask a compulsive band tee buyer about their habit and they'll have a good excuse for you. Some are sentimental about their gig-going, immortalising their experiences in screen-printed cotton. Others enlist the help of an emblazoned shirt to signal their fanhood to others. But there's another reason many of those involved in music – particularly the indie, grassroots and DIY areas of the industry – have drawers guiltily overflowing with dozens (or hundreds, if you're hardcore) of band tees, sweaters and hoodies. It's as simple as this: there's sorely-needed money to be made in music merch, and loyal fans are willing to make it rain.
According to Amber Easby and Henry Oliver, authors of The Art of the Band T-Shirt, Elvis was one of the earliest musicians to be associated with the sale of screen-printed tees back in 1956. Then the Beatles began to harness the power of merchandising, selling tees on their 1964 US tour. Before long, the touting of printed garms was commonplace, going through various renaissances (think tie-dye logo tees of the 60s, metal's jet black tees, Vivienne Westwood's ripped up counter-culture band shirts).
The Age of Streaming
There's no denying that the rise of streaming services is suffocating the financial success of musicians. According to data journalist David McCandless in 2015 an unsigned band or musician in the US could earn a minimum wage selling just 105 self-distributed album CDs (or 457 retailer CDs for signed musicians) per month, or 148 BandCamp downloads, or 547 iTunes album downloads. When it comes to streaming, however, a signed musician would only earn a minimum wage if they're able to garner thousands of streams. Take Spotify, where an unsigned artist can only hope to make a feasible living if they reached 180,000 streams per month. Oh, and signed artists? Make that a modest 1,117,021 streams.
And so, the record industry bleeds billions. But the good news is that appetite for live shows remains, with a recent study by UK Music reporting a 12% rise in audiences for live shows and events. Musicians rely on the income generated by live shows and merch more than ever.
Where Alternative Merch Comes In
If a fan's decision to hit up a musician's live show is an extra slice of capital, investing at the merch table is the cherry on top. But even the market for logo-emblazoned clothing is somewhat saturated and that's why in recent years, bands and musicians have gotten pretty damn creative with their physical offerings.
Though we're chin-deep in a digital world, it seems many of us still hanker for the joy of receiving a physical object in return for purchasing music. So much so that, along with records, the music industry has a renewed relationship with the cassette tape format. But there's more to this plasticky trend than nostalgia and novelty. While records are often expensive and CDs still considered sort of tacky, cassettes bridge the gap between seemingly ephemeral music downloads and IRL ownership. Usually the tapes come with a download code, meaning the buyer is doubly rewarded for their investment, with both a souvenir and convenient access to their fave's tunes. Not to mention, some collectors actually own cassette players.
That understanding of fans' appetites for tangibility has made something of a merch maverick of Eigg-based record label Lost Map. They've experimented with attaching download codes to postcards, a slightly cheaper and more environmentally-friendly alternative to tapes (though they've also been known to dabble in CSD format). What's more, along with tees and the like, LM also offer lovingly designed bobble hats and totes, both an opportunity for supporters to bear the logo on places other than their sternum or spine.
And, just as fans embrace the opportunity to colonise unchartered areas of their wardrobes with their favourites' logos, they're also keen to fill their homes with merch. When Song, by Toad's Jonnie Common wrote an album entirely comprising sounds from his kitchen (entitled Kitchen Sync), he cleverly released the music in the form of fridge magnets, complete with download codes. Common's also no stranger to innovative merchandising; back in 2012 he released EP JWC008 via adorable coloured glass badges in the shape of cassettes by artists Keny Drew and Showpony.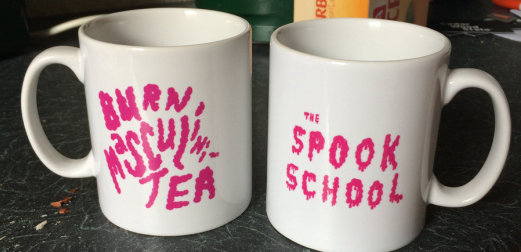 Such creativity is especially rewarded as we approach the Christmas season and music fans begin to take stock of their local scene for gift ideas. There's the delightfully designed mugs of Edinburgh joy-bringers The Spook School; singer-songwriter Harry Harris's lovingly hand-bound pocket book featuring brush illustrations and access to his Andre the Giant EP; or cassette tapes of sophomore record Low Hearts from Niall Strachan's Garden of Elks, limited to a run of just 100, each featuring an original piece of art drawn by Strachan.
Glasgow's The Ninth Wave have some pretty cool looking tote bags; The LaFontaines have a book and keyring available as part of their Common Problem record bundle; Belle & Sebastian have some pretty lovely screen-printed tour posters; Mogwai have a record bundle available featuring album demos and signed screenprints; The Vegan Leather have some pretty rad badges and totes; Elle Exxe has a couple of beanie hats available and Vukovi have some sweet AF badges, posters and patches up for grabs along with totes and tees.
Across the country, musicians and labels are rustling up novel types of swag, giving fans the opportunity to support their art, to shop local, and to save the music industry in one fell swoop. Give the gift of merch this Christmas.