Beat Connection: How radio helped me in 2020
Our music editor explains how her listening habits have changed in the past year, and how she's found comfort and connection through listening to the radio
'And even though I know how very far apart we are [...] / It helps to think we're sleeping underneath the same big sky'.
The scene in An American Tail where Fievel and his sister Tanya sing Somewhere Out There as they both look up at the same night sky still crushes me today, and feels especially pertinent right now as friends and family all over the country are unable to meet in person due to ongoing coronavirus restrictions. Listening to the radio over the course of the past ten months has, for me, offered the same balm as that night sky did for Fievel and Tanya. It's offered me comfort and an immediate connection with friends, colleagues and peers far and wide in ways I hadn't previously realised possible.
I've always loved radio. I remember recording the chart show as a kid, making mixtapes of my favourite songs, and I remember my dad would often have the radio on in the car, singing along with whatever came on, even if he didn't know the words. At uni we often listened to BBC Radio One in the architecture department; listening to Jo Whiley, Mark and Lard and Chris Moyles became so ingrained in my every day, but surrounded by friends in the studio I didn't ever really appreciate radio's ability to connect people.
Even after gaining a qualification in the medium, and following years of involvement in student radio, I still didn't fully understand its power until now. Like many others, last April I suddenly found myself furloughed, sat at home on my own for hours on end, my calendar devoid of gigs, clubs and festivals to attend for those all important shared experiences. I then returned to work in August, without an office and without IRL colleagues to keep me company day in day out.
I found myself tuning into the radio more than I can ever remember. Most days, as soon as I wake I turn on BBC Radio 6 Music; via BBC Radio Scotland, most Monday nights I spend a bit of time with Vic Galloway, while my Friday evenings are reserved for BBC Introducing in Scotland as I finish making dinner. Having spoken to a lot of friends about this in recent weeks, it comforts me to know I'm not the only person who's found solace in the airwaves. As Jonathan Richman sang on The Modern Lovers' 1976 hit Roadrunner: 'Don't feel so alone, got the radio on'.
But it's not just the act of having the radio on that's helped, it's what listening to the radio has conjured; so many new shared experiences have been created, and so many memories have been stirred through a beat connection. Even hearing friends get shoutouts on the radio has been like a fresh dose of oxygen; knowing they're listening to the same thing as me at the same time is such a rush.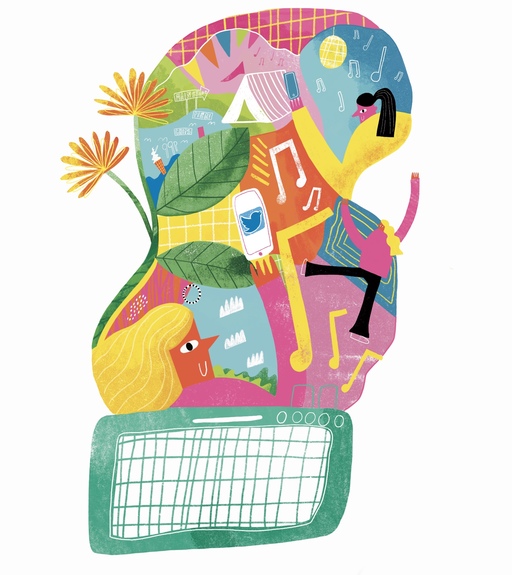 During the early days of the first lockdown, my friend Danielle and I strengthened our relationship as we started sending each other daft videos of ourselves dancing around our respective kitchens and living rooms whenever something amazing came on the radio; sometimes we'd lip sync; sometimes we'd just do bad karaoke to it – however the moment took us, we went with it! Without the radio to guide us, I'm not sure these joyful moments of spontaneity would've happened. 
Last November Steve Lamacq had football legend and part-time DJ Pat Nevin on his show, and I was immediately transported to a Butlins holiday camp in Minehead. Belle & Sebastian curated the Bowlie 2 ATP festival there ten years prior where the retired footballer signed mine and my friend Kate's guns (Ikr). It prompted me to look out the photographic evidence and send it in a reminiscent WhatsApp to Kate, later going on to spread the collective joy on Twitter. 
But even on the days when I'm not prompted to reach out to a friend, when I'm not in the mood for company and just need time to myself, memories are still ignited and music I'd perhaps never think to play otherwise become transportative; a live version of a song plays and I can feel the warmth of a late night out dancing by the sea in Barcelona, and dewy summer mornings waking up in a tent on a festival campsite somewhere on the west coast are revived.
Throughout 2020 I was convinced I'd become disconnected from music, when in actual fact it's just the way I was consuming it that had changed, helping me stay connected with the people and activities I missed every day. If you've not yet found your beat connection, somewhere out there is something that will work for you too; maybe you'll find it in a podcast; maybe it'll be through fawning over the same album with friends and strangers alike at one of Tim's Twitter Listening Parties; or maybe, like me, it'll be through the radio.
---
Illustration by Beatrice Simpkiss