Be a Legend: Edinburgh's Music Scene
Roberta Pia, Marketing Manager for La Belle Angèle and The Mash House, PR Officer for Kelburn Garden Party, and all round legend, talks us through the problems with Edinburgh's music scene
We need to talk about 'the death of the Edinburgh music scene'. A venue that was close to our hearts has shut down and that's sad. It was sad when it happened to The Venue. It was sad when it happened to The Picture House; to Electric Circus; to Studio 24... and it was sad when it happened to all the other venues that have fallen victim to gentrification, coupled with an arguably unsupportive council. It's an outrage that there is little to no encouragement from the powers that be to create art outwith the realms of August, and even then, the Fringe isn't really for us either.
But the music scene is only dead if you think it is. Let's cast our minds back – beyond the realms of the capital – and think about the venues across the nation that were making amazing things happen before they met their inevitable demise. Because, sadly, nothing lasts forever.
The Haçienda in Manchester, The End in London, The Arches in Glasgow: three venues off the top of my head that housed ground-breaking music and some phenomenal moments in time. Do we look at these cities now – where creatives and hedonists alike travelled to from far and wide to make memories – and lament the ashes of their music scene? Or do we focus our attention on the good times that we had whilst seeking out the next thing to sink our teeth into? Because believe me, there's plenty more where that came from once you get beneath the surface.
Those venues, amongst zillions of others, didn't become legendary overnight. They were the result of hard work, sweat, tears and true love. They started small, fuelled by passion, and sculpted their own place in the history books. Edinburgh may have had a bad run of venue closures of late, but I remember when The Arches shut down and it was just as sad. Does Glasgow still boast a pumping music scene? Damn right it does – because as long as the city is filled with passionate people who like to throw parties, there will always be a diverse and creative scene for us to get stuck into.
People often come to me for advice on places to go out and find music in Edinburgh. My first point of call is to check my regular haunts for what nights they have on, after that I'll check Facebook events or groups, and after that I'll check listings websites. The number of gigs, club nights, open mics, sessions and whatever else you can think of happening every night of the week is countless. Follow these simple instructions and I can guarantee you'll find something you like on any given night of the week. Perhaps there's an argument for centralising all this information into one place – but perhaps the real problem with Edinburgh's music scene is that people aren't trying hard enough.
My general rule is this: if you can't find a party you like, throw a party you like. Whether its 90s parties, bondage parties or tea parties that you're into – either find it, or put it on yourself. Don't let the closure of a venue put you off. Find another venue. Pop into your local and ask if you can organise an event. Put on a gig in your living room. Throw a rave in your garage. Lest we forget, Wayne's World began in his parents' basement.
I'm a born and bred Edinburgh bird who has worked in the music scene in various guises for over ten years now. I've performed, promoted, organised and enjoyed music of all shapes and sizes at various venues over the years. I've gone from venue to venue seeking out musical pleasures, and I'm surrounded by a bunch of creative people who are doing the same thing to ensure that our city maintains its artistic merit. But the only way that this can work in the long run is if the people outside of this circle engage with the music scene as well.
Negativity is contagious and there seems to be a somewhat defeatist attitude that automatically places the blame on the council. Whilst the council may well be responsible for the closure of a venue, they will never be responsible for the death of the music scene. The future of Edinburgh's music scene is in our hands.
Have you ever moved into a flat above a music venue and spent your life complaining about the music levels downstairs? If so, you're almost certainly part of the problem. I used to live above a chippy that played techno every night of the week. Do you know what I did when I couldn't sleep? Had a dance and thanked my lucky stars that I live in a place that allows us the freedom to express ourselves creatively and honestly.
On the flip side, positivity is contagious too. There are still lots of good venues and good people putting on good music every night of the week – not to mention all the musicians and DJs busting their guts / vital organs to pay rent whilst making sure you can have a dance with your pals. I can vouch for them, I'm usually there. So, the next time you find yourself dewy-eyed and reminiscing about the good old days, ask yourself this: when was the last time you actively sought out good music? The only thing that will kill our music scene is complacency. Be a legend. Write the next chapter.
---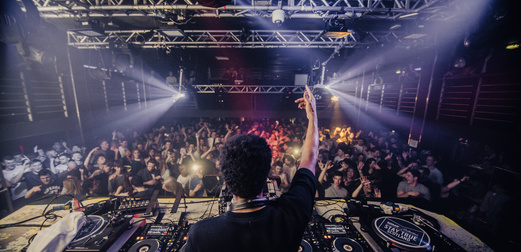 Looking to get more involved in your local scene, or find a great new night out? Here are some of Roberta's favourite Edinburgh clubs, venues and promoters to check out...
Soundhouse – the musician's choice, and a gig for people who like gigs. The Soundhouse move from venue to venue bringing us the best of folk and world music from across the globe with every penny going direct to the musicians. Both musicians and audience always leave with a smile on their face. Regular haunts include The Traverse Theatre and La Belle.
Big Mouth Mondays – it's tough dragging people out on a Monday but Big Mouth Mondays at Henry's Cellar Bar does it in style. This is Edinburgh's most diverse and welcoming open mic night – a lot of Edinburgh's creative scene began in this grungy and beautifully down to earth basement.
Kapital – if you like your techno minimal and to the point, this is the place to be. A no-frills club night with impeccable taste in pounding, pounding techno music. It's dark, it's thumping, and everyone comes to dance. Fist pump your way to the top and wait for the drop. Kapital moves around but you can usually stumble across them at The Caves or The Mash House.
Nightvision – bringing some of the biggest names to the capital in truly effortless style, recent bookings include Mr Scruff, Green Velvet and Dixon, to name but a few. Nightvision picks the hottest spots for their nights, filling the bigger music venues of Edinburgh, but you can be sure that wherever they are, they know how to throw a good party. Look out for them at La Belle or Liquid Rooms.
Balkanarama – the biggest Balkan musical orgy that Edinburgh has ever seen. In all honesty, I've never seen anybody not having fun at Balkanarama. From the free shot of traditional Bulgarian liqueur on the way in, to the profuse sweat, joy, and belly-wiggling on the dancefloor – not to mention the unique musical line-up. There's nothing else like it in Edinburgh. Warning: not for the faint-hearted. Moves between Summerhall, La Belle, The Caves and beyond.
Samedia Shebeen – as you walk onto the dancefloor, it's as though you're been transported into another world. A magical place far, far away from Edinburgh's Old Town… Afrobeat, tropical heat, music to make you move your feet. 'NO CONGA. NO LIMBO' says the sign on the DJ shack – but I've definitely been privy to a limbo on that dancefloor. Take a trip down to The Mash House for this musical heatwave.
Grrrl Crush – parties run by girls for girls who like girls. Grrrl Crush is an LGBT+ night / queer party that champions the amazing women on the Scottish music scene. In an industry that is somewhat male-dominated, Grrrl Crush brings you the finest in female finesse when it comes to live music. The latter and messier part of the evening – aka Fish Supper – DJs and dance moves until you drop. Free entry. Straight-friendly. Trans-inclusive. Once a month, formerly at The Mousetrap but now at The Mash House.
Soulsville – do you like good music? Featuring swing, soul and rock 'n' roll from days gone by… and as if TUNES weren't enough to tempt you, dancers sometimes take to the stage with perfectly synchronised dance routines and attire to boot for that full throttle Motown experience. To believe it, you have to see it. You can usually find Soulsville doing its thing at The Bongo Club.
The Mash House / La Belle Angele – for those who don't know, La Belle and The Mash House recently became family. With bookings being overseen by the brains behind Electric Circus, you can be sure you're in excellent hands in either of these venues any night of the week. If you're the sort of person who likes to delve into the unknown and discover musical gems – from live music to club nights and everything else in between – Hastie's Close is where it's at.
The Mousetrap / The Dog House – Two of Edinburgh's most alternative pubs where you can relax, let loose, and dance on the bar like a maniac: a rarity in this day and age. Both sister bars have music on almost every night of the week – for free – so whether you're looking for an open mic, a jam, live hip hop MCs, a 90s party, techno, disco, soul, or just to dip your toe in to what Edinburgh's music scene has to offer, you'll find most of us in either of these friendly locals, in Leith and Newington respectively.