Albums of 2019 (#10): Weyes Blood – Titanic Rising
Between love and fiction, meaning and chaos, Weyes Blood's fourth LP Titanic Rising offers no easy answers
James Cameron's 1997 film Titanic likely contained the first sex scene many of today's 20-somethings ever saw. Perhaps the VHS was lifted surreptitiously from a forbidden cabinet, or grainily observed at a grandparents' house, all too tantalising for curious and horny young minds to look away. The sensual writhing of Jack and Rose, obliquely represented in the latter's handprint on the steamy motorcar window, was itself an oblique representation of their fleeting romance. One of the most memorable in cinema history, it was of course terminated by an iceberg in the freezing waters of the North Atlantic. The handprint was a mark of love doomed to fade as soon as the carriage cooled, even if the memory was branded hot on Rose's mind for many decades after.
The central thesis of Weyes Blood's Titanic Rising is to plumb the depths of a love unfit to last, doomed to crumble in the face of another oncoming (or rather, already-happening) historic event: climate change. There's Natalie Mering, Weyes Blood herself, on the album's sleeve, submerged underwater in a replica of a childhood bedroom, among stuffed toys and signs of her key influences: the likes of Lou Reed and Harry Nilsson. "The set [created for the album sleeve] only lasted three hours before it was bloated and done," Mering told Pitchfork earlier this year. "It was this very small moment." Mering's worldview represents an absolute reality, one in which the endeavours of love – personal, political – face the actuality of environmental collapse.
An LP so firmly rooted in a time and place of belligerence could easily come off as emptily nihilistic. Titanic Rising isn't that album – or, at least, not wholly. Mering adopts a tough, world-weary front from the offset. She recalls Karen Carpenter on opening showstopper A Lot's Gonna Change, all swooping strings and clenching crescendo across some home truths – 'If your friends and family sadly don't stick around / It's high time you learned to get by' – before delivering the kicker that sets the tone for the remainder of Titanic Rising: 'Let me change my words / Show me where it hurts'.
Comforting fiction though it may be, Mering necessitates the imperative in the face of disaster. Andromeda finds Mering making her case clearer, dwarfing herself into a hopeless speck against the enormity of the universe before delivering one the LP's many uncannily resonant lyrics: 'Find a love that will make you / I dare you try'. This isn't to say the resolve to love and be loved comes as easily as a pop lyric. There's something remotely menacing about the record's most accessible pop song Everyday, a song in which Mering all-too-cheerily asserts to a jaded party guest that 'true love is making a comeback' amid Beach Boys harmonies and sickly sweet strings.
Despite being a Hollywood fairytale, despite our own inability to know when we see it, love is the story that binds. It's with this hopeless hope that Joan Didion opens her 1968 essay The White Album: "We tell ourselves stories in order to live". At this particular juncture, US cultural critics were uneasily grappling with Hollywood's "loss" of innocence – the Manson murders, the absorption of 60s counterculture into neoliberal ideology – or, at their most fearful, diagnosing the darkness present from the beginning.
It seems like no coincidence that Titanic Rising sees Weyes Blood developing a sound that comes uncannily close to period piece, channeling Nilsson and The Carpenters as well as a host of other 1970s pop rock textures. But she does so deliberately as a kind of archivist, recalling their greetings-card simplicity in order to work out: was there something to this? On Something to Believe she sings: 'Give me something I can see / Something bigger and louder than the voices in me'. What could be more pertinent than seeking meaning at the end of days?
But Mering isn't one to pass up sweet surrender every now and then, and with album centrepiece Movies, she even appears to submerge herself completely in the flood. A great tidal wave of synths drown her luxuriant capitulation. 'The movies I watched when I was a kid / The hopes and the dreams / Don't give credit to the real thing', she croons, before accepting a celebratory defeat: 'I love the movies'. Imperfect as the great romances of cinema may be, Rose and Jack's included, it's our lot in the chaos of 20th and 21st centuries, '[centuries] lost to memories', to submit to their imperfect meaning-making.
With dichotomies of yielding and self-determination, love and fiction, meaning and chaos, Titanic Rising offers no easy answers. But Mering is content in excavating those vast interstitial spaces, the distances between what we desire and the idea of desire itself, a search obliged by oncoming icebergs of our own. With an eye towards the mounting rubble of history, and another to the terminal future, Titanic Rising isn't merely one of 2019's finest records; it may even prove to be a definitive work of the 21st century.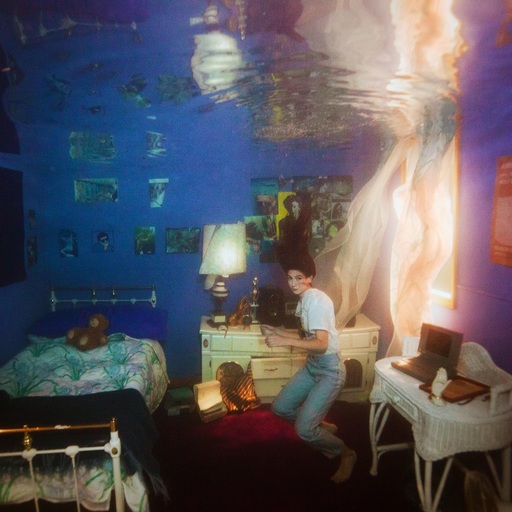 ---
Titanic Rising was released on 5 Apr via Sub Pop